New York International JFK Airport Shuttle
When you make your airport shuttle reservation in New York prior to your trip it will give you peace of mind and make your trip that much easier to know that someone will be waiting for you at the airport when you land so that all you have to do is get your luggage and then get into your ride. With many selections to choose from, travelers can search for the rate and vehicle type that best suits them. From a simple shared ride van to a cheap taxi cab or if you want luxury, a black car ride in one of our sedans or limousines may be the best service for you to be picked up to and from JFK airport.
Search for JFK airport rides

Trusted service since 2003

Flight Delayed? We wait.

24/7 Customer Service

New York Airport Transportation

There are several means of shuttle transportation for incoming travelers at JFK airport so travelers can choose which ride fits them best. Some of the most reliable and cost effective shuttles are shared ride vans.

JFK Shuttle Transfers

New York City what a town. JFK airport is one of the busiest international airports in the world, which also means it can be a bit confusing. AirportShuttles.com can help sort you out. Book your private van or shared ride

Airport Pick Up

There are no shortage of options when it comes to Go Airport Shuttles at New York JFK Airport. Choose from GO Airlink NYC, GO Airport Shuttle Connecticut, GO State Shuttle and GO Winston Transportation Group on your next transfer ride.
New York Airport Shuttle Service
New York City is known for its busy traffic which most choose to avoid whenever possible. A shared ride or private van can prove to be a sensible alternative way to get around especially with AirportShuttles.com New York.
JFK Pickup and Drop Off
JFK is your gateway to the Big Apple and all of the entertainment that New York has to offer.




When trying to make a booking for ground transportation you can find your ride located at the "Arrival Level" at the end of the terminals. When the section is closed after hours you can find a kiosk located close by to connect with your shuttle provider.

Shared Ride Van
Shared ride vans for JFK airport are offered by AirportShuttles.com and Go Airlink NYC for downtown New York City and surrounding areas such as Long Island, The Bronx, Queens and Manhattan.

Private Van
You can travel with groups up to 12, which is popular for, rides to the drop off at the Jacob K. Javits Convention Center.

Private Sedan
Zumu Sedan and GroundLink both provide top service for executive sedan service for the New York area.

Local Personal Drivers
Brooklyn and Midtown New York are some examples of nearby destinations for those needing a more personable ride.

Private SUV
Zumu service can get you to your destination from Jersey City, Staten Island to Union City.

Taxi Cab
With so many options to travel in New York a taxi can get you there quickly and cheap such as Hoboken and Greenwich Village.

Chartered Bus
Take a simple bus ride to The Flatiron District, Union Square and Gramercy Park or the Uptown New York area with great rates and convenient service.
JFK airport terminals
Find quick general locations of shuttle drivers along with the directions sent to you on your email confirmation.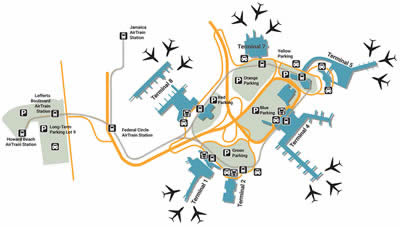 New York Airport Shuttles

JFK airport has AirportShuttles.com New York and GO Airlink NYC whose shared ride service are available to passengers arriving in New York City. In addition to competitive rates for private vans for groups of larger sizes you can travel with Zumu sedans services offered by AirportShuttles.com.

There are many options for vehicles to take to your destination near JFK. While some are cheaper than others it comes down to budget and luxury. Booking with providers such as Eastern Car Service or Limo Star NY can give you a private sedan up to 4 passengers with plenty of room for luggage. All Inclusive Sedans are easily booked with Eastern Car Service and Zumu, which is serviced by AirportShuttles.com.

How much is shuttle from LGA to JFK?

A bus ride in New York City can cost about $17 while a private van can start at $71. The trip is about 10 miles long with bumper to bumper traffic so give yourself enough time to board your flight.

How much is a shuttle from JFK to Manhattan?

The ride about 19 miles down Grand Central Parkway. A bus transfers can start at $19 while a shared ride vans can start at $23. Traffic during most times can be very heavy so prepare to leave a little early so you don't miss your flight.

Is there a shuttle from Newark Airport to JFK Airport?

There are some providers who can take passengers from EWR to JFK airport which starts at $71. The trip is around 37 miles and has very heavy traffic so make sure to account for drive time when trying to catch your flight.

JFK airport has other local providers to transfer passengers, which include GO Airlink NYC as well as Carmel Car and Limo. While these are some of the most well known local airport transportation providers students needing a shuttle rides to New York University and Temple University campus can find taxicab rides from our other providers who can help get you to your campus that can fit your budget.

If you live nearby chances are you may want to hire one of our private cars as opposed to a shared ride shuttle. Queens is the home of both John F. Kennedy International airport and LaGuardia Airport not to mention the New York Mets. In addition you will find New York City hotel shuttles are not as overwhelming in price if you search and compare the rates for various hotel shuttles in New York City and throughout the metro area which GroundLink, AirportShuttles.com and GO Airlink NYC can service between 10-12 passengers per van.

Most of private shuttles vans can carry up to 10 passengers and will pick up passengers along the way to JFK airport. Booking through AirportShuttles.com can help you to sort through them all and find the right company for your needs and budget.

Life in The Big Apple can be busy so knowing what to expect when you arrive at the airport can be an important decision. When you arrive you'll want to know how to meet up with your airport ride once you land. Your itinerary will show give you directions but one of the simplest ways is to find the baggage claim area. Don't worry there are signs which will direct you there with ease. Once you are at the baggage claim then you simply head towards the Ground Transportation Desk and someone will call your shared ride shuttle, sedan or taxi for you.

If you are visiting the Jacob K. Javits Convention Center of New York then you can find airport transportation to and from the airport whether you have an exhibit or just attending an event from individual shared ride vans or private vans for larger groups. JFK airport is located near many downtown New York and Manhattan hotels for travelers needing shuttle transfers. You can compare rates online to see which vehicle would be more economical according to the trip destination.

New York Hotel Shuttles
If you want to stay near the area of Central Park, Manhattan and 5th Avenue you can find shuttle rides to hotels like The Quin. Quin is a short walk to these destinations and when in your hotel there is a restaurant for your convenience. You can book discount shuttle rides to the Waldorf Astoria also has the famous Park Avenue Manhattan address with its marble bathrooms and nearby upscale shopping on 5th Avenue the Waldorf is a very luxurious stay. 

If you are looking for a more economical way of getting airport transportation that won't break the bank there are always the mainstays like the Wyndham, Double Tree and Holiday Inn Express which have door-to-door New York hotel shuttle services as well as throughout the New York City area.

New York City Destinations
While traveling to New York learns more about the area and the places you can visit when you stay in the area.
I Love New York

About New York City
New York City is a busy city that seems to be on the go each is also known as the Big Apple. There are many unique neighborhoods in New York so visiting the Big Apple can be a great adventure. There are also famous landmarks to visit such as the Statue of Liberty, Rockefeller Center and the Empire State Building. 

JFK Contact Information
New York John F. Kennedy International Airport
New York, NY 11430
Airport Code: JFK
JFK airport rides in NYC

Getting transportation in New York is easy but you will want to compare rates and vehicle types to get the best deals.
Airport transfers while in New York

If you are planning on visiting the downtown New York City area there are endless things you can do with the family or even if you are on a business trip. You won't find a city like it anywhere in the world.