Los Angeles International LAX Airport Shuttle
When you have a trip planned in Los Angeles and you'll be flying in to or out of LAX it helps if you book discount rides and make reservations for airport pick ups in downtown Los Angeles for both airport shuttle shared rides for one or a few passengers or larger groups of passengers divided into multiple vans. Additional vehicles you can reserve include taxi cabs, sedans and limousines which are driven by a chauffeur who can assist you with your luggage with a meet and greet service. You can also try a ride share service and be driven by local drivers who know how to get you to and from Los Angeles International Airport quickly and easily.
Search for LAX airport rides

Trusted service since 2003

Flight Delayed? We wait.

24/7 Customer Service

Los Angeles Airport Transportation

If you need cost effective airport rides then shared ride vans allow you to share your shuttle ride to and from LAX airport. You will follow a similar route as the other passengers so you are not taken far out of the way but can enjoy reduced rates at the same time. Some travelers prefer a more direct route to their destination and choose sedan or limousines.

LAX Shuttle Transfers

Blue vans abound at the LAX airport. AirportShuttles.com has become the go to way to get to and from Los Angeles International Airport, and with good reason.

Airport Pick Up

GO Prime Time Shuttle's red vans have also become a major mode of transportation in Tinsel Town. This company offers you high quality at low prices.
Los Angeles Airport Shuttle Service
One of the most popular providers is AirportShuttles.com Los Angeles also known as the Zumu. There is also GO Airport Shuttle's local provider called GO Prime Time Shuttle which has professional drivers for various airport transfers such as shared ride and private shuttle vans. Travelers can also get rides for sedan at affordable rates with Camel Car and Limo.
LAX Pickup and Drop Off
Los Angeles International Airport is a busy airport and figuring out what to do once you land can be intimidating.




When travelers arrive at LAX airport they should proceed towards the end of the terminal, which is known as the Lower Level or Arrivals Level. Then you should go to the baggage section next to the curb that says "Shared Ride Vans".

Shared Ride Van
Once you arrive at LAX you can board your shared ride van inside the ground transportation section. Some of the most well-known shuttle providers include Prime Time Shuttle and AirportShuttles.com who can transport you to most places in the city of Los Angeles.

Private Van
A private van service can accommodate larger groups. Each vehicle typically seats anywhere from 4 to 14 passengers although this varies for each area and ground transportation provider. Some of the most popular companies in Los Angeles for this service include Prime Time Shuttle and AirportShuttles.com. For groups of 4 or less you can book a reservation with Business Express Service by Zumu Express.

Private Sedan
Private sedans are usually best for groups of 2-3. Some of the companies that will take you from LAX to cities such as Burbank or Redondo Beach are Blacklane and Zumu.

Local Personal Drivers
Local personal drivers don't work for any transportation company so they are usually well priced compared to private sedan service. Companies with shared ride service are popular among travelers who need to get to places like their Los Angeles area hotels.

Private SUV
Private SUV services offer more space than a private sedan but less than a private van. These are offered by Zumu and are good for business travelers wanting to go to the Los Angeles Convention Center.

Taxi Cab
Taxis are a great way to catch a quick ride to areas like Hermosa Beach or Glendale. If you are looking for a quick pick up or meet and greet at LAX airport then a taxi may be best for you.

Chartered Bus
If you are planning a really big event and need to get everyone to your destination in Long Beach or Pasadena at one time a chartered bus is your best option.
LAX airport terminals
When you land at the airport you can use our map along with the information you will receive via email after you book your reservation.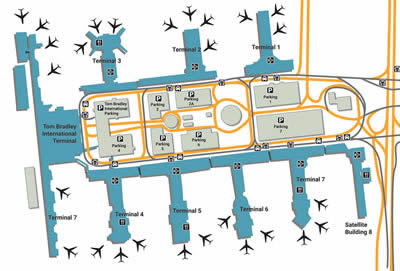 Los Angeles Airport Shuttles
You can book LAX shuttle rides with AirportShuttles.com Los Angeles and GO Prime Time Shuttle, which are recognizable providers that many passengers have known for decades. You can find affordable fares for LAX airport shuttle rides to many destinations in the downtown L.A. area and hotels.

Our shuttle services are provided to popular areas including but not limited to Los Angeles things to do such as South Central, Bel Air and Beverly Hills. There are simple shuttles and more luxurious limos to fit every person's desire. There are other options for airport pickup such as local personal drivers, which can be booked in advance with various providers. All-inclusive sedans are popular ways to get you to LAX when booked with Blacklane and Zumu, which is owned by AirportShuttles.com, if you have up to 3 to 4 passengers with a lot of luggage. Door-to-door transfers for sedan rides for nearby hotels or neighborhoods can be reserved with FlitWays, a local provider that services LAX. For parties with large number of passengers you can make reservations with Roadrunner Shuttle & Limousine Service with vehicle types such as buses and stretch limousines.

Is there a shuttle from San Diego to LAX?

Yes. There are several providers who can accommodate a ride from San Diego to LAX it is not necessarily because the distance is about 124 miles apart.

How much is a shuttle to LAX?

How much is a shuttle from LAX to Disneyland?

It is roughly 35 miles from LAX to Disneyland with costs ranging from $48 for a shared ride van.

With our various rides you get a private and luxury ride that will drop you off curbside. Some popular drop-off destinations include the Los Angeles Convention Center where you can find great group rates on airport transfers. LAX is also a short car ride away from the Port of Los Angeles and the Port of Long Beach for those who are embarking on a cruise.

First you'll need to know where to meet your transportation provider. Where you need to go depends on what kind of vehicle you've booked and which company you have hired. We recommend that you read your confirmation email carefully to determine if your pickup procedure differs at all and if you have any questions check with your airport shuttle company before you leave to make sure you know their specific pickup procedure. With that being said the following are general guidelines. Shared ride van pick-ups can be found near baggage claim area. Simply look for "Shared Ride Vans" and you will be directed towards your ride. Private airport transfers, such as private sedans and limousines, will vary by provider. If you've booked a taxi you'll also want to follow the same route as shared ride vans but look for the signs that say "Taxis".

About Los Angeles Airport
Los Angeles neighbors many other large cities such as downtown Los Angeles so there are plenty of hotels you can stay at with easy access to a fleet of shuttle buses and taxi services. Because Los Angeles International Airport is such a large airport there are countless hotel shuttles at LAX airport for you to get a ride and rooms to stay at. LAX also offers its guests the normal conveniences you would expect from a large airport such as a variety of restaurants and shops for you to browse between layovers or while you are waiting for your flight to board.

A majority of the area for Los Angeles belongs to the San Fernando Valley which is next to Burbank and the very popular Glendale which are just a few of the many popular L.A. surrounding cities and neighborhoods. If you visit the Westside side of town you will come across well-known and famous cities such as Bel Air and Beverly Hills. You can also find shuttles to nearby colleges such as Azusa Pacific University, University of Southern California as well as California State University Fullerton. One of the closest schools to the downtown area is the University of California at Los Angeles and students can find great rates from the airport. Students in the Long Beach area who attend the California State University Long Beach can shared rides with other passengers so their costs can be reduced. Make reservations for Los Angeles Hotel Shuttles in the area for airport transfers.

From LAX it takes about half an hour to get to the downtown area. The Los Angeles surrounding neighborhoods include the downtown district, which is home to many contemporary hotels and unique shops, as well as L.A.'s main central business district. If you travel along the Eastside you will find a more trendy section that is not too far from LAX by shuttle bus. The Harbor Area, which is also known as the L.A. Harbor, is the biggest seaport in America. World famous Hollywood, which is home to Warner Bros and Paramount including MGM, has their studios based here. If you are into thrill rides and family fun then a day out at nearby theme parks like Universal Studios Hollywood or Disneyland will keep you going all day. Other attractions around Los Angeles includes Knott's Berry Farm and Six Flags Magic Mountain which are adventures parents can share with their children while they are in town.

Los Angeles Destinations
When traveling to Los Angeles you can discover useful information for your travels and many of the attractions while you are there:
Discover Los Angeles

Getting Around LAX
If you have a layover at LAX you don't need to worry about a thing. This place has everything you need.

If you have business to attend to while at LAX you can stop by the Star Alliance Airport Lounge. There you'll find fax machines and copiers as well as computers that you can use to get on the Internet. If you are interested in visiting The Star Alliance Airport Lounge you can find it in the Tom Bradley International Terminal but if you can't make it there then there are Internet kiosks based throughout the airport.

Los Angeles is a vast city so navigating around can be hard if you are new to the area. So if you searching and booking your airport transfer early you might find that using an airport shuttle instead of a rental car or bus is the easiest option.

LAX Contact Information
Los Angeles International Airport
1 World Way
Los Angeles, CA 90045
Airport Code: LAX
Planning ahead for your flight

With so many other travelers heading through the airport to their destinations there are a few things you can do to make your trip safer and easier.
Travel and shuttles in Los Angeles

Los Angeles is a large city and is filled with lots to see and do. There are many things that could easily be missed while visiting Los Angeles. Discover a few that you may or may not know about by reading these L.A. travel tips.