San Diego International SAN Airport Shuttle
San Diego International Airport is frequented by vacationers coming from all over. If you are flying in to see the San Diego Zoo or will be taking a cruise out of the Port of San Diego it is important to be sure to arrange your airport ride before you leave for your trip to make things easier on yourself. Reserve your shared airport shuttle or bus ride or your black car service or minibus as early as possible so that you don't get caught unprepared at the airport. Once you have this crucial part of your trip planned you can worry about which sights to see while in San Diego.
Search for SAN airport rides

Trusted service since 2003

Flight Delayed? We wait.

24/7 Customer Service

San Diego Airport Transportation

If you've never been to San Diego airport moving through the terminals to your shuttle ride can be hectic at times. Upon arrival you can take your reservation to the ground transportation center and proceed to your shuttle bus to be taken to your destination. Vehicle can range from taxi services to limos to shared ride vans all usually depends on the type of ride you are looking for and pricing.

SAN Shuttle Transfers

Whether you are looking for an airport shuttle for yourself or a luxury SUV for a group of coworkers, AirportShuttles.com is there for you. You can pick a shared ride shuttle, private van or even a chauffeured town car for your next ride to SAN airport.

Airport Pick Up

GO Prime Time Shuttle is your go-to airport transportation service for the San Diego area. When you arrive at SAN, have your ride waiting for you by reserving now before your trip. You'll be able to get out of the airport quicker and on to your trip.
San Diego Airport Shuttle Service
The SAN airport offers airport transfers for San Diego hotel transportation that covers most of the San Diego area. Travelers can jump on a shared ride van quickly while saving money for their trip that they are sharing with others.
SAN Pickup and Drop Off
Getting around San Diego International can be a daunting task. Once you arrive you'll find many options for your airport ride to get you to your final destination in this wonderful city.




San Diego International makes it easy for you to connect with your airport shuttle provider. When you land you can locate one of the convenient transportation plazas at Terminal 1or 2 or at the commuter Terminal.

Private Van
Transfers in a private van are great if you have a group. Some of the more popular companies, which provide this service, are AirportShuttles.com and Prime Time Shuttle.

Private Sedan
If you are looking for a quiet and private ride a private sedan is a great solution. Whether you are going to your hotel or SeaWorld San Diego a private car can get you there quickly.

Local Personal Drivers
Local Personal Drivers are gaining popularity with travelers these days. This is similar to a private town car service but the drivers do not work for a transportation company and they use their own vehicles. You can book one for your next transfer to cities like El Cajon or Bonita.

Private SUV
When you are traveling with a small group going to attractions like the Cabrillo National Monument or Legoland a Private SUV service will accommodate your group nicely.

Taxi Cab
To make your trip more hassle free you can book your taxicab to your hotel or residence in Spring Valley or Lakeside.

Chartered Bus
Chartering a bus is a great idea if you have a large group or a convention going to or from the San Diego Convention Center.
SAN airport terminals
Travelers can use our maps during their visit at SAN airport to help give them a general idea of the layout.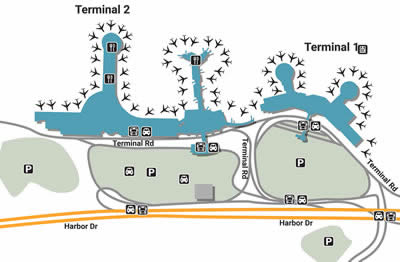 San Diego Airport Shuttles
SAN airport transfers by AirportShuttles.com San Diego and Prime Time Airport Shuttle price may vary for shared ride van and private limo services. Each provides some of the best airport transportation service in San Diego for its passengers who visit the city.

Zumu San Diego has a sedan service is also available for those who wish to travel from the airport in a more luxurious fashion. Zumu provides service around the downtown San Diego as well as metro areas of the city. Want a taxicab instead? Yellow Cab of San Diego and American Cab are both quick options for travel out of the airport.

With so many new college students who arrive each year getting a shuttle ride to San Diego State University from SAN airport can be cheaper if the transfer with groups traveling together in shared ride vans. When looking for rides to the San Diego Convention Center you can pre-book a private shuttle bus that can combine your group together so everyone can get a lower rate. Overall, it can be a great way for your group to save because everyone is heading towards the same location, like a shared ride van, except you are stopping at one location instead of multiple stops along the way.

San Diego Hotel Shuttles
There are many hotels that have shuttle services such as the Hilton San Diego Harbor Island which has shuttle buses available at your fingertips so missing that flight should not be a concern. When you arrive in town you won't be too far from the Hotel Del Coronado, which is a short drive over the North San Diego Bay.

Patrons have a variety of other accommodations to choose from like the San Diego Marriott Marquis & Marina or an even more popular and exciting place the Hard Rock Hotel San Diego. All airport transportation rides can be reserved in before you start your trip so you can jump on board your shuttle without the hassle of the lines.

San Diego Destinations
When planning your trip to San Diego and you are looking for things to do. You can view travel guides you need to get around the city and see popular museums, restaurants and more.
San Diego Tourism Authority

About San Diego Airport
San Diego International Airport is also known as Lindbergh Field and is America's busiest airport that uses one runway for its commercial flights. SAN airport is convenient as it is next to many things for visitors to do such as the Seaport Village or Cabrillo National Monument.

For those taking a long needed cruise getting a ride from the airport before you depart from the Port of San Diego can be made online before you travel. Along the way you can visit Point Loma-Ocean Beach and enjoy the beauty that nature has to offer you. Another great place to drop by is the Mission Beach-Pacific Beaches, which has two beaches to walk, and is home to SeaWorld San Diego.

SAN Contact Information
San Diego International Airport
3225 North Harbor Drive
San Diego, CA 92101
Airport Code: SAN
California theme park transfers

Travelers flying into Anaheim and San Diego heading to nearby theme parks can find transportation from the airport to local hotels and resorts.