Washington D.C. National DCA Airport Shuttle
Ronald Reagan Washington National Airport sits atop nearly 20 acres of land in Arlington, Virginia. It is one of the three main airports that serve our nation's capital and is one of the busiest airports in the world. Despite this, the airport is easy to navigate and most find it clean and accessible so your trip here should be an easy one. In order to make sure it is even easier, make sure to book your airport transfer ahead of time in a shuttle bus or private van or consider chartering a bus if you have a large group. This will help you get to D.C. and start your travels even earlier.
Search for DCA airport rides

Trusted service since 2003

Flight Delayed? We wait.

24/7 Customer Service

Washington D.C. Airport Transportation

To make DCA airport transportation easier passengers should book their airport shuttle rides at the same time as they reserve their flight into Ronald Reagan Airport so they can get to their hotel or nearby destination quicker.

DCA Shuttle Transfers

There is certainly a lot to do in the nation's capital. Your trip here, whether it's business or pleasure, is sure to be anything but boring. Booking a AirportShuttles.com reservation before you leave will help you get there quickly.

Airport Pick Up

When you arrive at DCA airport make sure that you have your ride ready to go. GO The Airport Shuttle or GO Delaware Express are both reliable and have great customer service.
Washington D.C. Airport Shuttle Service
DCA airport has shuttle rides available for nearby colleges which include University of Maryland and well known George Mason University which students can find shared ride vans that are available with rates to fit any budget. 
DCA Pickup and Drop Off
There are many shuttle providers such as ABC Limo Service and Luxury Limo services that are available at the airport for passengers arriving at the airport to take.


When departing the DCA airport on your shuttle buses you can find your ride near baggage claims when you exit your terminal.

Shared Ride Van
When you board a shared ride van with AirportShuttles.com or GO The Airport Shuttle while you are at Reagan Airport you can find low rates that you can share along the same path as you towards your destination such as College Park as well as Mount Rainier.

Private Van
With discount private vans you can be driven to surrounding metro cities such as Alexandria and Arlington with no other passengers and plenty of luggage room.

Private Sedan
Favorite attractions such as National Zoological Park are easier when you have a private sedan driven by your own driver. We only have licensed and professional drivers so your trip can be safer and relaxing.

Local Personal Drivers
With so many types of vehicles to choose from a personal driver can give you a unique ride to popular areas such as the Lincoln Memorial and the Washington Monument.

Private SUV
Zumu SUV airport transfer by AirportShuttles.com and Dulles Express Limo have cost-effective prices for luxury private SUV rides with competitive costs from DCA to your choice of hotel in downtown Washington D.C. area.

Taxi Cab
Direct routes to Bethesda with local taxi cabs can transfer you to locations near National Air and Space Museum and the National Museum of Natural History.

Stretched Limousine
Luxury private rides with stretched limos have plenty of room for other passengers you may be traveling with including extra large baggage that may be brought along.

Chartered Bus
If there is a big event at the Walter E. Washington Convention Center and you are traveling along with dozens of other co-workers or friends then a chartered bus may be the best option for you.
DCA airport terminals
When you bring your confirmation with you to the airport you can use our maps to assist you along the way to your destination.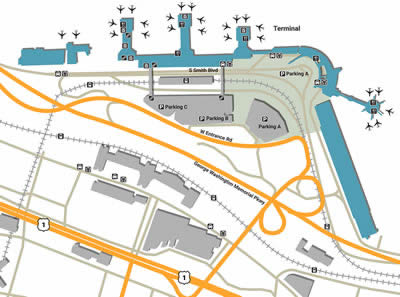 Washington D.C. Reagan Airport Shuttles
DCA airport travelers often use AirportShuttles.com Washington D.C. and Supreme Shuttle service for shared ride vans and private vans. For chauffeured sedan rides Zumu, provided by AirportShuttles.com, Meet and Greet service can make you trip effortless and stress-free.

Shuttle drivers are required to present their vehicles in a clean and maintained manner with uniformed drivers that can be acknowledged by visiting passengers. Disabled travelers can book vans that are designed to be wheelchair accessible. Other forms of ground transportation include airport controlled and regulated taxicabs. Zumu and GroundLink are the preferred providers for sedan rides while Blacklane services passengers for All Inclusive Sedans throughout the area.

Is there a shuttle from Reagan to Dulles?

Yes there are several providers who can get you to and from both Reagan and Dulles airport such as GroundLink, Talixo and KiwiTaxi.

How far apart are Dulles and Reagan airports?

When trying to calculate the distance between DCA and IAD airport is not necessarily as important as the time it takes to travel between them. This area is heavily trafficked. Though it is roughly 30 miles apart the drive time can be excessive so it is important that when you travel between both airports that you give yourself enough time to board your flight.

Is Reagan or Dulles closer to DC?

Reagan is much closer to DC than Dulles. Reagan is about 5 miles via George Washington Memorial Parkway and Dulles is about 27 miles away via VA-267 E and I-66 E.

We service large groups of passengers to the Walter E. Washington Convention Center including rides back to their hotels after the convention is over. If you are not traveling with a group then you can find discount airport transfers for Washington D.C. Reagan Hotel Shuttles throughout the District of Columbia area. If you are looking for a unique private car then JEB Transportation Services and Dulles Express Limo both have a fleet of Private SUVs that can give you more upscale ride.

Once you land you have at your hands numerous forms of ground transportation that can take you to local hotels, convention centers and nearby Washington D.C. surrounding neighborhoods. As the only airport this close to downtown D.C. business as well as international tourists come in from various airports such as LaGuardia, Boston and Philadelphia. All of these airports handle international flights and can board passengers upon arrival with their pre-booked reservations and hourly shuttles from Washington National Airport.

The service will be waiting for you upon your arrival. Local metro services such as Amtrak and Greyhound bus lines can be accessed by bus service or shuttle from the airport. Other airports close to DCA include IAD airport, which is about 30 miles apart.

Washington D.C. Hotel Shuttles
There many ways for travelers to get to the Port of Baltimore, which has many airport shuttles, services for most hotels in Washington D.C. area. Many business travelers take private transportation such as an airport limo or town car towards destinations like Dupont Circle Hotel, The Hay-Adams and Omni Shoreham Hotel, which are some of the more upscale hotels.

Washington D.C. Guides
There are many events and historic sites to visit while you are in the Washington D.C. area including museums that show the history of America.
Destination D.C.

About Washington D.C. Reagan Airport
Ronald Reagan Airport is the only commercial airport that is closest to the downtown Washington D.C. and all three branches of government. Millions of tourists and business travelers visit DCA airport but since it is so close to the United States Capitol all planes coming into the airport are limited.

You'll find plenty to do like visiting popular Washington D.C. landmarks such as the National Gallery of Art and the U.S. Capitol. Take a picture at The Washington monument, get a tour at the White house and see the historic offices restored, visit the National Mall, seat next to the Lincoln Memorial and witness the nation's power.

The terminals all offer shops for eating and shopping. You can enjoy your meal while waiting for you flight or connection to another airport. For those who enjoy art each terminal is decorated with various revolving statues and paintings. It is a minor attraction just to walk around the terminals.

Various live performances can be found in the airport be sure to check the schedule of these events when you are making your reservations. The airport provides a pleasant and helpful atmosphere for all those who travel to the Washington D.C. area. In Washington D.C., near DCA airport, you can join in festivals like the National Cherry Blossom Festival, Millennium Stage and National Kite festival plus many more. You can truly appreciate The United States heritage while visiting Washington D.C. but will want to visit the area at least once in your lifetime.

DCA Contact Information:
Washington D.C. Ronald Reagan National Airport
Arlington, VA 22202
Airport Code: DCA