Washington D.C. Dulles International IAD Airport Shuttle
Washington Dulles International Airport is located in Dulles, Virginia and is visited by millions of passengers each month. Washington D.C. attracts many different kinds of travelers who come for many different reasons. You may be flying in for a convention or trade show or with a school group or even just to sightsee. Regardless of why you are here, you will have plenty to see. Make sure that once you land at IAD airport you have your ride waiting for you in an airport shuttle or limousine or private SUV by reserving ahead of time to avoid the last-minute scramble.
Search for IAD airport rides

Trusted service since 2003

Flight Delayed? We wait.

24/7 Customer Service

Washington DC Airport Transportation

Shuttle buses such as shared ride or private vans or most common but do offer town cars and private sedans if you are more interested in traveling alone with your own professional driver.

IAD Shuttle Transfers

When arriving in Washington, DC you can find that AirportShuttles.com helps make it simple to get to and from Washington Dulles International Airport with private car service and airport shuttle service.

Airport Pick Up

Don't forget to book your airport transfer to or from IAD airport. GO Delaware Express or GO The Airport Shuttle can help you get to you where you need to go with curbside or non-stop service.GO Airport Shuttle provides cost-effective airport transportation service for its passengers.
Washington D.C. Airport Shuttle Service
While at IAD airport tourists coming to the city can find airport shuttle transfers to hotels close by that works for any budget. From shared ride vans to taxicabs to private limo buses new travelers arriving to the area can find cheap ground transportation to most destinations throughout the nearby neighborhoods and Washington D.C. downtown area.

As you arrive to Dulles airport you can find your shuttle bus in the Ground Transportation Level next to the Baggage Claim Level of your terminal.

Shared Ride Van
Both AirportShuttles.com and Go The Airport Shuttle provide shared ride van service at IAD. If you are looking for an easy and economical option this is a good one.

Private Van
Private van transfers are great for medium to large sized groups. If you want to get your group to Arlington or Capitol Hill book a private airport shuttle van.

Private Sedan
For a non-stop airport transfer to your hotel or destination you can book a private sedan with Dulles Express Limo or BAB Limousine.

Local Personal Drivers
Local personal drivers have been gaining popularity recently. These can be an affordable way to get around town. Wingz provides this service in the Washington D.C. area.

Private SUV
If your group consists of 3 to 5 passengers a private SUV transfer is a great option. You can schedule yours to neighborhoods like Logan Circle or Georgetown

Taxi Cab
Whether you need to get to Downtown Washington D.C. or Arlington, if you need to get there quick an airport taxicab ride can be perfect for you.

Chartered Bus
Chartering a bus or motor coach for your large group in the Washington DC area could be the simplest solution for you to get them to your event in Foggy Bottom or Adams Morgan.
IAD airport terminals
Travelers heading towards the IAD airport for a visit can take along our maps with the instructions from their email confirmation to better find their way around.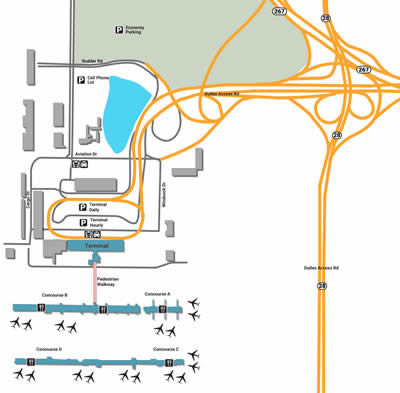 Washington D.C. Airport Shuttles
IAD airport transportation with AirportShuttles.com can get you to and from your destination and the airport with ease. Whether you're leaving or traveling to Washington D.C., at Dulles International Airport there is no shortage of options when it comes to getting around this bustling airport. 

If you have a connection at the nearby airport it can be much easier to book your DCA airport transfer before you get there so that you can have a better chance of making your flight on time without all of the stress.

What is the distance from DCA to IAD Airport?

It is about 31 miles between these airports depending on traffic times and construction zones. The drive time is around 35 minutes if you take the George Washington Memorial Pkwy to VA-267 W route.

How much is a ride from Dulles Airport to Downtown Washington DC?

Depending on the vehicle you take sedans can cost you around $62 and limousines can start at $90 for this 29 mile ride (roughly 40 minute transfer).

Where do I get picked up at Washington D.C. Dulles Airport?

Ride Share pick ups are at the lowest level while private vehicle pick up is on the outer Main Terminal if you are on the Arrivals Level. If you are picking someone up from the airport then you would do so at the Baggage Claim Level in the Terminal.

To get from IAD to downtown Washington D.C. the easiest option may be an airport shuttle, which may also be one of the more cost effective options as well. Booking your shared ride Washington D.C. Hotel Shuttles in advance can make getting through the crowds at the airport easier. For travelers needing rides to the Port of Baltimore you can find a large variety of taxicabs or private vans available to get you to your destination. 

GO Airport Shuttle has a variety of modes of transportation from shared ride to private van. Blacklane provides limo and sedan service if you are looking for a more luxurious option. You can find discount shuttle rates for George Mason University and the University of Maryland through our many local providers as well.

Walter E. Washington Convention Center is located near the airport for those needing shuttle rides to the convention center. The Washington D.C. surrounding neighborhoods are very large and consist of many diverse areas like the North Central consists of Dupont Circle, Shaw, Adams Morgan and Columbia Heights. You can book your airport transfer ahead of time to save yourself some time and stress.

Washington D.C. Hotel Shuttles
Getting low rates for shuttle rides to Washington DC hotels can be easy for tourists new to the area. Among your choice of 5-star hotels near Dulles International Airport are the Ritz-Carlton and the Capella Washington D.C., both located in Georgetown, the Four Seasons Washington D.C. and the Ritz-Carlton in Pentagon City which you can book shuttle bus services for pickup and drop off for the airport.

Washington D.C. Destinations
If you are seeking useful information for the Washington D.C. area and the various museums and historic sites to visit:
Destination D.C.

About Washington D.C. Dulles Airport
Washington Dulles International Airport is located in Dulles, Virginia and has something to offer everyone. Whether you're traveling for business or pleasure or utilizing our cargo services, we are here to make your experience worry free. Come see what this city has to offer and experience it all both in the airport and within minutes of the airport. Washington D.C. Dulles Airport is located in Dulles, Virginia, which is a short shuttle ride away, about twenty-five miles outside of IAD and offers lots of restaurants, coffee shops and souvenir shops for your convenience.

With some of the most impressive attractions in the country there is no shortage of things to do and see in the D.C. area. You can arrange your airport transportation to visit Union Station in Northeast Washington D.C. ahead of time where you'll find shopping and restaurants. In fact the area has over one hundred stores! If you are a history buff you won't want to miss downtown Washington D.C. where you can visit a wide variety of museums and monuments. This is where you'll find the White House and the National Mall.

From Dulles you could ride to Washington D.C. and take a picture sitting next to the Lincoln memorial, or popular Washington D.C. landmarks similar to the Washington monument. Visit the white House and tour across the available rooms and historical offices that have been restored.

IAD Contact Information:
Washington D.C. Dulles International Airport
1 Saarinen Circle
Sterling, Virginia 20166
Airport Code: IAD
D.C. airport transfers and tours

There are many places to visit while you are in D.C. that are spread out so taking a local shuttles to the hotel and then using hop on hop off bus tour around the city is ideal.
Shuttles to monuments in Washington D.C.

Washington D.C. is one of the most popular places to visit in the United States to learn about our history and the past. Here are a few places that you may have overlooked when planning your visit.