Denver International DEN Airport Shuttle
When you fly into or out of Denver International Airport book cheap reservations for rides around Denver in airport shuttle vans, quick rides in discount taxi cabs, personal driver in sedans with a chauffeur and limo service to and from DEN airport. This airport is quite unique looking, you'll notice the white peaks of the airport's roof which was designed to mimic the snow-topped mountains which surround the Denver area. The state-of-the-art airport is a favorite for travelers so if you are flying in for a ski trip you will be pleasantly surprised. Make sure to check with your transportation company and consider booking a private van if you'll be bringing ski equipment.
Search for DEN airport rides

Trusted service since 2003

Flight Delayed? We wait.

24/7 Customer Service

Denver Airport Transportation

While you may need simple and quick transfers to your destination there are many ways to travel throughout the city. Shared ride vans and taxis can take you to your destination with competitive rates but quicker than most rides.

DEN Shuttle Transfers

If you're going to be flying into or out of Denver International Airport and need an airport transfer, you're in luck. AirportShuttles.com serves the Mile High City with pride. You can grab a shared or private shuttle or even a private black car service.

Airport Pick Up

If you find yourself in need of an airport ride at DEN airport, look no further than GO Alpine or Colorado Mountain Express. Both of these excellent providers can get you to your hotel in no time flat.
Denver Airport Shuttle Service
Denver International Airport offers several ways to travel while outside of the airport. There are several shuttle services you may take as well as taxis and buses for rides to downtown hotels and convention centers.
DEN Airport Pickup and Drop Off
Denver International Airport's main shuttle provider is AirportShuttles.com for arriving and departing flights. Once landed passengers can discover the many destinations in Denver for the downtown area.




The Jeppesen Terminal, which is located in the areas of Level 5 including Island 5, is where you can board your shuttle bus for transfers throughout the Denver area.

Shared Ride Van
Whether you are traveling alone or with others a shared ride van service can be among the best options for transporting you or your group.

Private Van
Travelers headed towards Boulder, Fort Collins or even Loveland can book their rides together for a comfortable drive.

Private Sedan
Executive rides for private sedans are available with Discount Shuttle & Car Service and Zumu Tesla Service for Longmont as well as destinations in Littleton.

Local Personal Drivers
Reserve rides with local drivers who can take you to the Downtown Aquarium in Denver or the Elitch Gardens Theme Park.

Private SUV
A door-to-door service serviced by Colorado Limo and Colorado Mountain Limo has discounted rates for private SUVs.

Taxi Cab
Book a cab ride from the DEN airport to the Denver Zoo or a day at the Denver Botanic Gardens or get dropped off to your hotel stay before you visit the city.

Chartered Bus
If your group is heading towards the Rocky Mountains a bus ride together can help save everyone on board cost of traveling individually.
DEN airport terminals
Make your way to your gate from Jeppesen Terminal and get to your destination at DEN airport.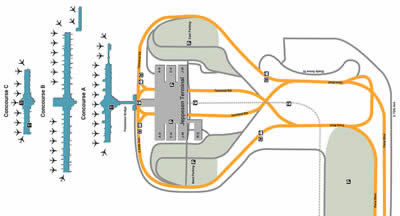 At DEN airport shared ride vans with AirportShuttles.com Denver can be better than taxicabs or private car since the airport is not close to downtown Denver. If you have an exhibit at the Colorado Convention Center then your group may be better fit for private vans that can carry more passengers together.


While in town there are other alternative ways to travel around besides shuttles which is by limousines and sedan services, which give you a more private and personable way to get to your destination.

As you arrive at the airport you can proceed to your shuttle ride located in the ground transportation section after you pickup your luggage. You can find many types of transfers such as shared ride, which allows you to share transportation with other passengers to Denver surrounding neighborhoods or even private van and sedans for groups heading towards local hotels or the Colorado Convention Center.

How far is DEN Airport from Downtown Denver?

The distance between is about 26 miles or a 35 minute drive depending on traffic. The quickest route is heading down Peña Blvd and then to I-70 W with pre-arranged or on-demand services but there are also rail, train and bus services that can get you to your destination if you do not mind a crowd.

How much is a ride from Denver Airport to Colorado Convention Center?

The price for rides can depend on what service you use. A share ride van  can cost you around $25 whereas a private car service such as a sedan or limousine may cost you from $45-$75.

Where do I find passenger pick up at Denver Airport?

While there is no curbside waiting at the terminal you are permitted to pick up passengers as you drive through. Be sure after you collect your luggage in the Jeppesen Terminal to head to Arrivals at Level 4 where you can find your pick up.

Denver Hotel Shuttles
Discover the many different Denver hotel shuttle rides to fit your liking and get your group to downtown or neighborhoods surrounding Denver International Airport. If you are looking for a budget friendly but still high quality way to stay you might want to try out hotels such as Baymont Inn and the Sleep Inn which both have airport transfer services from limos to taxicabs to private sedans.

If you are looking for something a little more classy along with luxury town cars and airport limousines you may want to check out and check in with Embassy Suites, Hampton Inn or Aloft. These aren't the only hotels that surround the airport with discount shuttle bus transfers however make sure you check around the other hotels online to secure your shuttle booking.

Denver Destinations
There are many places to visit in Denver so check out some of the links below and see what you may be missing.
Visit Denver
 
 

About Denver Airport
Denver International Airport is conveniently located in Denver displaying the beauty of nature and its mountain terrains and has a fiberglass rooftop that is designed to look like snow on the top of a mountain. Denver International Airport, which is also known as the "The Mile-High City" rises to more than five thousand feet and is famous for its many ski resorts along side of the Rocky Mountains. Denver is a great place you must visit whether you are on a family vacation or traveling on regular business trips.

The Denver Airport is near the downtown area, which you will find many restaurants as well as entertainment and Denver hotels. Denver is a rich city and offers plenty to do. If you're looking for shopping the 16th Street Mall is and runs up and down the street with food, vendors and entertainment for everyone. The city features the Chamberlin Observatory and for family fun the Denver Zoo for you to visit before you head back to the hotel so you can relax while overlooking the mountains in the background.

The DEN airport is set near many of the colleges located around the city, which provides easy transfers for students looking to book shared ride vans for transport back and forth between both University of Colorado Boulder and Colorado State University.

DEN Contact Information
Denver International Airport
8500 Pena Blvd.
Denver, CO 80249
Airport Code: DEN
Shuttle services to Denver ski resorts

There are many ski resorts near Denver including some popular ones in popular resort areas that you may want to check out. If you are planning your next ski vacation take a look at some great options for where to go.
Holiday Travel Tips

When traveling you can never over-prepare, especially when headed toward snowy weather. Get tips and ideas on how you can make your trip easier as you travel.