Dallas Fort Worth International DFW Airport Shuttle
The Dallas Fort Worth International Airport serves millions of passengers each month, in fact it has become the fourth busiest airport in the world. Chances are, if you are flying into DFW you will most likely have things to do so getting through the airport as fast as you can becomes an important task. Compare rates and features for various transportation companies and vehicles such as shared ride vans and black car services and even ride sharing services. Knowing your options and booking your reservations in advance will really help put you at ease.
Search for DFW airport rides

Trusted service since 2003

Flight Delayed? We wait.

24/7 Customer Service

Dallas Airport Transportation

Find the right fit for you comes down to whether or not you mind sharing a ride and cost. A shared ride van simply allows you to share any airport ride along with others in the same vehicle traveling towards similar destinations. 

DFW Shuttle Transfers

Whether you need a shared airport shuttle or a motor coach, AirportShuttles.com at DFW airport has got you covered.

Airport Pick Up

Go Yellow Checker Shuttle will get you where you need to go at the Dallas Fort Worth Airport. Let their professional drivers help you navigate Dallas.
Dallas Airport Shuttle Service
At DFW airport average cost of a shared ride shuttle can range depending distance from Dallas Fort Worth International Airport. Also depending on the type of vehicle or ride you take such as a limo bus or taxicab can reduce the price and drive time.
DFW Pickup and Drop Off
AirportShuttles.com offers discounted rates for your pickup and drop off at your terminal at DFW airport.


When you land at DFW airport you can find your shuttle by heading towards the ground transportation at the end of the terminals.

Shared Ride Van
AirportShuttles.com and Yellow Checker Shuttle can help you get to your destination via shared ride van service.

Private Van
The Dallas Convention Center has multiple rides to and from the DFW airport if you are with larger groups of passengers looking to save as a group.

Private Sedan
Find rates for private sedan with a personal and professional driver with shuttle providers such as Zumu including Federal Limousine.

Local Personal Driver
Wingz is a local company that services the DFW airport offering personal drivers for a unique type of transport.

Private SUV
You can book private SUVs to locations near Love Field as well as the downtown Dallas districts for cheap rates on your transfer.

Taxi Cab
Choose from the many taxi providers and make reservations for cabs to take you to Kessler and Las Colinas neighborhoods.

Chartered Bus
Buses from the DFW airport terminal can easily transport larger groups of travelers in a single bus can cut costs and leave you with a little more room to move around.
DFW airport terminals
When you are passing through the airport find the various terminals and general shuttle pick up areas.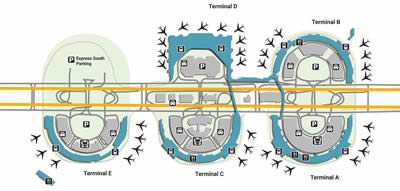 At DFW airport booking AirportShuttles.com Dallas transfers for shared ride or airport limos through their Zumu service are great choices of airport transportation for the Dallas and Fort Worth area.

There is AirportShuttles.com Dallas which is also called Zumu as well as GO Airport Shuttle and Carmel Car and Limo who all can get you to your destination quickly and are very cost effective for hotel rides from DFW airport. You make reservations prior to your arrival at the airport or for students at the University of North Texas and save money while traveling with others in the same direction as you. GO Airport Shuttle offers you the Yellow Checker Shuttle that is convenient and you will not have to lug your luggage or leave your car in a parking lot and services most Dallas surrounding neighborhoods.

How long is it from DFW Airport to downtown Dallas?

It depends on the route and traffic but if you take route I-35E S it usually is about a 20 minute drive or roughly 18 miles.

How much is a ride from DFW to Kay Bailey Hutchison Convention Center in Dallas?

For airport transfers a sedan can cost you around $70. If you want more room for luggage or additional passengers then you can travel by SUVs and Private Vans for around $105.

Where can I find my pick-up location at Dallas Airport?

Passenger pick-up is located at the lower level curbside of each terminal but if you are loading and unloading immediately or are using a ride-share provider then you can find pick up quicker in Terminal D.

Shared ride vans are a popular way to travel for those who are visiting the Dallas Convention Center, which is also known as Kay Bailey Hutchison Convention Center. While you are in the downtown Dallas area you should come visit for a day and see some of the best exhibits from around the nation.

If cost is not necessarily a concern then taking a private sedan with Blacklane or Zumu can give you a more luxurious ride which is preferred for many corporate accounts. If you still want a private ride but have more than three passengers in your party then traveling with M&M Limousines or GroundLink can give you your own chauffeur limousine as a private van with FlitWays that does not include all of the amenities you would get with a limo may be your vehicle of choice.

There are also local personal drivers, which you can book with to get to local destinations, which can give you a more private quick access to drivers who can get you to your destination. Another vehicle option that many travelers may be unaware of are private SUVs with Alliance Limousines And Transportation can offer a similar service to private sedans but can provide more space.

Dallas Hotel Shuttles
Dallas Fort Worth International offers a huge variety of different shuttles for Dallas hotels for the convenience and of its passengers. There are two hotels that are connected to the airport. One is the Grand Hyatt and Hyatt Regency Hotel, which allow great access for overnight stays and airport shuttles. Other hotels in the area include The Westin and the Great Wolf Lodge Grapevine just to name a view. These hotels are highly recommended and there are great shuttle bus transfer services available from the hotel to the city of Dallas and Fort Worth.

About Dallas Airport
Dallas Fort Worth International Airport is the biggest airport in Texas. The airport code is DFW. An airport shuttle from one of Dallas' main airports, which are DFW and DAL, can be one of the more cost effective ways to get around. There is constant communication from the airport to its passengers regarding flight arrivals and departures and also provides quality service as you wait to travel or arrive to your destination.

Dallas Fort Worth International is the heart of Dallas and offers many leisure opportunities for its passengers. If you are looking for a place to visit near the airport there is quite a bit to do in Dallas. While you are visiting you can drop by and check out the Sixth Floor Museum, which is located in Dealey Plaza or the Dallas World Aquarium.

DFW Contact Information
Dallas Fort Worth International Airport
2400 Aviation Drive
DFW Airport, TX 75261
Airport Code: DFW
Checklist for overseas travel

Learn how a little preparation for overseas travel can make a world of difference on your vacation. Take the stress and hassle out of your next trip just by taking these simple steps.
Places for shuttle pickups in Dallas

The city of Dallas is home to some of the best attractions and places to visit in Texas and the US. Dallas has it all from popular zoos to history and art museums. Plan your trip to Dallas with our handy travel tips.