Dallas pick up and drop off at DFW terminals
Ground transportation to Dallas/Fort Worth International Airport
Travelers heading towards
Dallas Fort Worth International Airport
can find their transportation quickly and easily at DFW airport. Depending on the reservation you made you can call, check-in or head towards your scheduled meet and greet. If you're visiting the twin Texas cities, you'll most likely spend a few hours at DFW International. Make every moment one to remember, even if you feel like you're wasting away in an airport terminal. With a ton of parking lots that make transportation simple as well as tasty food choices that offer speedy energy, you'll find all the myths about spending a lot of time at the airport surprisingly untrue.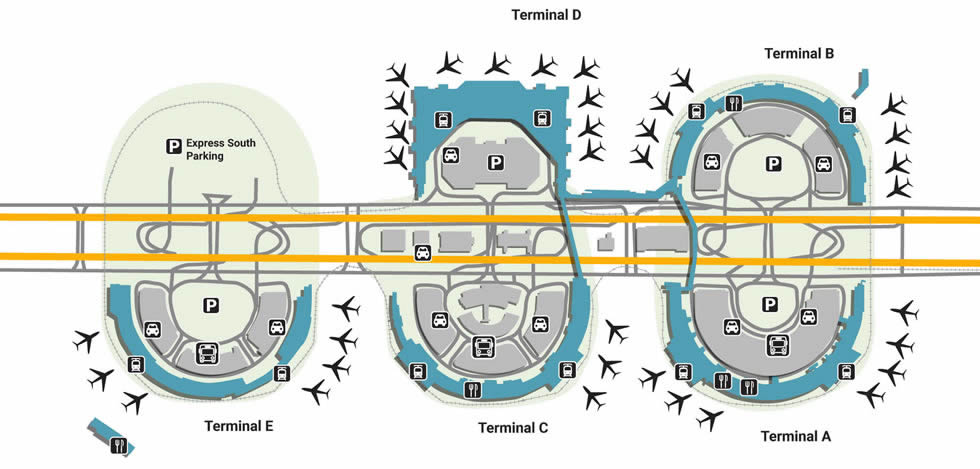 Parking
Make your trip easier on yourself by taking care of logistics before you arrive. Visitors intending to return a day or two after they depart should leave their vehicles at Terminal Parking, located alongside gates A, B, C, D, and E. If you're a swanky businessman on the go, utilize the quick and reliable service of valet, available at all terminals. Long-term fliers that intend to leave for weeks, perhaps months, should leave their vehicles in one of the two Remote Parking Lots, which are conveniently located at the north and south Airport entrances.
Services
If your flight is taking a bit longer than expected, kill some time at the relaxing Founders' Plaza. Open daily from 7 to 7, the park looks out on jets flying through the air, offering a scenic space with telescopes, picnic tables, and historic monuments. Walk your while you're outside, or enjoy one of the two animal relief areas, which are located post-security at B29 and E31. If you happen to have kids with you, stop by the Junior Flyers Club for a kid-friendly adventure right outside of A13.
Retail
Take part in America's greatest past time by spending a few minutes shopping. Whether you're in need of a slurpee from the airport's three 7-Elevens (located at A25, D20, and E13) or simply want the bag in the Coach window outside of D24, DFW's retail options makes spending time as easy as spending money. Get some Texas sweets at Lick Candy Store outside of E33, giving yourself a youthful snack while you search for the perfect souvenir at Texas Marketplace, a leathery cowboy shop located outside of B9, C21, and E15.
Restaurants
The first thing that comes into most people's minds when they hear their flight isn't coming on time is stress. The next step is to eat something delicious. Satisfy your hunger by getting ice cream at Baskin-Robbins (B43) or Ben & Jerry's (D12), enjoying a sweet treat while your worry washes away. If you're looking for a hearty Texas meal, grab a smoked chicken or brisket sandwich at Cousin's Bar-B-Q, located right outside of B47. In addition to traditional eats are innovative drinks that can be found at Fly Bar, a trendy bar that serves hot breakfast in the morning and iconic wings all afternoon.