Charlotte Douglas International CLT Airport Shuttle
Charlotte Douglas International Airport is one of the busiest airports in North Carolina. Charlotte is a city steeped in southern charm, yet with a touch of the big city. To make your visit here more enjoyable, make sure to arrange your airport taxi or black car service to and from the airport before you depart for your trip. With all of the details planned out, you'll feel better and be able to be focused on your trip, whether you're here on business going to an event at tCharlotte Convention Center or if you are attending a race at the Charlotte Motor Speedway.
Search for CLT airport rides
AirportShuttles.com response to COVID-19 concerns and important updates for customers with upcoming bookings.

Trusted service since 2003

Flight Delayed? We wait.

24/7 Customer Service


Charlotte Airport Transportation

There is an airport shuttle service available as soon as you leave the door at CLT airport. Providers range from luxury to budget and there are several companies offering a wide variety of options such as shuttle buses, cab services or for luxury black car pick up you can try our limousines or private sedans.

CLT Shuttle Transfers

Once you arrive at the CLT airport you will want to get to the baggage claim area and then meet up with your ride. AirportShuttles.com will be there waiting for you, with a friendly driver ready to get you to your hotel or wherever you may be headed.

Airport Pick Up

Hubert Car Services and Limo is the GO Airport Shuttle provider for the Charlotte Douglas International Airport. They take pride in their courteous and professional drivers and their inexpensive transfers. Let them get you around Charlotte so you can think about more important things.
Charlotte Airport Shuttle Service
Most local providers at CLT airport service the Charlotte Convention Center for shuttle rides and Liberty University. 
CLT Pickup and Drop Off
Charlotte Douglas International baggage claim is easy to find and lots of room to gather your bags at ease. 
 
Shared Ride Van
Whether you are in Charlotte for business or for pleasure, book our shared vans for the best quality airport transfers to your hotel.

Private Van
All types of pickup and drop off available at various places in Jacksonville. Book our private vans if you are going to the Bechtler Museum of Modern Art or Freedom Park.

Private Sedan
We have professional drivers at our employ who will get you there in no time at all; preferred destinations in Charlotte include the Independence Park and Levine Museum of the New South.

Local Personal Drivers
We have personal drivers with extensive local knowledge available at just a call, whether you want to go to the Boomerang Bay or the Carolinas Aviation Museum.

Private SUV
We provide direct access to private SUVs wherever you are – at your hotel or at tourist spots in Charlotte such as Tremont Music Hall, we will pick you up.

Taxi Cab
The best cabs for hire service in Charlotte, committed to providing high quality ground transportation in the Queen City of North Carolina.

Stretched Limousine
Show up at the prestigious Westin in Charlotte in your own private limousine, with a professional, trained chauffeur top complete the set. Book our limousines today.

Chartered Bus
Visit Carowinds: Thrill Capital of the Southeast Famous Amusement Park in Charlotte for a day of fun, frolic and rides. Book your buses in advance for your group and get early bird discounts.
CLT airport terminals
Get to your shuttle pick up and meet and greet limos easier and better navigate the layout of the airport.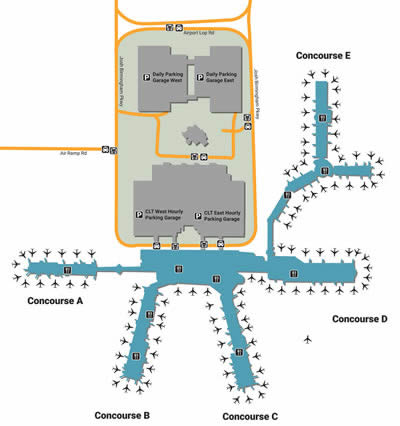 Charlotte Airport Shuttles

At CLT airport shuttle transportation gives you the choice from shared ride shuttles, private rides or taxis. Charlotte Douglas International also offers a speedy shuttle to and from the long term and short term parking decks.

There are some reliable pre-arranged shuttle services that service CLT airport such as Affordable Charlotte Shuttle or All City Transportation & Shuttle. Columbia Charlotte Shuttle and Queen City Shuttle provide a cost effective way to get to and from the airport as well.

If you are looking for a private ride from a nearby Charlotte neighborhood then providers such as A Class Act Limousine, A Global Limousine and Absolute American Transportation offer luxurious car service and limousine service. Car rental services such as Enterprise Hertz and Advantage offer service at the airport too.

The beneficial part of being so close to uptown Charlotte is the wide variety of hotels you have to choose from. Some of the hotels that offer complimentary shuttle service to and from the hotel include: DoubleTree by Hilton Charlotte, Courtyard by Marriott Charlotte and Country Inn & Suites. You also can choose from your choice of 5 star hotels to 2 star hotels within miles of the airport.

About Charlotte Airport
The CLT airport also makes it easy on friends and family with a continuous loop so your friends and family do not have to park if they choose not to and several long term or short term parking if they choose to.

Charlotte Douglas International is a great mix between city living and southern hospitality. The airport code to this location is CLT and serves Charlotte, North Carolina and surrounding cities. It is a mere eight miles away from the beautifully landscaped uptown Charlotte, where you can find an abundance of entertainment, variety of restaurants to choose from as well as hotels in Charlotte.

CLT Airport Terminals
CLT has made it very easy to navigate from one terminal to the next offering car assistance and making sure the flight screens are all up to date on current flight statuses and are well known for their customer satisfaction.

Charlotte Destinations
Coming to Charlotte can be a little confusing at times while driving through the city but with a little help from the local visitors bureaus you can be on your way to fun and locating your destination quickly.
Visit Charlotte

Charlotte has many museums and attractions such as the NASCAR Hall of Fame, Carowinds, which is a theme park with amazing roller coasters, the Charlotte Motor Speedway and the Broadway performances at the North Carolina Blumenthal Performing Arts Center. In addition you can find family events such as Art and Soul of South End and Food Lion Speed Street.

CLT Contact Information
Charlotte-Douglas International Airport
5501 R C Josh Birmingham Parkway
Charlotte, NC 28208
Airport Code: CLT
Rides to local attractions in Charlotte

Visitors coming to Charlotte will discover a large city that is filled with many activities for you to do during your stay. Learn more about the many things you can do while you are in town.