Seattle Tacoma SeaTac International SEA Airport Shuttle
Seattle-Tacoma International Airport is one of the busiest airports in the United States' west coast. With companies such as Microsoft, Starbucks and Costco calling this beautiful city home, it's not hard to see why. Aside from an active commerce scene, Seattle is also a great tourist destination to bring your family. Before you leave, make sure that you book your airport ride in a shuttle bus, taxi, limousine or bus. Having your driver there to meet you once you land will make your trip that much better.
Search for SEA airport rides

Trusted service since 2003

Flight Delayed? We wait.

24/7 Customer Service

Seattle Airport Transportation

You can book with dozens of local providers such as GO Airport Shuttle Express airport transfer service which has cheap rates for shared ride shuttle service. This means that you'll split an airport shuttle with several other passengers who are traveling in the same general direction in order to reduce the cost of your fare.

SEA Shuttle Transfers

AirportShuttles.com in Seattle can help you make your way to or from the Seattle-Tacoma International Airport, or SeaTac, with ease. With their signature quality service for private chauffeured town cars and private SUV service your airport transfer just might be your favorite part of the trip.

Airport Pick Up

The GO Airport Shuttle provider in the Seattle-Tacoma area is SpeediShuttle Seattle. When you need a ride to or from SEA they can get you there with a fast and cost-effective airport shuttle or private ride.
Seattle Airport Shuttle Service
Those arriving at SEA airport or SeaTac can locate their shuttle transfers after you get off the plane. With Seattle conveniently near cruise ship terminals located in the Port of Seattle; waterfront hotels such as Pike Place Market and mountains throughout booking an available shuttle bus transfer early can make your trip smoother.
SEA Pickup and Drop Off
From shared ride vans to private car service our providers are here to assist you with getting when you arrive from picking up your luggage.


After you land in Seattle you should proceed for shuttle rides after the Baggage Claim level at the parking lot.

Shared Ride Van
Federal Way and Kirkland are some door-to-door routes that our shared ride vans can take passengers in the Seattle area.

Private Van
SeaTac Airport Shuttle service has competitive rates for GO SpeediShuttle and GroundLink with friendly drivers who can get you around including downtown Seattle.

Private Sedan
Zumu SUV Service, which is provided by AirportShuttles.com, can transfer your group to Pacific Science Center. On the other hand if your day consists of a casual day at Pike Place Market then Blacklane sedan service can get you there.

Local Personal Drivers
Wingz personal drivers can get you to famous attractions such as Space Needle, the Chihuly Garden and Glass and Museum of Flight.

Private SUV
Rides to nearby hotel accommodations with E Z Limousine Service and Seaview Airport Service can handle smaller passengers but with more luggage space than other vehicle types.

Taxi Cab
Whether it is a day of baseball at Safeco Field or football at CenturyLink Field a simple and direct taxi ride may be your best choice.

Stretched Limousine
With FlitWays private limos at SEA airport you can find affordable solutions if you need a more private and luxury ride to your hotel such as The Edgewater Hotel, which has great views of the water and the downtown Seattle skyline.

Chartered Bus
From family reunions heading to the Woodland Park Zoo or groups traveling together for a day at the Washington State Convention Center traveling by bus is not only cheaper but also more fun.
SEA airport terminals
Locate the pick up locations, parking and even amenities throughout the SEA airport with our terminal maps.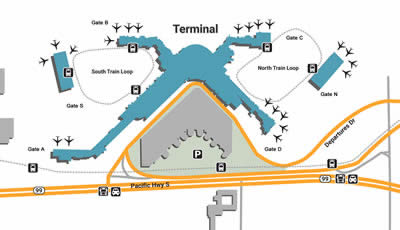 At SEA airport compare shared ride van transfers, limos and taxi rides throughout Seattle. GO Airport Shuttle Express offers many perks for choosing the right vehicle to get passengers from the airport to their next destination.

You can book shuttles to hotels in Seattle or take a private sedan to surrounding neighborhoods as well as local businesses. In addition you can also reserve your airport ride with companies such as Blacklane as well as Flitways who offer these same services as well. For private SUV service you can book with Zumu, which is serviced by AirportShuttles.com Seattle for, cruises that you can embark on from the Port of Seattle. Our providers offer convenient shuttle rides that can get you from SeaTac airport or a nearby hotel.

The ground transportation area has many professional drivers waiting to take you to nearby hotels or for those living in the nearby Seattle surrounding neighborhoods. If you are a local college student at the University of Washington who needs a ride to the SeaTac airport you can book discount rates from our local shuttle providers. In addition, families can save when they book a round trip that has a direct route to downtown Seattle with providers such as Downtown Airporter or GO Airport Shuttle Express which can be one of the best ways to get around.


Seattle Hotel Shuttles
Seattle offers hotels like the Marriott and the Clarion hotel waiting for you to check-in, which has a variety of transportation options such as sedans and private vans for those traveling with a group of people. You can take shared ride vans to The Westin Seattle, which was recently renovated and is located in downtown Seattle near the Seattle Convention Center.  In addition you can find yourself enjoying the fresh breeze by the sea or kicking it back near Seattle's cruise ports with affordable hotel accommodations and Seattle Hotel Shuttles to or from the SEA airport.

SEA Destinations
Visiting Seattle can be a great experience whether you are on pleasure or business but getting the information about local destination can be easier when visiting the visitor's bureau.
Visit Seattle

About Sea-Tac or Seattle Airport
The Seattle-Tacoma International Airport or Sea-Tac, the given nickname by the locals, is located in Seattle, Washington. Flying with Sea-Tac can be an enjoyable experience getting around the city as you have a variety of shuttle rides such as shared ride vans and town cars with courteous drivers. Seattle Tacoma International Airport abbreviated SEA or also known as Sea-Tac serves millions of travelers throughout the year. The airport is located in the Port of Seattle and creates a vast amount of jobs for the city of Seattle and is vital to its economy.

The airport decorated throughout the airport and its terminals such as artwork by 20th century Louise Nevelson as well as Frank Stella. Once you exit the terminals getting a ride from the airport is close to downtown Seattle. Some attractions that tourists can visit are Pike Place Market and Seattle Waterfront, which can be seen in several movies.

Things to do in Seattle
Seattle has one of the most impressive seaports in the world with places to eat and exciting events that are held at the Port facilities. It has trails for travelers to explore on including bike paths for a quick day escape. You can even board your favorite cruise at Smith Cove Cruise, which you can find at Pier 91 and cruise to exciting places in Alaska or in the Pacific.


Seattle provides excellent museums like the Downtown Seattle Art Museum or the Frye Art Museum. Over all, Seattle has just about everything from a family day out to enjoying fresh the many seafood restaurants. Known as the Emerald City the city of Seattle is surrounded by lakes, rivers and mountains with its unique Puget Sound.

If you are one of the many tourists that fly into the Seattle to explore than the Space Needle should be one of those stops. Created in 1962 the Space Needle was a major attraction at the World's Fair. Another favorite attraction is the Seattle Aquarium, which you and your family can observe the sea life common to Seattle. Tacoma's Pt. Defiance Park is also another aquarium but has a zoo as well. For tourists looking for water fun can spend the day at Wild Waves and Enchanted Village water park is sure to keep you cool.

SEA Contact Information
Seattle-Tacoma Sea-Tac International Airport
17801 International Blvd.
Seattle, WA 98158
Airport Code: SEA