Miami International MIA Airport Shuttle
Miami International Airport is a travel hub located in Miami-Dade county Florida. Miami is famous for its beautiful people and beaches and its colorful scenery. Miami is also a bustling business community and is a port city. All of this makes the airport a very active airport. If you happen to have a flight at MIA airport it is a good idea to book your airport transportation before you leave. Make sure to decide whether you need a shared ride van or private van or an airport bus. Once you've done this you can relax and enjoy your flight.
Search for MIA airport rides

Trusted service since 2003

Flight Delayed? We wait.

24/7 Customer Service

Miami Airport Transportation

The Miami metro area is a large and busy area so booking your airport ride early can prove to be one of the most important steps of planning your trip. You'll also want to make sure you choose the right transportation provider and vehicle option for you which can range from taxi, sedan and shuttle rides. Miami International Airport has shared ride vans and private vans are available from several companies who can pick you up after your plane lands.

MIA Shuttle Transfers

Miami AirportShuttles.com can take you from MIA airport around this spicy South Florida city. When you arrive at the airport find your ride right away by looking out for the Zumu at the curbside in front of baggage claim.

Airport Pick Up

GO Airport Shuttle & Executive Car Service is one of the top providers of airport transfers to or from Miami International Airport. You can book one of their shared ride airport vans or, if you have a large group you can reserve a non-stop private van.
Miami Airport Shuttle Service
Airport shuttle services at MIA airport offer a wide variety of options for ground transportation for shared ride and private car transfers through AirportShuttles.com Miami which is one of the most preferred shuttle providers in the area.
MIA Pickup and Drop Off
Curbside pickups from the airport can be found easily by following the signs after you pickup your luggage. With shuttles booked in advance you can skip past the lines and directly into your shuttle bus to your Miami destination.


Pick-ups are easy to find. Once you land at MIA airport shuttle vans can be found in lower level or the ground level, which is near the baggage claim.

Shared Ride Van
Passengers can travel in shared ride van service with AirportShuttles.com to most areas in the Miami area.

Private Van
Besides the Zumu service provided by AirportShuttles.com other providers that can give superior private van service is with GroundLink, Easy Shuttle and Blacklane.

Private Sedan
When arriving at MIA airport business travelers can ride in style with executive sedans with Zumu via AirportShuttles.com service as well as First Class Limousine and Moveo.

Local Personal Drivers
If you are looking for a more personable touch to your visit traveling with a personal driver can take you to nearby places such as Zoo Miami and the Miami Seaquarium.

Private SUV
Avion Limousine Service can give a tourist new the area a unique and comfortable ride through the Miami area with its private SUV vans.

Taxi Cab
Getting quick transfers to InterContinental Miami and to hotels near South Beach can be affordable with a local taxi service.

Chartered Bus
If you are in town for a quick day or two for the game at Marlins Park then a bus may fit your travel needs better than other means of transportation from MIA airport.
MIA airport terminals
Get a general idea of where your shuttle transportation is so you can get to your driver quicker. Use with your online confirmation at the airport which has the provider contact information and instructions.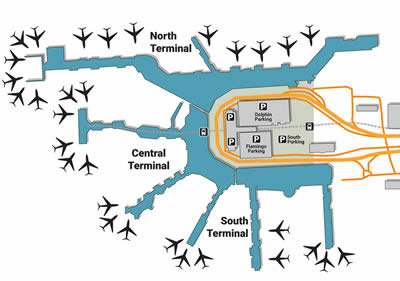 The MIA Airport has transfers for shared ride vans including private cars for arriving travelers. Some of the more popular ways to travel are in sedans with AirportShuttles.com via their Zumu service, which can carry up to 4 passengers.


If you are looking for a peaceful private transfer you can book a sedan or town car to get you to and from the Miami airport. Miami, the largest metro area in the state of Florida has a strong Latin flare throughout its Miami surrounding neighborhoods.

How far is Miami Airport from Fort Lauderdale Airport?

Depending on which route you take the quickest way from MIA to FLL is up I-95 Expressway for about 29 miles or a 30 minute drive depending on traffic. While many destinations have transfers to/from MIA Airport that is not far, the drivetime can be quite extensive due to the areas consistently heavy traffic and construction zones.

Where can travelers find pick up/drop off at PortMiami ?

How much are rides from Miami Airport to downtown Miami?

Stretched limousines are available for passengers up to 12 in a vehicle with plenty of room for luggage. Our shuttle providers have licensed drivers who are properly insured so you can feel safe while they transport you throughout the Miami area. Each shuttle provider has professional drivers who are trained to assist you while traveling such as AirportShuttles.com Miami and GO Airport Shuttle.

With so many airports transfer options in Miami finding a company that provides luxury car service or any type of transportation you need to another airport like Palm Beach International Airport or Fort Lauderdale International Airport can easily be searched and booked online. All of these services are also services offered between MIA and the PortMiami. You can find taxicab providers with bilingual and professional drivers from each of the terminal's Ground Transportation centers.

Miami Hotel Shuttles
Shuttle services to Miami International Airport Hotel are on the property of the airport, which can make an overnight stay quick and convenient. Within a vicinity of easy access for limo rides and shuttle buses you can find hotel transfers from Miami airport that can make your trip from start and finish easy with little effort. When flying out of MIA it's a good idea to allow extra time particularly if flying internationally as you may face an hour-long line just to check your bags. Be sure to reserve your Miami Hotel Shuttles ahead of time to avoid the wait at the counter.

You can find shuttle buses for your accommodations down from Ritz Carlton, Holiday Inn Express and Homewood Suites all of which has great rates for taxis, shuttles and private car services. Surrounded by popular hotels The Miami Beach Convention Center has cheap hotel rides to popular tourist attractions around Miami Beach and is also located near South Beach, which has nightlife like no other area.

Miami Destinations
The city of Miami is filled with great restaurants and places to visit including the famous beaches that surround it. Find the guide and information you need to get around downtown or metro areas.
Greater Miami Convention & Visitors Bureau

About Miami Airport
Because Miami International Airport is located about 10 miles from downtown Miami and it is accessible by road using buses, taxis and shuttles, which serve the airport. Travelers can use buses from the airport to the Metrorail and Metromover stations or alternatively they can rent cars.

Miami is a major tourist hot spots which you'll find beautiful beaches located at Miami Beach and is the closest city to Key West. Here you'll also find beach resorts and one of the most popular spring break locations in the world. You can visit the Frost Art museum located at Florida International University known as FIU. You can visit the animals at the Miami MetroZoo featuring the impressive performances and enjoyment like no other zoo. Jungle Island is another place to explore with lush and wild animals available bringing happiness and wonder to the family and friends. Miami Seaquarium is also located in Miami with almost forty acres of sea creatures to see.

With entertainment and attractions only offered by Miami no wonder it's on the top of the tourist hot spots in the world. Miami is home to the Miami Dolphins, Super Bowl LIV and the Florida Marlins. It is also known for its nightlife such as South Beach, which is the place to be. For families the Miami Metro Zoo and the Miami Seaquarium are great.

MIA Contact Information
Miami International Airport
2100 NW 42nd Avenue
Miami, FL 33126
Airport Code: MIA