Chicago O'Hare International ORD Airport Shuttle
Find discount rates for airport transfers to your destination when you make reservations with any of our airport shuttle services that can bring you from Chicago O'Hare Airport to downtown Chicago. Additionally, you can also get a taxi cab pick up or have a chauffeur pick you up in an executive sedan. If you want to try something special while you are traveling through the Windy City then you can book a stretched limousine and travel in style. Your group can not only save on your trip but you can be reassured of its availability by booking your transfer service to and from ORD airport early. It always pays to prepare and you won't be sorry that you did.
Search for ORD airport rides

Trusted service since 2003

Flight Delayed? We wait.

24/7 Customer Service

Chicago Airport Transportation

While at Chicago O'Hare Airport you can easily get to your location by executive sedan and even airport limousines. There are shuttle rides available for those traveling in bigger groups seeking transfers to the nearby trade shows.

ORD Shuttle Transfers

Chicago O'Hare (ORD) airport's AirportShuttles.com services include black car and private SUVs. Get around the Windy City in style.

Airport Pick Up

Choose between 3 GO Airport Shuttle providers at the Chicago O'Hare International Airport for even more great local service.
Chicago Airport Shuttle Service
ORD shuttle ride and taxi stands are outside each terminal and there is always transportation on site. There are many providers to choose from including GO Airport Express, Checker Taxi and Yellow Cab which have excellent rates for airport transfers to take you around the downtown Chicago as well as hotels and resorts.
ORD Pickup and Drop Off
There are many licensed airport transportation companies who service the Chicago O'Hare airport including GO Airport Express as well as dozens of local limo and taxi services.


You can board your shuttle from ORD airport from the outer part of the baggage claims section near the Domestic Terminal. In addition, each rental agency offers shuttle services to their designated parking area.

Shared Ride Van
ORD shared ride vans are a perfect fit for single passengers or small groups traveling to Chicago neighborhoods like Lincoln Square or Hyde Park. Book your reservation with companies such as GO Airport Express.

Private Van
If you have a larger group a private is a good option for you. You can schedule yours with companies like GroundLink or GO Airport Express to get you from ORD to places like Millennium Park or the Museum of Science and Industry.

Private Sedan
Empire Limousine or Blacklane can provide private sedan service to Chicago surrounding cities such as Albany Park or Beverly.

Local Personal Driver
Whether you are going to be traveling to Lincoln Park or Boystown a private car service can provide you with a luxurious ride to your destination.

Private SUV
A private SUV service can help you get from ORD to McCormick Place in style. Some of the better-known services in the area are AAA Limousine and Groundlink.

Taxi Cab
If you need a fast way to get from ORD to Bronzeville or Chinatown you can book a taxicab to get you there in a jiffy.

Chartered Bus
Chartered bus service is great for large groups who all need to ride together to places like Uptown Chicago or Avondale.
ORD airport terminals
If you are flying into the Windy City, you'll find O'Hare to be one of the largest and, sometimes, most intimidating airports you've seen. Get to know where things are with this convenient map.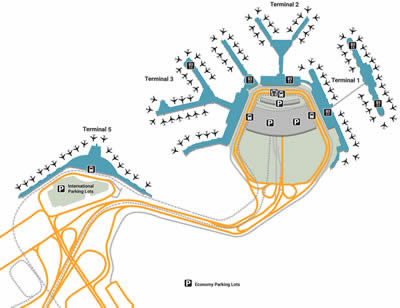 ORD airport offers AirportShuttles.com Chicago and GO Airport Express shared ride shuttles, which is a door-to-door service that goes to and from locations throughout the city and suburban locations.

 

You can book a shuttle to or from the Chicago Convention Center or McCormick Place Chicago Convention Center, which is the largest convention center in America. If you need basic transfers then there are busing services located on site. There are several bus companies including Coach USA and Greyhound. If you charter your bus ahead of time can save valuable time and make your trip much more pleasant.

How far is Chicago O'Hare Airport from Midway Airport?

The distance is about 30 miles from each other if you take I-294 S to I-55 N.  It can take about 35 minutes to travel depending on traffic and other factors.

Where can I find a pick up at Chicago ORD Airport?

Drivers can pick you up on the lower level but since curbside waiting outside of baggage claim is not allowed, you will need to meet at the outermost curb. Another option is the cell phone lot. Your driver may choose to wait here and have you call them upon arrival to determine where to meet them.

How much are rides from ORD Airport to Downtown Chicago?

Depending on the vehicle the cost can range from $55 to $130 for this 16 mile trip. While sedans are typically cheaper, booking luxury vehicles such as limousines or SUVs will cost you more.

Chicago is the Windy City and it is a frequent travel destination. Getting around town can be a daunting task if you don't know your way around. That's why many people choose to hire airport ground transportation to get them to their final destination. With so much to see and do booking a taxicab or private SUV can save you time and hassle so that you can enjoy your trip without worrying about how to navigate.

Chicago Hotel Shuttles
At ORD airport booking AirportShuttles.com Chicago or GO Airport Express is easy. We have competitive rates for hotel shuttle to take you from the airport to your hotel. You can pre-book shared ride shuttles to downtown Chicago. Perhaps you'd prefer private vans as you travel with your group to save on the cost of the ride. For a private ride for a smaller group or if you prefer a luxury ride when traveling alone you can book private sedans.

The airport conveniently offers shuttle rides to Hilton Hotel on premises across from the terminals. There are airport transfers are available from taxi to town cars for the Crowne Plaza Hotel which is located close to the airport and Hampton Inn around the corner from the main hub. Hotel shuttles can range from Budget Inns to the Embassy Suites.

Chicago Destinations
While traveling to Chicago learns more about the area and the places you can visit when you stay in the area.

 

About Chicago Airport

The airport has a knowledgeable staff who can help you with directions and locations for nearby 

Chicago hotel transportation

 to board what you reserve online. When you get to Chicago you will immediately notice the beautiful urban scenery whether you're a first time traveler or a frequent one. Chicago is one of the best cities in the US with world-class museums and restaurants and it is home to Jazz and comedy.

 

Chicago is known as the Windy City. One common starting point for travelers are the Adler Planetarium and the Shedd Aquarium with thousands of marine creatures or drop by the Sears Tower and Trump Tower in downtown Chicago. You can take a taxi rides from Chicago O'Hare airport to nearby 

Chicago surrounding neighborhoods

 at discount prices.

ORD Contact Information
Chicago O'Hare International Airport
10000 West O'Hare Ave
Chicago, IL 60666
Airport Code: ORD
Chicago attractions and shuttles

O'Hare airport has transfers available to hotels and attractions in Chicago through an abundance of taxi, shared ride and private luxury vehicles for arriving passengers.
Shuttles to convention centers

Discover the different types of airport rides you can take to and from local convention centers for trade show events throughout the United States.
Traveling by shuttles in Chicago

Planning your visit to Chicago can be intimidating, especially if you've never been here before. Take some time to discover new travel ideas that you may not have thought about before.