Taipei Taiwan Taoyuan International TPE Airport Shuttle
Located in the West Taipei region, Taiwan Taoyuan International Airport offers a slew of unique amenities ranging from an on-site library to a fun video arcade. Get to know every part of the region by having a ride to take you out as soon as you arrive, whether it's from the help of Hotel Orchard's 4-star shuttles service or the convenience of the connecting Taoyuan Station. Keep in mind you can also explore the beauty of North Taiwan with a private rental of your own, whether it's a roomy ride big enough for the whole family or something quiet for business.
Search for TPE airport rides

Trusted service since 2003

Flight Delayed? We wait.

24/7 Customer Service

Taiwan Airport Transportation

Reserve a quiet sedan to take a scenic tour of Yangmingshan National Park, located along the island's most northern tip and known for its hiking trails that rest on active volcanoes and hot springs. For larger parties looking to take a group trip downtown, reserve a chartered bus or SUV to enjoy landmarks like the National Palace Museum, bringing everyone into a world as ancient as it is new. If you're simply traveling for business and need to get in and out of Taipei International Convention Center, beat the traffic with a taxi, or absorb local history with a local personal driver, getting from the Lin Family Mansion to the Sanxiantai Bridge at a pace you can enjoy.

Located on the north end of the island nation, Taiwan International is by far the country's largest and most popular airport, not to mention one of the top 10 busiest in the world. Arrive to the busy locale all smiles by making sure you've got a ride ready for the trip, whether it's a private lift perfect for taking your time or a casual drop-off down the street. Choose between sedans, SUVs, buses, and vans to enjoy sightseeing without feeling the pressure of ride schedules, or leave it in someone else's hands by picking between taxis, stretched limousines, and local personal drivers.

TPE Airport Transfers

Find other destinations that offer GO Airport Shuttle or search for other transportation providers at Taipei (TPE) airport.

AirportShuttles.com Airport Locations

Looking for airport shuttle rides? Learn how you can get connected to the best shared ride van providers, sedans and private vans and view our airport transfer locations.
Taipei Airport Shuttle Service
The Metro Taipei MRT is a driverless elevated train system. The airport connects to the Taoyuan Airport MRT Commuters, one of which is an express rail while the other is an older train hosting economy rides into the city. Another popular transportation choice for first-time travelers is shuttles, not only for their low cost but plentiful abundance that results in several lifts circulating the region. Look forward to the nearby city of Taoyuan by scheduling your ride today, whether it's through us.
Shared Ride Van
Book our shared van service and enjoy the ride to Longshan Temple near the Danshui River. This ground transportation is the best option to take care of your budget, plus you get a secure transport. Perfect for economy riders who simply need a lift to an airport hotel, shared ride vans are a great way to take the region slow. Look forward to everything the day has to offer with the help from us, watching the world go by while seeing how other riders spend their day on the way.

Private Van
Our private van service offers airport transfers upon arrival and departure, a door-to-door service, daily pickup and drop off. You can consider this transport when going with your family to Ximending to enjoy the shops, cafes, restaurants and cultural sites. If you're a family visiting the region for the first time, you'll want a vehicle big enough for everyone to be comfy. Go with a private van to fit up to a dozen passengers, exploring the island's north side attractions with total ease, whether it's the big city lights of Taipei or the heart of the Dongyan Shan National Forest.

Private Sedan
Sightseeing at Chiang Kai-Shek Memorial done in style when booking our private sedan service. This service can be booked for airport transportation. When it comes to how to enjoy the quaint waters of Taiwan with the intimacy it deserves, no car does a better job than a sedan. Reserve a ride with one of our providers and look forward to the region with the ultimate convenience by your side, taking endless seaside roads wherever they take you.

Local Personal Drivers
A culture is characterized by what local people eat. Get to know Taiwanese culture by trying Taiwanese dishes. Hire our local personal drivers for taking you to dine traditional staff. If you're the type to skip the obvious landmarks for something cherished by natives, reserve a local personal driver to find hidden gems at an instant. Whether you're interested in timely arrivals or taking each attraction at the pace of a slowly beating heart, you'll be well prepared for new adventures with a voice ready to help.

Private SUV
Go and buy some electronics at the Electronic Avenue. You are definitely going to find the electronics much cheaper than the ones available in shopping malls. Do not worry about the time; our private SUV service is waiting for you. Fitting at least six passengers in a safe cabin, private SUVs are the best option for families who love to be on the go. From the vast history scattered across Taoyuan City to the scenic bluffs of the Linkou District in New Taipei, following the relaxing ambiance of the region is as easy as driving straight.

Taxi Cab
Take our taxicab service when visiting the National Palace Museum where you can witness some of the most ancient Chinese artifacts and artworks in the world. Whether you're arriving to an event at the New Taipei Industrial and Commercial Exhibition Center or simply want a commitment free lift to the airport, taxis are known for making every drop-off easy. See even more by having your driver take you to an all-in-one destination, one of the most popular afternoon hangout spots being Daxi Old Street.

Stretched Limousine
Your visit to Taipei is not complete if you do not taste Taiwan's pearl milk. Hire our high-class limousine service to get like a royal for a tea escape. Enjoy drinking this expensive tea at Ten Ren Tea. Get lost in the scents and flavors of the Zhongli District, witnessing the rare splendor of the region by having a ride to compliment each moment. Book a stretched limousine to assure every turn you take is an elegant one, arriving to vibrant performances at Aoyuan Arts Center at the ease of a seaside breeze.

Bus
At any time you decide our bus transport can take you and your family to Songshan Cultural and Creative Park, which has a beautiful courtyard; a whole day can be easily spent there. Feel free to ask four our combo offers and discounts. The perfect ride for huge groups looking to stick together through thick and thin, chartered buses know how to leave an impression on the small island. Experience the two hundred-mile stretch of island as much as downtown Taoyuan, arriving to expansive locales that range from the scenic overlooks at Yangmingshan National Park to historic mansions in New Taipei.
TPE Airport Terminals
Taiwan Taoyuan International Airport is home to two terminals, with two others in the process of opening in the future.
Terminal 1:
Level B1: food court, ATMs, currency exchange, and escalator to 1F.
Level 1F: departures & arrivals, baggage claim, gift shops, museum, ATMs, currency exchange, and bus/train stations.
Terminal 2:
Level B1: parking lot and auto-pay stations.
Level B2: baggage handling, customs, conference room, food court, ATM, currency exchange, and escalator to 1F.
Level 1F: arrivals, bus/train stations, customs, baggage claim, guest services, currency exchange, restaurants, and showers.
Level 2F: departures, immigration, gift shops, and currency exchange.
Level 3F: information desk, ATMs, currency exchange, Skytrain access, and museum.
Level 4F: VIP lounges, health & beauty spa, business center, massages, and restaurants.
TPE airport terminals
Find your way through TPE airport and get to your driver quickly so you can arrive at your hotel in time for your event or meeting.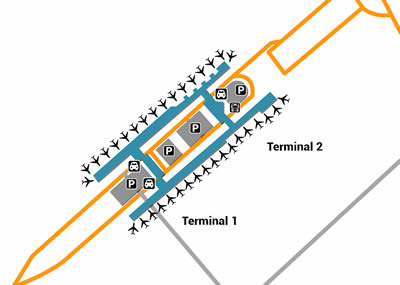 Taipei Airport Shuttles

Book hotel shuttles in Taipei and get to your accommodation downtown. Taiwan Taoyuan International airport abbreviated TPE is located 25 miles west of Taipei and is the largest airport in Taiwan.

Make sure no stone is left unturned by looking forward to the ease of a shuttle ride, wherever you're going. Book with us for reliable lifts by someone who not only knows the lay of the island but can get you there quickly.

No matter which corner of Taoyuan you're headed to, finding something fun to do is easy with how sprawled out the attractions are. Those heading to the east side closer to Taipei should make time to walk across the scenic lawns of The Lin Family Mansion and Garden while those sticking close to the Dayuan District just west of the airport have the unique shops and eateries at Gloria Outlets to discover. Central city-goers as well as those hanging out on the south side of town have The Republic of Chocolate at arm's reach, home to three stories of choco-history as well as confectionary classes at their disposal.

Find your shuttle at an instant by keeping track of all the information given to you at the time of reservation. Do so with a print out version of your confirmation email, or ask one of the many guest help services ready on the third floor of Terminal 2. Due to the heavy influx of shuttles constantly circulating Ground Transportation area, another good thing to keep track of is the description of the vehicle, something that can easily be found out with a quick call to the provider as well as basic knowledge of where the pick-up location is.

About Taiwan Taoyuan International Airport
Taiwan Taoyuan International Airport is just 7 miles to downtown Tayuan City as well as 22 miles from New Taipei City, placing you at the epicenter of one of the world's most relaxing lookouts as soon as you land. Both popular destinations due to their many resorts that rest along the Tamsui River as well as the East China Sea, you'll want to find the right room before you land, whether it's the on-site convenience of Novotel Taipei/Taoyuan or the continuing stretch of stays along the connecting Hengnan Road just south of the airport.

With a ton of eateries, shops, and convenience kiosks throughout the facility, you'll also be taken care of with the in-terminal perks of TPE Airport. Home Burger King, Subway, McDonald's, and Starbucks you'll have the convenience of classic American chains hit with a Taiwanese twist, not to mention countless other local restaurants showcased across the food courts in Terminal 2 (Level B2) and Terminal 1. Find a slew of gift shops on the second floor as well, some of the most popular being Taiwan Good Gift Store, Indigenous Creativity, and Shu Shin Bou.

Even better times await what's immediately outside the airport, so if you happen to keep lose to the facility for the duration of your trip, you'll have a lot to look forward to. Business travelers staying on the east side of the airport should indulge in the many golf courses past the vibrant Luzhu District, while outdoor lovers south of the same region have the gorgeous scenery of Five Cask Mountain Trail to enjoy. Take the trail east toward the Wu Jiu Tong Shan Scenic Area afterward, winding through mountainous terrain formed by the nearby volcano while looking forward to rural temples nestled in the foothills.

Taoyuan City Destinations
With so much to do in Taoyuan City, the hardest part about relaxing is deciding how you'll do it. Choose between family-friendly adventures at a variety of theme parks that include the international landmarks at Window On China as well as the Asian-themed adventures within Leofoo Village. Find a stronger connection with the city by also taking a tour of the historic side, one of the most popular regions to do so being Sankeng Old Street, home to Hakka-style architecture as well as a slew of local vendors.

Compliment the buzz of the city with the charm of the outskirts by making a mission to see both. Look forward to the historic shops, cafes, and restaurants along Daxi Old Street to experience the heart & soul of the Daxi District, afterward following the river north toward Li Ten Fang Mansion to take in the quaint solitude of the countryside. Find even more solace at the Cihu Mausoleum on the south end of the district, looking out at majestic skylines surrounded by the sway of towering trees.

Lounges at Taiwan International Airport
There are three lounges in Terminal 1 as well as three in Terminal 2. Terminal 1 offers prepaid passes and membership access to two Plaza Premium Lounges as well as a TransAsia VIP Lounge, both of which offer relaxed seating in addition to Wifi, beverages, and a television. The options in Terminal 2 include two replica Plaza Premium Lounges and a More International Business Center & Premium Lounge, the latter offering large conference tables, fax machines, Wi-Fi and showers.

Taipei has a bus system that makes it easy to travel around the city. Local buses have a number and their fares are relatively cheap. You can also take a taxi but please note that most taxi drivers do not speak English. You will need to have your location written on paper to make sure you get to your destination. The meter starts at a low rate for every kilometer. You won't need to tip your taxi driver.

About Taoyuan International Airport
The airport sees over 30 million passengers each year and is the world's 13th busiest international airport. Taipei itself is the capital of Taiwan. The summers here are hot and humid with heavy rain and typhoons. Winter here is warm and foggy. From June to October the Pacific Typhoon affects Taipei.

Taipei Restaurants
In Taipei almost on every street or alley you'll find something to eat. Like many populous cities you'll find a good mix of international delicacies. In East Taipei, you'll pay a hefty price tag but you'll also dine with the rich and maybe even the famous. In West Taipei you'll find great food that packs a smaller price tag. Among all the restaurants you'll also find several night markets; some are even open during the day. A night market will have stores and restaurants set up in a sort of flea market style. There you'll find a huge variety of food. A tourist favorite is Shilin Night Market. While you're there you can try the oyster omelets, tianbula, stinky tofu, mango ice, and pearl milk. Don't worry if all of this sounds too taboo, you'll also find a mix of things you're used to like spare ribs, fried fish fillets, sweet and sour chicken, and fried rice.

Hotels near TPE
If you are on a budget you'll find a number of hostels in Taipei. There's the Homey Hostel I in Downtown, Taipei Backpackers Hostel, which is near an area famous for its shopping. If money is not an object in East Taipei you'll find many luxurious hotels like the Grand Hyatt, Sheraton Grande, and the Shangri-La's Far Eastern Plaza.

Things to do in Taipei
There is so much to see and do in Taipei. First on the list are the Hot Springs. Another popular destination is to hike Elephant Mountain. There are also many festivals, events, temples, museums, and even a few theme parks like the Taipei Zoo.

TPE Contact Information
Taiwan Taoyuan International Airport
No. 9, Hangzhan S Rd, Dayuan District
Taoyuan City, Taiwan 33758