Taiwan pick up and drop off at TPE airport
Ground transportation to Taiwan Taoyuan International Airport
As the country's busiest airport Taiwan Taoyuan International Airport, offers each guest a calming view of the East China Sea when they land as well as award-winning services and amenities across three terminals. Famously designed after DC's Washington Dulles International, Terminal 1 offers five stories of shops, eateries and entertainment that make delays something to look forward to, while the newer Terminalx 2 offers six stories that include an added basement level for parking and food. Terminal 3 is the newest terminal opened in 2020. Each is connected via driverless people mover trains. Additional ground transportation includes two rail connections via Airport MRT and Taiwan High Speed Rail, bus stations and 24-hour taxi stands.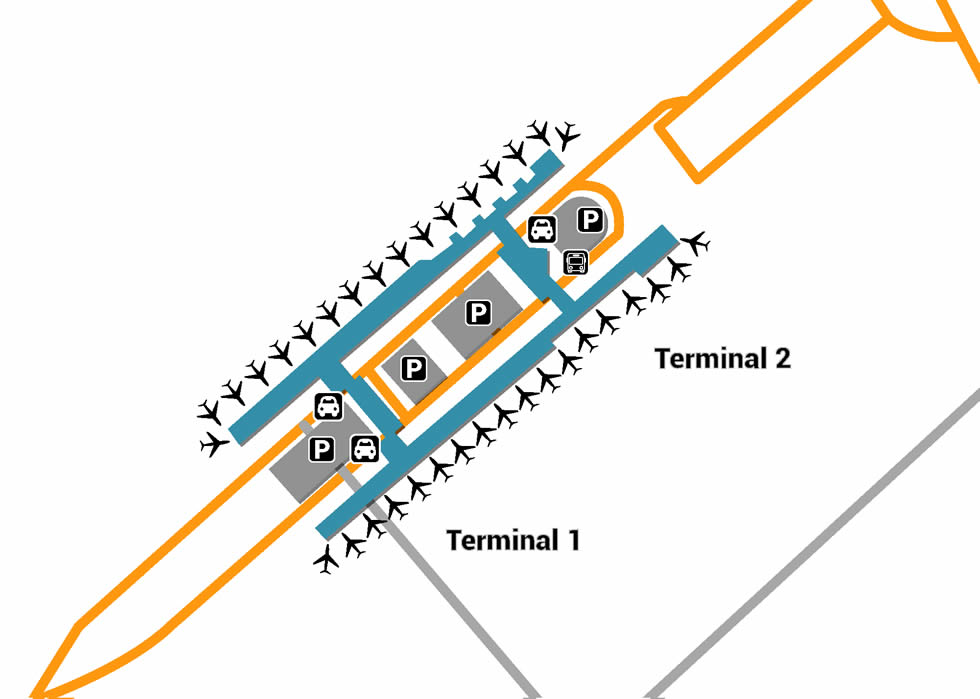 Parking
There are various parking lots throughout Taiwan Taoyuan Airport, many of which offer all types of time frames and services. Parking Lot 1 is located on the east side of Terminal 1, while Parking Lot 2 is equidistant from the west end. Similarly, Parking Lot 3 is located on the east side of Terminal 2, and Parking Lot 4 is located to the west – both of these lots are located along Ground Level and B2. Parking Lot 4 is also directly connected to Terminal 3, as well as the closest distance to CAL Park & Airport Hotel. Special services offered at each parking lot include free parking for up to 30 minutes as well as shuttle buses to and from the terminal.
Services
Services at Taiwan Taoyuan Airport range from the simplistic to the jaw-dropping, whether it be expected conveniences like information counters and post offices, or elevated perks that include showers, VIP lounges and lactation rooms. Services for the disabled include on-site medical centers and pharmacies as well as rentable wheelchairs and a few Courtesy Electric Carts ready to offer a lift to departure gates. Business perks are just as varied, providing an on-site business center dubbed 'Huan Yu VIP Terminal', and at least 8 executive lounges perfect for kicking back before the start of a busy week. Unique additions to the facility include the spacious exhibits at Chung Cheng Aviation Museum as well as CAL Park, which provides a modern hotel, convention center and the headquarters for China Airlines.
Retail
Choose from various shops, boutiques and stands at Taiwan Taoyuan Airport, whether you're trying to find the perfect toy at AIRSHOP or Hello Kitty Gift Gate, or in need of a handicraft heirloom from The Aboriginal Craft Store. Those in search of custom vanity should enjoy the classic beauty products from Cosmetics & Perfume as well as name-brand fashion at International Boutique Shops. Even more luxuries can be found at Ever Rich Jewelry and BVLGARI, as well as comfy fabrics from Puma and Adidas. And for special souvenirs, choose from Bookstore's massive collection of thousands of books and magazines or the unique oddities at off-site gift shops for The National Palace Museum and The Taiwan Museum.
Restaurants
An especially easy way to have a good time at Taoyuan Airport is through its many food courts, whether you're interested in early-morning sit downs at Godiva Café or a passing snack from Shun Chen Bakery. Indulge in worldly flavors during long delays, choosing between a diverse platter of Asian eats from either Mai's or Nanyang Kitchen, also considering the comfort of Western classics at Pian Piano Italian Restaurant as well as the self-operated D3 Bar. Over a dozen Taiwanese-style restaurants are scattered throughout the airport as well, including specialty beef noodle soup at Royal Heritage, classic wontons from Cloud Sun and deep-fried chicken dishes at Formosa Chang. And don't forget to top it all off with dessert, whether it's the specialty drinks at Coco or the ice cream cones from Cold Stone.