Sarasota Bradenton International SRQ Airport Shuttle
A highly-rated facility sitting right along the iconic Sarasota Bay, SRQ Airport is just three miles north of downtown, making transportation a breeze. Look forward to everything the region has to offer by making sure you take care of business, whether that means arriving to a conference on-time or a convention in good spirits. Escape the hustle and bustle of your terminal by having a ride ready, a task made easy if you're spending the night at Courtyard by Marriott Sarasota Bradenton Airport, a nearby facility offering complimentary shuttles and close access to downtown. See even more of the sunny town by keeping other choices in mind, from private sedans to stretched limousines.
Search for SRQ airport rides

Trusted service since 2003

Flight Delayed? We wait.

24/7 Customer Service

Sarasota Airport Transportation

There's no shortage in things to do in Sarasota, which is exactly why you should take your time everywhere you go. Do so with an intimate private rental, whether it's a sedan perfect for driving along Siesta Key or an SUV big enough to bring the whole family to John and Mable Ringling Museum of Art. Keep in mind the local love of seafood, an easy scavenger hunt easy to be part of if you've got a local personal driver to show you the way, or utilize a helpful taxi to take you exactly where you want to go. For business travelers getting to the Bradenton Area Convention Center, make things classy with a limousine rental, whether it's just you and your chauffeur or the whole gang.

SRQ Shuttle Transfers

Sarasota is home to the SRQ airport which offers reservations with AirportShuttles.com so you can get to your hotel or other destination around this sunny Florida city with no problems at all. Ride in the Zumu on your next trip.

Airport Transfers

Find other destinations that offer GO Airport Shuttle or search for other transportation providers at Love Field airport.
Sarasota Airport Shuttle Service
At SRQ airport providers such as AirportShuttles.com Sarasota, GO Airport Shuttle, and Carmel Car and Limousine are top providers. Keltic Luxury Limousine is another luxury shuttle service for discriminating guests who expect a professional, exclusive and personal service.
Shared Ride Van
Charter vans available from airport to hotel and vice versa for comfortable low-cost transport and to other destinations like Village of the Arts and the Lake Manatee State Park.
Private Van
Private Vans for hire in the Sarasota-Bradenton metropolitan region; ride or rent in the Circus City or the Friendly City.
Private Sedan
Comfortable sedans for hire in the Sarasota area; hire to compliment your luxurious living, professional chauffeurs available.
Local Personal Drivers
Local drivers know the Sarasota-Bradenton region in and out; hire one if you want to experience the best of Sarasota or Bradenton.
Private SUV
Private SUVs for hire near the Historic Spanish Point or the Lido Key; contact for easy pick and drop and fast service.
           
Taxi Cab
Hire a taxicab in Sarasota to take you to places like the Siesta Beach, Sarasota Classic Car Museum or the Mote Marine Laboratory; professional drivers for hire.
Stretched Limousine
Get everybody talking about you as you make an appearance at the Sarasota Opera House in our special private limousines for hire with traditional well-trained chauffeurs to take care of you.
Chartered Bus
Plan excursion to the Bean Point or the Warm Mineral Springs with our buses for hire to take your group anywhere you want while taking care of your every need.
SRQ airport terminals
Whether you are looking for the baggage claim at Sarasota Bradenton International or if you just want to grab a quick bite to eat, this map will make your trip much easier.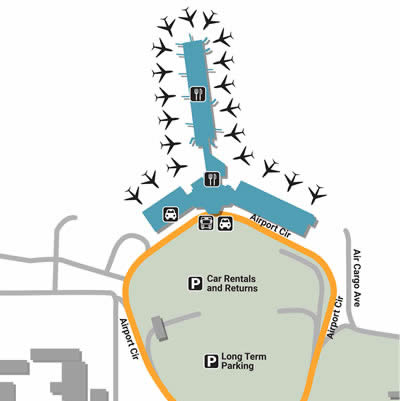 Sarasota Airport Shuttles
Sarasota-Bradenton International Airport is also known as SRQ which has discount airport rides such as private limos, taxi and shuttle buses. SRQ is located along the Brandenton and comes across the Sarasota border. SRQ is located in the county of Manatee as well as Sarasota County.

Taxi services are also available just outside the baggage claim area. Diplomat Taxi is the airport's major taxi service which runs from the airport throughout parts of Sarasota and Bradenton. No advance booking is required, and you can also get bilingual drivers to break the language barrier.

Hotels near SRQ
There are good hotel options located near Sarasota/Bradenton International , of which some offer shuttle services to and from the airport. The nearest hotels are within 0.6 miles of the airport.

Depending on star ratings, pricing, or reviews, the following are popular hotel options around Sarasota/Bradenton International : Courtyard Sarasota Bradenton, Hyatt Place Sarasota/Bradenton , and Knights Inn are located near the airport. Several other hotels are located within vicinity of the airport and provide Sarasota hotels shuttle services.

Long-term and short-term parking options are available near the airport's terminal. Short-term parking is located across the terminal building while long-term parking can be accessed using the shuttle service. Parking is free for the first 20 minutes in both car parks.

Sarasota, Easy and Relaxing Travel
Sarasota/Bradenton International Airport is situated between Sarasota and Bradenton to the southwest of Florida. The airport code is (SRQ), and it serves Florida's top tourist destinations of Tampa and Fort Myers.

Sarasota/Bradenton international Airport stands as the main gateway to Manatee and Sarasota counties. The airport is located a short four miles northwest of Sarasota, next to Kensington Park, Whitfield, Matoaka, and Ballentine Manor. The airport is also located 10 miles south of Bradenton near Sarasota Bay and the notable University of South Florida, an academic fortress with over 45,000 students.

Sarasota/Bradenton International Airport has just over ten airlines serving the facility for both domestic and international routes. The airport has two terminals and a passenger throughput of over one million annually. SRQ also boasts over 15,000 air operations monthly during winter months when the region experiences a surge in tourism activities.

Sarasota/Bradenton can be easily reached by using the US-301 highway that passes near the airport. There are also public bus services operated by Sarasota and Manatee counties. These run from the Baggage Claim area, and can be accessed 12 hours a day.

About SRQ Airport
The airport boasts a numerous shopping areas and food and drink outlets. Terminal facilities at Sarasota/Bradenton International Airport include; Wi-Fi Internet access, mail drop facilities, luggage trolleys on the ground level, baby changing facilities, massage chairs, restrooms, and an ATM. Other airport facilities include; a conference room, disability facilities, and car rental.

The airport is generally known as the Sarasota Airport. SRQ is located south of Tampa and St Pete Airport. Sarasota is known for the Islands in the Gulf of Mexico, such as Longboat Key which tends to be a popular tourist destinations due to its beautiful beaches.

Sarasota has a general population of over 58,000 people, which makes this a smaller city compared the Florida rivals, but what makes Sarasota so unique is that its a regional planned organization, so everything is always planned out far in advance. This makes the city easier to travel around vs other Florida cities where at times it can be confusing.

Things to do near Sarasota
Just to the south of SRQ is the city of Naples, and to the east is the city of Orlando which is popular for places for kids like Disney, or if you like roller coasters Universal Studios will suit you more, if you happen to love water shows, like the ever so popular "Shamu" shows and some rides thenSea World may be the event you want to visit. Due to its location, traveling to and from this destination makes it very commuter friendly. Sarasota Beach is also known for having the 2nd softer sand in the world, so the beach tends to attract many tourists and beach combers who tend to flock here just to relax in the sand and soak in the water.

Sarasota tends to be have more upscale communities than the surrounding area, so this area tends to become favorites of tourists who happen to fall upon this gem of a city.

SRQ Contact Information
Sarasota Bradenton International Airport
6000 Airport Circle
Sarasota, Florida 34243
Airport Code: SRQ