Trusted service since 2003

Flight Delayed? We wait.

24/7 Customer Service

Kansai International KIX Airport Shuttle

Book reservations for airport shuttle, taxis, sedans and limousine service to and from the airport.

KIX Airport Transfers

Find other destinations that offer GO Airport Shuttle or search for other transportation providers at Osaka (KIX) airport.

Airport Ride Service

Looking for airport shuttle rides? Learn how you can get connected to the best shared ride van providers, sedans and private vans and view our airport transfer locations.
Osaka Airport Shuttle Service
Osaka Car Service, MK Skygate Shuttles and Yasaka Kanku Shuttles are the most frequently recommended shuttle services from the airport to any area of Osaka and the surrounding region. Multilingual drivers and fast service are the most often reported benefits of this company.
Shared Ride Van
Saving money is not a bad habit. Just hire a shared ride van to visit Osaka Castle which is a Japanese castle in Chūōku, Osaka, Japan. The castle is one of Japan's most famous landmarks in Osaka.
Private Van
Universal Studios Japan, located in Osaka, is one of the four Universal Studios theme parks. Book a private van to visit one of the biggest studios with your friends or family.
Private Sedan
You can hire a private sedan to visit the Osaka Aquarium Kaiyukan. This is an underground aquarium located in the ward of Minato in Osaka.
Local Personal Drivers
If you don't know how to drive, you can hire a personal driver from Osaka. We are offering local personal drivers for our customers. You shall hire a personal driver for visiting places like Shitennō-ji Buddhist temple, Umeda Sky Building etc.
Private SUV
Tempozan Ferris Wheel is one of the biggest Ferris wheel in the world. You can hire a private SUV for your trip with family or friends.

Taxi Cab
Namba Parks is a shopping complex located in Namba-naka Nichome, Osaka. Just hire a taxi to visit one of the most amazing shopping complexes in Osaka.
Stretched Limousine
If you wish to brag about your trip, you can hire a Limousine. Even a pick and drop service is available if you wish to go to the Kansai International Airport.
Chartered Bus
The Fujita Art Museum is one of the largest private collections in the Kansai region. Take a bus and visit the museum with your buddies or family.
KIX airport terminals
Whether you are in a group or traveling by yourself you can find you way around with maps that guide you through the terminals.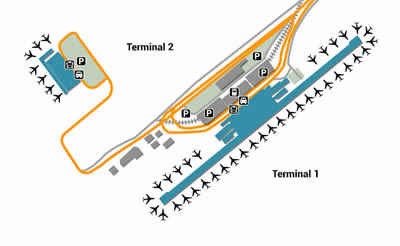 Kansai airport is one of the most unusual locations for an airfield in the world. The Japanese government and business owners built an island for the airport in Osaka Bay. The airfield was constructed to reduce overcrowding at other airports in Osaka. The airfield is over 20 miles from Osaka Station.

Passengers can find shuttle rides for Kansai hotels that can pick them up at the airport for easy transfers. The drive can be quite long due to traffic and distance from Osaka and tipping is encouraged. Car rental is available from Ace, Budget, Europcar, Alamo, Enterprise, and Hertz at the airport. Yasaka is the most frequently recommended taxi service in Osaka. The city provides bus service, train service, and water ferry from the airport to Osaka.

About Osaka Airport
The spacious and decorative terminals were designed by Japanese architect Noriaki Okabe and the world famous Italian designer Renzo Piano. The terminals are segregated based on the type of traffic that each carrier is responsible for. The airfield has become an international hub for passenger and cargo flights from Asia, Europe, Japan, Australia, and the United States.

The airfield is not only an engineering marvel but has become a small city over time. The hotels, shops, theaters, and stores were developed in part to help pay for the huge construction. The shopping area has become customized to cater to specific cultures that frequent the airport. Eateries and stores that cater to Chinese, Muslim, and Western passengers are one of the bonuses that the almost 20 million visitors to Kansai Airport enjoy.

The terminal provides a unique shopping experience and is a center of precious metals and jewelry trade in Japan. If you can imagine a service then you can find it at Kansai airport. A new highway with train was constructed to make access to and from the airport easy and efficient. Osaka is the commercial center of Japan. The city is famous for the spectacular lighting in its many specialized shopping centers and for the variety of night life and entertainment.

Hotels naer KIX
The Hotel Nikko Kansai Airport and Star Gate Hotel Kansai Airport offer five star accommodations in the airfield complex including business services. The Bellevue Garden Hotel Kansai International Airport and Best Western Hotel Kansai Airport are considered to be the best three star accommodations at the airport. The Inunakiyama Grand Hotel Kisenkaku provides a mountainside view of Osaka and features traditional Japanese cuisine.

KIX Contact Information
Kansai International Airport
1 Senshukukokita, Izumisano
Osaka Prefecture 549-0001
Airport Code: KIX