Kansai pick up and drop off at KIX airport
Ground transportation to Kansai International Airport
A floating island at the heart of Osaka Bay, Kansai International Airport is one of the most uniquely designed facilities in the world, offering two vast terminals as well as rapid rail connections to surrounding cities like Izumisano, Sakai and Osaka. Terminal 1 is a large four-story building home to a tranquil design that includes a wing-shaped roof and driverless rides aboard The Wing Shuttle, while Terminal 2 offers a spacious single-floor building for low-cost flights, plus easy access to the airport's ferry stations. Additional features include a 10-acre (4-hectare) park, a shopping mall and Sky View Observation Hall's vast lookouts of the tarmac. Ground transportation options include train access via JR West's Haruka Limited Express as well as Nankai Railway's ultra modern rapi:t train, not to mention inter-terminal buses and high-speed ferry rides across Osaka Bay.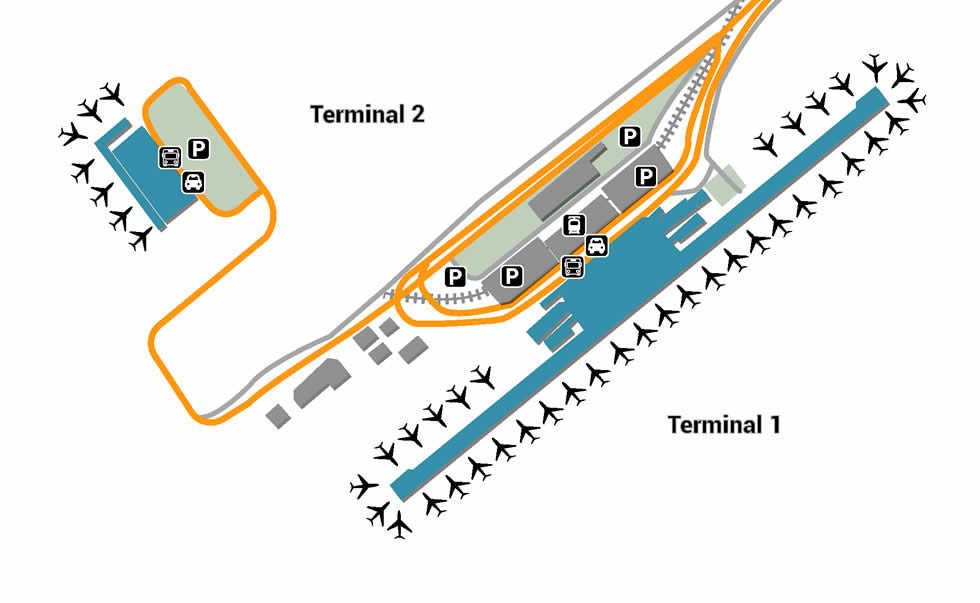 Parking
Kansai Airport is home to five parking lots that offer short-term lots, long-term lots and business services across several floors. Both P1 and P2 are the largest lots, offering six stories above the Kansai Airport Station, while the smaller P3 and P4 garages provide two levels next door to the Aeroplaza, which is a multi-use complex west of the Kansai Airport Station offering upscale lodging, shops and restaurants. And finally, the P5 garage offers the easiest access to Terminal 2. Kansai Airport parking also offers various discount systems including a 2-hour voucher to those who spend at least 3,000 yen in the terminal or on-site hotels as well as 25% off KIX-ITM Card Members.
Services
Whether you're just passing through or stuck at the airport for a longer duration of time than expected, Kansai Airport services make the art of waiting especially peaceful. Enjoy expected conveniences like various tourist information centers as well as Kansai Airport information desks, not to mention on-site clinics and luggage services perfect for getting around. Business perks include free Wi-Fi throughout the facility, various lounges and 24-hour business centers, and two on-site hotels. Even more relaxation can be found through rentable shower stands and a few massage & spa parlors, not to mention the sweeping views and relaxed deck atmosphere of the Sky View Observation Hall. There are also a wide variety of family-friendly services that include free wheelchair & baby stroller rentals, as well as sizable kids play areas throughout each terminal. Additional unique perks range from the 24-hour Pet Hotel to sun-soaked decks at the Sky View Observation Hall.
Retail
Look forward to a wide variety of goods from unique shops and global vendors across Kansai Airport two terminals, from the Japanese handicrafts and souvenirs of Tsutaya to the many high-end fashion brands that include Bottega Veneta and Chloe. One-of-a-kind confectionaries are also available at Applause, while the luxury of affordable groceries and snacks are located at the expansive FamilyMart. Have fun with various anime-themed goods as well, sifting through collector items at the Pokemon Store or trying your luck with the super-sized collection of Gachapon balls in the main plaza. For an all-in-one experience, take time to shop at either Gift Court or Nagomi Tax-Free Shop, getting everything you need in one quick walkthrough.
Restaurants
In addition to great retail therapy for shopaholics, Kansai Airport is also a foodie haven, offering an eclectic mix of colorful bars and restaurants perfect for getting your fill before taking flight. Look forward to delicious sweets and drinks at Applause, or head over to Mosdo! for classic western bites that include burgers, fries and milkshakes. Those in the mood for Japanese classics should choose between the Sushi-centric eats of Ganko or the Okonomiyaki pancakes of Botejyu instead, also considering a sit-down with Blue Sky Open Cafes famous one-item menu, or Saint MARC Cafe renowned coffee brews and fresh kolaches. Specialty bars are also a staple of the airport, from World Wine Bar's tasty snacks accompanied by imported flavors to exclusive cocktails at the KIX Airport Lounge.