Oakland International OAK Airport Shuttle
OAK airport is a great alternative for passengers who are traveling to or from Los Angeles but who don't want to deal with the hassle of the larger airports in the area. Reservations for airport shuttle transportation at Oakland International Airport are available for both taxis and vans as well as many other vehicles. Corporate travelers may want to book from our wide selection of limousines and private SUVs for larger groups, usually these are ideal for 8-10 passengers, or sedans which can accommodate between 3-4 passengers.
Search for OAK airport rides

Trusted service since 2003

Flight Delayed? We wait.

24/7 Customer Service

Oakland Airport Transportation

Book an experienced chauffeur, either in the form of a local personal driver doubling as a first-timer's guide, or a luxurious chariot-style arrival only a stretched limousine can provide. From business travelers heading to downtown Oakland Convention Center to lovers of the ritziest of restaurants, there's a lot to look forward to. Go simple but elegant with a regular limousine instead, enjoying the nearby quietude of San Leandro's East 14th Street, or heading out on an indefinite journey across the San Francisco-Oakland Bay Bridge with a private sedan. Another option is to stay close to your terminal for simple perks, some of which include shuttles offered by Courtyard by Marriott Oakland Airport and marina views courtesy of The Marina Inn on San Francisco Bay.

OAK Shuttle Transfers

Get to your location faster with AirportShuttles.com when you get picked up from OAK airport. They provide transfers to most downtown hotels and can offer you a quick ride to the Oakland Convention Center for you or a larger group of travelers needing to get to a local event.

Airport Pick Up

GO Airport Shuttle provides its passengers low rates on their wide selection of airport vehicles for shared rides to private cars. GO focuses on local providers who are customer service oriented. They pride themselves on fast, affordable and convenient service.
Oakland Airport Shuttle Service
When looking to be transferred from OAK airport there are hotel shuttles that can cost very little making your trip an even more affordable one. If you happen to get a really good deal on your flight and feel like splurging then you can arrange a private sedan service.
OAK Pickup and Drop Off
Oakland airport in sunny California is a very popular airport. Ground transportation here is simple to find and affordable.


Boarding your shuttle is easy. Simply proceed down the terminal near baggage claims and you will find your ride that you booked with us.

Shared Ride Van
AirportShuttles.com Oakland provides shared ride van reservations at OAK. These airport shuttles are affordable and allow you to share the cost with other passengers.

Private Van
Mid-sized groups who are looking to get from the airport to Chinatown or Old Oakland favor private vans.

Private Sedan
Prime Limousines and Zumu provide private sedan service in this area. Private sedans are a popular choice for business travelers and others wanting a quiet airport ride.

Local Personal Drivers
Wingz provides local personal drivers in the Oakland area. This service can help you get around town affordably and on a budget.

Private SUV
Blacklane has discount rates for private SUV rides to Ashland and Berkeley or attractions like Chabot Space and Science Center.

Taxi Cab
Tourists have many ways to get around Oakland but a taxicab is a sure way of getting there when you are in a hurry.

Chartered Bus
Oakland is the place to be for groups wanting chartered buses for drop off to Oracle Arena for special and sporting events.
OAK airport terminals
If you are flying in to Oakland, California, you are in for a treat. At Oakland International Airport, you'll find a variety of restaurants, bars and lounges, and coffee shops to tide you over while you wait for your flight.  If you have a longer layover you may want to consider booking a spot at the Escape Lounge where you'll be treated to complimentary snacks and drinks from a full bar as well as wifi, iPads you can use and charging stations for your devices.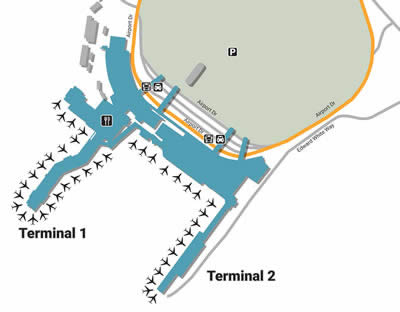 OAK airport transfers with town cars and popular shared ride vans are ready when you need a ride from a nearby hotel or if you recently landed at the airport. Some local providers include AirportShuttles.com Oakland and Evans Airport Services are available and provide quality transfer service.

Looking out at the San Francisco Bay, Oakland International offers a rare gem of a view that can't go unseen. Home to nearby business hotels and family-friendly attractions like the local zoo, the area is as scenic as it is inviting to all ages. Keep track of what lies ahead of your journey by getting there safely, a task made easy if you've got the most reliable ride, whether it's a private sedan that offers the freedom to explore or a group shuttle that offers zero commitment.

For local college students in the Oakland area they can help keep the costs down by taking a shared ride van or a traditional taxi. Our courteous drivers can get them to and from schools such as San Jose State University as well as nearby campuses at the University of California Berkeley.

For travelers who seek a luxury car service, Prestige Limousine and Classic Limousine are able to provide transportation. Friendly Cab and Veteran's Cab are also on hand with helpful drivers to assist you with your luggage. We also have local personal drivers with all-inclusive vehicles at Prime Limousines, Guru Limo and Blacklane.

Oakland Hotel Shuttles
Oakland International Airport is located close to the Oakland's business district. Over the years Oakland has become a popular alternate airport to SFO and is located in the bay area of the state. Travelers who are searching for a convenient location to spend the night or shuttle rides should look into the Red Lion Hotel at Oakland International Airport, which offers a shuttle, ride services to and from the adjacent airport.

The advantageous locale gives travelers easy access to a great Oakland hotel transportation so that they can get to their hotel and settle in and relax. Best Western Plus and Holiday Inn Express are also available for travelers looking for an inexpensive way to get to and from the Oakland International Airport.

An Oakland Connector's BART Coliseum station is directly connected to the OAK terminals. There is also a cell phone charging station with ample room to rest and stay up to date on your flight information. 

Oakland Destinations
If you are going to be traveling to Oakland you'll want to be sure to check the local visitors bureau so that you can make the most of your trip. Here you'll find information on things to do in the Oakland area.
Visit Oakland


Attractions in Oakland
Here in Oakland there is plenty of opportunities to enjoy the family and spend an absolutely great time. You can visit the Chabot Space and Science Center, which features state-of-the-art science technology in the hills of Oakland. Another great place is the Grand Lake Theater, which is presented on an amazing Art Deco style. Attractions such as museums, music venues and the zoo whatever it may be this is a great city and loved by many.

 

Part of OAK's popularity is due to the fact that budget airlines favor the airport. As a result fares from OAK tend to be lower than other area airports. OAK also has a history of on time arrivals. In fact Oakland airport has one of the best on time arrival stats in America. If you add to that a slew of new renovations just recently completed in the early 2000's you can understand why OAK is one of the nation's fastest growing airports. Customer service is provided in several different languages in addition to Wi-Fi and any necessary ground transportation.


OAK Contact Information
Oakland International Airport
1 Airport Drive
Oakland, CA 94621
Airport Code: OAK