New Orleans Louis Armstrong International MSY Airport Shuttle
New Orleans is definitely a city that is full of life. Whether you are arriving at or departing from Louis Armstrong New Orleans International Airport, you can always find great rates for airport transportation. Located near the Mississippi River, this vibrant town is a popular vacation spot for tourists. When getting to the French Quarter or a nearby hotel, reservations can be made in advance prior to your travel plans with our shuttle and limo services located throughout the city. You can even reserve a rideshare transfer so that a local can drive you to your destination. No matter where you choose to go in this wonderful place, you will never want to leave.
Search for MSY airport rides

Trusted service since 2003

Flight Delayed? We wait.

24/7 Customer Service

New Orleans Airport Transportation

There are many providers in the area such as AirportShuttles.com and GO Airport Shuttle, which has many varieties of sedans. In addition, there are different options for airport shuttles that are available to all passengers who fly with MSY to destinations all over the city, such as the Port of New Orleans. Located about ten miles west of downtown NOLA, most visitors in the area are surprised to find themselves at the heart of the lesser known Metairie, Louisiana. With the smooth sound of live Jazz blowing from terminal to terminal, the unique facility is a quaint one to arrive to, and a difficult one to get out of. Don't leave any time wasted, instead having a ride ready as soon as your feet touch the ground, whether it's through a simple shuttle that perfectly reflects The Big Easy or a leather-bound back seat perfect for showing up to events at Morial Convention Center.

MSY Shuttle Transfers

There are many vehicles available from the AirportShuttles.com Zumu service so you can easily get around Bourbon Street and downtown New Orleans during your trip to The Big Easy.

Airport Pick Up

The local GO Airport Shuttle provider at MSY Airport is Airport Shuttle New Orleans, which can take you to any of the hotels in Uptown or terminals if you are heading out on a cruise.
New Orleans Airport Shuttle Service
Regardless of your transportation needs are MSY airport will have you covered for shuttle rides including students to locations such as Louisiana State University. Among the most popular for college shuttle transfers are shared ride vans, which can save money on rates that are shared with others on the same path as you towards the airport.
MSY Pickup and Drop Off
While some just want a simple transfer to the airport, others may prefer a stretched limousine, which can be booked with providers such as A Regal Limousine Service.


As you depart your plane you should head over to the baggage claim in the lower level of the terminal for shuttle bus rides.

Shared Ride Van
With the ability to carry up to 12 passengers in a shared ride van you and your family can find transfers that can fit into your budget.

Private Van
Whether you are being dropped off near Gretna and Terrytown your group traveling together will be able to save while riding in the same private van.

Private Sedan
Corporate executive sedans is one way to travel if you or looking for style and comfort from businesses to personal use.

Local Personal Drivers
Search for locations to your favorite attraction in New Orleans such as the Audubon Zoo and book discount rates with personal drivers with local vehicles.

Private SUV
Getting transported around the downtown New Orleans and others nearby like the Metairie vicinity in a private SUV can give your group a relaxing and pleasant experience while moving around town.

Taxi Cab
Attractions such as the French Quarter and Mardi Gras World near the New Orleans International Airport can be cost effective for tourists new to the area seeking a price to fit a planned budget for their visit.

Chartered Bus
A chartered bus can carry many passengers, up to 48 travelers, for a New Orleans Morial Convention Center event, family reunion or even a trip for a group of students from a school.
MSY airport terminals
Your trip to the Big Easy is sure to start out great when you land at the Louis Armstrong International Airport. This busy airport has it all and even if you have a layover here you'll enjoy it. There are endless food options, free wifi access, and live music at 4 different venues inside the airport. You'll never get bored here, so grab yourself a beignet and enjoy.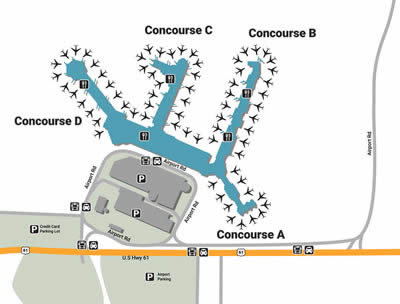 New Orleans Airport Shuttles
MSY airport has AirportShuttles.com transfers for shared ride transportation in New Orleans. Ground transportation includes Zumu, which is a private sedan service for up to four passengers needing to be to get to their local destinations.

Ensuring your transportation is the easiest way to have a good time. Do so by reserving your own private sedan, exploring downtown at the pace of a horse-drawn carriage, enjoying the slow moving French Quarter alongside the fast lifestyle of downtown's countless casinos. If you only plan to stay close to the airport, make things as beautiful as they are simple by booking a room at the Hilton Garden Inn New Orleans Airport, a 3-star stay with views of Lake Pontchartrain and shuttles to the terminal of your choice.

Passengers who are just arriving at the MSY airport can find airport transfers for New Orleans Morial Convention Center whether you are by yourself or if you came along with a larger group.

If you are flying into New Orleans and are seeking rides for large groups you can find great rates with providers such as FlitWays, GroundLink and All Inclusive Vans with Blacklane. What is great about these shuttles is that you can book them ahead of time so that once you arrive at the airport all you will have to do is claim your luggage and be on your way. The shuttles are very friendly to passengers and are welcoming in the city of New Orleans.

How much is shuttle from New Orleans airport to French Quarter?

Shuttle rides from MSY airport to the French Quarters can start about $24 with GO Airport Shuttle New Orleans and is roughly a 16 mile trip.

Is there a shuttle from MSY airport to Bourbon Street?

Transfers from MSY airport to Bourbon Street are available with GO Airport Shuttle New Orleans and Blacklane.

Does New Orleans airport have rides to Jackson Square?

There are plenty of providers that offer rides to New Orleans airport. The type of ride is important whether you are looking for private car service or shuttle service. Some of providers include Talixo, Blacklane and GO Airport Shuttle New Orleans who offer chauffeured transfers.

New Orleans Hotel Shuttles
There are numerous options for hotel shuttles in the New Orleans area if you need an airport ride to your stay in New Orleans. There are several hotels near MSY airport that has great rooms for travelers to sleep overnight and jump on their airport shuttle the next day. Hotels such as Le Pavillon Hotel and Wyndham New Orleans French Quarter have great ratings and convenient rides for all passengers flying into New Orleans.

There are some shuttles options to some of the best hotels that New Orleans has to offer that you can find door-to-door pickup and drop off locations. With Holiday Inn French Quarter – Chateau LeMoyne and Bourbon Orleans Hotel you can spend a little for shuttle buses and limo transfers to the airport.

About New Orleans Airport
New Orleans International Airport, also known as MSY is the largest city in Louisiana and one of the most traveled to cities in the South because of Mardi Gras. New Orleans Louis Armstrong is a wonderful airport to use for your traveling arrangements whether you are visiting Louisiana for the first time or just passing through.

New Orleans Destinations
With so many places to see in New Orleans sometimes you need the perfect guide to get you in the right direction. From historic buildings to Mardi Gras you can see it all while you visit.
New Orleans Convention & Visitors Bureau

Things to do in New Orleans
New Orleans is fairly known for its unique music, Mardi Gras festival and New Orleans Cajun Seafood. Even after Hurricane Katrina devastated the area it still remained as a popular tourist attraction. New Orleans offers family fun such as the Audubon Zoo and its many parks along the Mississippi River.

Be part of the fun in New Orleans and enjoy a great time with other tourists and the locals at the Jazz and Heritage Festivals and the French Quarter Festival. New Orleans Airport is near great nightlife including some of the best sports teams from the New Orleans Saints as well as a long history of jazz music that has some of the biggest names in music.

MSY Contact Information
New Orleans Louis Armstrong International Airport
900 Airline Drive
Kenner, LA 70062
Airport Code: MSY
Traveling to hotels near the French Quarter

Travelers can find transportation from MSY airport to area hotels near the French Quarter. Enjoy an evening of Jazz and Cajun food during your stay and create memories like no other city.
New Orleans shuttles to the French Quarter

New Orleans festivals and Mardi Gras events are held each year throughout the French Quarter area. Visitors can find the nightlife to be vibrant and alive with festivals and authentic Cajun food throughout the area.