Newark International EWR Airport Shuttle
Newark Liberty International Airport is the busiest airport in the state of New Jersey. Its close proximity to New York City makes it extremely high-trafficked and popular amongst travelers. This airport can be a bit tricky to get to though, so be sure to book reservations for airport shuttle, taxis, sedans and limousine service to and from EWR airport. Newark is a short drive into the city so you could also consider booking a ride share service to get there as well depending on how big your party is and how much luggage you are traveling with.
Search for EWR airport rides

Trusted service since 2003

Flight Delayed? We wait.

24/7 Customer Service

Newark Airport Transportation

EWR airport is very close to downtown Newark and metro area and is by far the biggest city in New Jersey. This makes finding a shuttle service not only important but also convenient for many residents

EWR Shuttle Transfers

Newark Liberty International Airport is a stone's throw away from the hustle and bustle of New York City. This makes it a very popular airport for people to fly into and out of on their way to the Big Apple. AirportShuttles.com makes it easy for you to get there.

Airport Pick Up

Getting to New York once you land at the Newark airport is typically everyone's first priority. Depending on where you're headed you can book an airport ride with GO Airlink NYC or GO State Shuttle or GO Winston Transportation Group if you're going to NYC. Headed further north? GO Airport Shuttle Connecticut can help you. If you're going south GO Delaware Express can get you there.
Newark Airport Shuttle Service
For passengers arriving at EWR airport you can get to your shuttle bus by following the signs to the ground transportation of the airport. You will easily board shuttles that you reserved online so if you have a shared ride or private van then a representative can assist you on your ride. If you are riding a sedan or limo then you can find you driver curbside that can assist you with your luggage.
EWR Pickup and Drop Off
There are plenty shuttle rides to hotels in Newark to accommodate your needs and your budget.




Passengers arriving at EWR airport can proceed to the Port Authority Welcome Center which in the terminals when you arrive. You can find a representative there who can help you board the correct shuttle bus or private ride.

Shared Ride Van
Most widely used shuttle providers for shared ride include AirportShuttles.com and GO Airlink NYC who both can get you to your destination quickly and safely.

Private Van
When traveling in large groups riding together can reduce the overall costs by using private vans, which have great rates to cities such as New Brunswick and Teterboro.

Private Sedan
Getting to your hotel can be confusing but booking with Eastern Car Service including Limo Star NY prior to your flight can help get you there quicker with your own driver in a private sedan. Blacklane and Zumu by AirportShuttles.com are also available at EWR.

Local Personal Drivers
Finding a shuttle transfer to the downtown Newark or New York districts can be unique with a personal driver from the local area who is familiar with your destination.

Private SUV
Seating between 5-6 passengers private SUVs can give you a lot of luggage space when traveling to surrounding areas similar to Hoboken and Union City.

Taxi Cab
Providing another experience with a private driver but not the heavy costs of a luxury vehicle taxis can transport anyone to most locations quickly.

Chartered Bus
With a ton of available room for passengers and baggage you can combine round trip rates with others to get among the best base price for any ride.
EWR airport terminals
Get to your location or driver quicker at EWR airport and nearby hotels and convention centers when you leave the airport.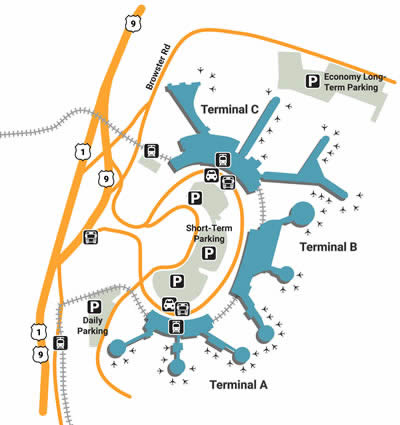 EWR airport, also known as Newark Liberty International, has AirportShuttles.com Newark shared ride vans, which is one of the most common ways to get around the city. Shared ride vans help keep the price down while taxi rides can do the same but you are traveling alone.

From taxicabs to stretched limousines to shuttle vans you can find an assortment of vehicles to get you around the Newark area. In addition, there is a free monorail system that connects the parking lots with the terminals. The airport also supplies shuttle services from providers such as taxis and private limousines or car services. The closest major convention center to the Newark airport is the Jacob K. Javits Convention Center which large groups traveling to Newark can find rates to nearby hotels, surrounding Newark neighborhoods or other destinations downtown.

EWR airport is convenient for local residents but also students at colleges nearby such as New York University and Rutgers University who are looking for airport rides to and from their destinations. If price is not necessarily a big concern you could travel by private car or sedan, which allows up to 4 passengers with more than enough luggage room for everyone. EWR is also nearby popular theme parks such as Six Flags Great Adventure so the ride times are very short for those arriving into town.

If you're looking for a simple affordable hotel shuttles then you should try out Days inn or Days Hotel in downtown Newark. If you are looking for something a little more upscale, you can try the Marriott, Courtyard and Ramada which are located near the Cape Liberty Cruise Port which you can book great rates online whether your group is big or small. We can offer you a shuttle bus to accommodate your needs. In addition, EWR airport serves the New York metropolitan area including cruise ports such as the Port of New York.

Newark City Destinations
While visiting the Newark area discover the places and attractions of the area.
Newark Happening

About Newark Airport
Newark Liberty International Airport is actually not located only in the Newark area but also has parts of it in Elizabeth. The airport has a distance of over ten miles from Manhattan and is the busiest airport in the region, which includes New Jersey. If you include JFK, LGA and EWR all together you will have the biggest airport system in America.

Newark Liberty International Airport is such a beautiful and sophisticated airport a view from the top would take your breath away. It is actually surrounded by water, which gives passengers a beautiful view when lifting off. Newark has two major runways and one smaller one.

With such as amazing success story they opened the airport doors for the first time in 1928 in New York City to serve passengers. Although Newark Liberty has had its setbacks regarding that owns eventually it overcome these obstacles and is remains one of the biggest in America.

Surrounding the Newark Airport features the Newark Museum focusing on science and art, a planetarium and a Ballantine house. You can stroll around the Military Park where you'll find the Wars of America Monument. You may also attend the Newark Symphony Hall or an NHL game with the New Jersey Devils who play nearby at the Prudential Center.

EWR Contact Information
Newark Liberty International Airport
3 Brewster Road
Newark, NJ 07114
Airport Code: EWR
Newark airport rides for travelers

Newark, located near New York City, is a hotspot for business travelers and is conveniently located near some of the most active areas in the country.