Kansas City International MCI Airport Shuttle
Make your ground transportation bookings prior to your flight so you can have your ride at MCI airport ready for you when you arrive. Get cheap reservations for airport shuttle pick up or if you are looking for a more traditional way to travel, then a taxi cab may be a great option for you. We offer black car vehicles such as private sedans as well as chauffeured limousine service for those seeking more personal attention to their travel needs. Once you have your transportation set, you can focus on your trip. While you're here make sure to check out Penn Valley Park or Union Station Kansas City.
Search for MCI airport rides

Trusted service since 2003

Flight Delayed? We wait.

24/7 Customer Service

Kansas City Airport Transportation

Make things simple with the perfect ride, whether it's a simple taxi or top-notch limousine, both of which are perfect for arriving to an event at The Kansas City Convention Center. Save a few bucks by getting a local shuttle instead, taking advantage of sweeping views from nearby airport stays like Embassy Suites Kansas City and Holiday Inn KCI, or look forward to the deeply-rooted history of downtown's River Market area with a local personal driver to show you the ropes. For lovers of the intimate, go on a drive through the scenic roads of Weston Bend State Park at the ease of a prairie wind, booking either a private van or sedan to give yourself the freedom to drive all day.

MCI Shuttle Transfers

Bordering Lake Erie, this northeast U.S. city is filled with busy commerce so getting around and choosing the right type of ride when you arrive at Kansas City International Airport extremely important. That is why millions of passengers choose to ride AirportShuttles.com each year. Quick professional rides from drivers who take pride in giving you the best service possible.

Airport Pick Up

If you are needing a ride to the downtown Kansas City area from the airport than Leader Worldwide Chauffeur Services is a great place to start. This GO Airport Shuttle ground transportation operator is focused on your experience and has great customer service for its passengers.
Kansas City Airport Shuttle Service
Ground transportation at MCI includes taxi rides and shuttle transfers for visitors coming into the Kansas City airport.
Shared Ride Van
Search and hire a shared ride van to the home of the Kansas City Chiefs – Arrowhead Stadium with constant door-to-door to service in Philadelphia.

Private Van
Looking for cheap transport in Kansas City? Want best ground transportation at very low prices? Look no further with our private vans for hire to take you to every destination in Kansas City.

Private Sedan
We offer cars that have class flaunt elegance and provide comfort, with private sedans for hire in the Kansas City area. Take them out for a spin or hire one of our professional chauffeurs.

Local Personal Drivers
We have drivers stationed at famous places like Liberty Memorial or Crown Center to respond immediately; just pickup the phone and we will be there in no time to pick you up.

Private SUV
Our private chauffeurs will take you there in no time at all, whether it is the Kansas City Zoo or the Nelson-Atkins Museum of Art. The best and the fastest this city has to offer, but also the cheapest.

Taxi Cab
Door-to-door taxi service for your personal transportation needs. Never be late going anywhere, because our taxi drivers are never late.

Stretched Limousine
Rent our limousines at the cheapest prices in Kansa City and enjoys the attention. You can book for discount traveling from hotel to airport.

Chartered Bus
Buses and mini buses for hire; search and book buses according to group size and destination and you will not be disappointed.
MCI airport terminals
The Barbecue Capital of the World, City of Fountains, Paris of the Plains; whatever Kansas City is to you, make sure that you start your trip off right with this airport map.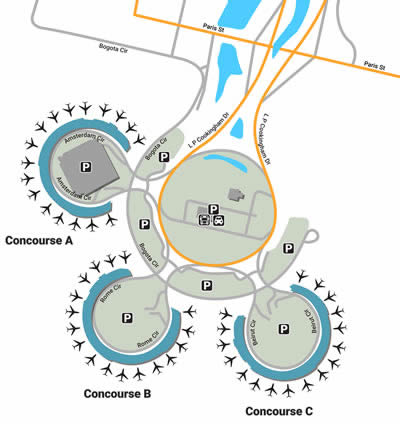 Kansas City Airport Shuttles
MCI airport offers AirportShuttles.com Kansas City shared ride shuttles to private vans for groups to private town cars. With discount a

irport shuttle transportation, which is available from all terminals, passengers can easily get where they need to go.

Located in the northwest corner of Missouri, Kansas City International Airport offers equal-parts beauty and rest. From business travelers looking to take a breath to families in search of paradise, you'll find the Midwest's quaint riches easy to explore, especially if you've got the right transportation. Look forward to nothing but open skies as soon as you arrive, all by getting out of your terminal with the ease of a local shuttle, whether it be a complimentary lift from your hotel or a private meet-and-greet heading towards nearby Kansas City neighborhoods.

With easy travel to the popular destinations within the Kansas City downtown area such as Bartle Hall Convention Center finding professional chauffeur for luxury rides will keep you relaxed. Students attending the University of Kansas can focus on cheaper rides if they need to save on the various vehicles, which are availability throughout the day at MCI airport.

The Metro bus service runs Monday through Friday.  The airport has three terminals that you can find airport shuttle rides and several parking and transportation options available. Shuttles can range from private vans to the most popular shared ride van services that can keep your travel costs down and trip convenient.

There is also short-term parking areas are available near all terminals. Passenger terminals have a unique design as they are shaped like rings. Parking is in the center of the rings so passengers can conveniently save steps. The airport also has several off site areas for longer-term parking.

Kansas City Hotel Shuttles
There are several choices when it comes to hotels near the Kansas City International Airport. From four-star Kansas City hotels like the Kansas City Airport Marriott to the two stars Econo Lodge there is a hotel for every need and budget.

Many hotels, such as the Microtel Inn & Suites offers complimentary shuttle service to and from the airport. All hotels near the airport are close to local attractions such as the Harley Davidson Factory and Tiffany Greens Golf Course. There are also many dining and shopping opportunities nearby.

About Kansas City Airport
Kansas City is the largest city in Missouri and is known as the City of Fountains. It has over many fountains and believes it has the second most fountains worldwide except for Rome. The MCI airport has available for its passengers general banking services with ATMs are available at all terminals. Each terminal also offers pet relief areas. Restrooms are conveniently located near each terminal as well. Terminal B goes the extra mile by offering shoeshine services. There are several dining options at each terminal ranging from fast food to full service restaurants. Additionally, there is a Starbucks conveniently located near each terminal.

Attractions in Kansas City
Kansas City is the largest city in Missouri and is known as the City of Fountains. It has over many fountains and believes it has the second most fountains worldwide except for Rome. Less than fifteen miles from downtown Kansas City airport is ideally situated near all the bustling activity in the city. This makes it easy to enjoy all that Kansas City has to offer including lodging, dining, shopping, events and more.

It is also known as "Paris of the Plains" and has the second most boulevards behind Paris. Downtown Kansas City has a unique style such as Brush Creek in Country Club Plaza that has over 200 fountains. While you are in Kansas City you can visit the American Jazz Museum and taste the unique Kansas City style barbecue flavor that you will remember.

MCI Contact Information
Kansas City International Airport
Kansas City, MO 64153
Airport Code: MCI