Kansas City pick up and drop off at MCI airport
Ground transportation to Kansas City International Airport
Find your way around Kansas City International Airport and get to local hotels and landmarks easier. Sitting along Missouri's western border, watching the sunset with a plate of barbecue is as simply memorable as Kansas City gets. Enjoy the local heritage, from the smooth music to the unforgettable cuisine, knowing your next day will be great. Whether you're stopping to smell the flowers on a business trip or simply passing a hidden gem in the heart of downtown, Kansas City International will introduce you to a side you never knew.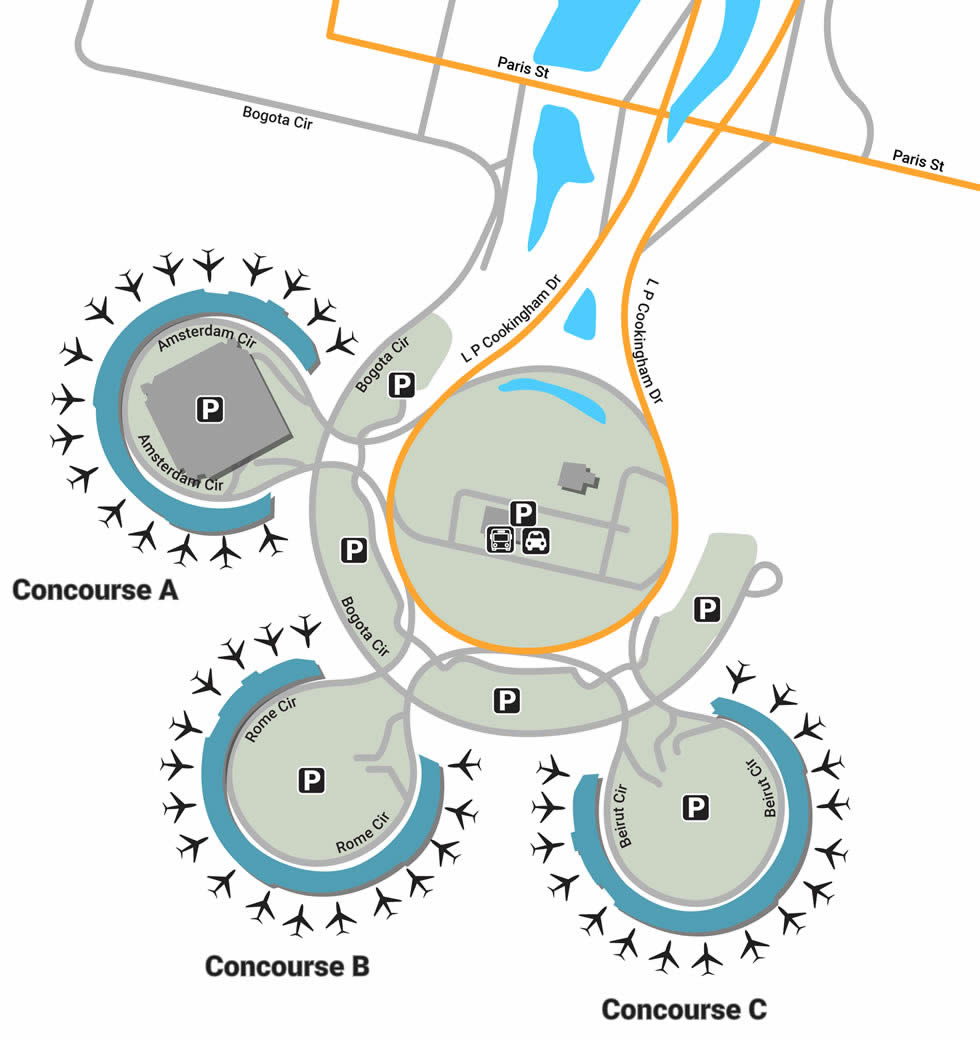 Parking
There are several places to leave your vehicle, the most convenient being one of the four Parking Lots located along Bogota Circle. Wait for the free 24-hour bus after you park, making sure you get to the terminal hassle free. If you're in need of a quick drop-off, utilize the Cell Phone Waiting Lot, also called Lot G, offering 45 minutes of free time. Frequent Parkers should take part in KCI Rewards, a free membership that offers countless perks, from online management to special membership points. Long-term travelers don't have to worry either - with 3 Economy Lots located along North Wiman Avenue, you'll be more than taken care of.
Services
Nothing makes a trip more special than a warm arrival, something that Kansas City International makes incredibly easy. With special services for the handicap, which include spacious elevators, curbside assistance, and TTY phones, the facility is incredibly welcoming to all. If you're traveling with pets, use either of the 2 Animal Relief Areas located at the ends of Terminal B and C. Kill some time while you wait with KCI's free and unlimited Wi-Fi, allowing you to stay connected without even trying.
Retail
Kansas City is a vast metropolis that doesn't mess around, whether it's in the form of no-nonsense attitude or through the guaranteed quality you'll receive from local hand-crafted products. If you're a new mother, stop by Babies On The Go (Gate B39) for an emergency binky or anything else you might need. If you're in need of something that will pacify you as well, rent a movie at InMotion Entertainment (B37, C76) or pick up a regional souvenir at the unique KC Marketplace News & Gifts (B38).
Restaurants
No journey is complete without a proper meal to kickstart it. Take on the day with the right amount of energy by indulging in local eateries, one of the most iconic being the Boulevard Brewing Company (B56), a classic restaurant with BBQ ribs and tons of flavors on tap. If you're more in the mood for a D.I.Y. lunch, head over to Fresh Attractions Deli (B31), or enjoy the simple beauty of a hearty cheesesteak from the famous Great Steak & Potato Company (B56). Try out some local wines during your layover by enjoying the full bar and live music at Missouri Vineyards (B43), a posh lounge that offers grandiose views of your runway.