Houston Hobby International HOU Airport Shuttle
William P. Hobby Airport is Houston's second busiest airport and is ranked in the top ten in terms of customer satisfaction by JD Powers and associates. Your trip to Houston is bound to be pleasant when you begin here. To make it the best trip possible, book reservations before you leave for Houston for airport shuttle pick up, taxi, executive sedans and luxury limousine with a service from drivers who can get you to and from HOU airport. Once you land you can grab a bite to eat at one of the many restaurants or a cup of coffee at one of the coffee shops and head out to the curb to catch your ride.
Search for HOU airport rides

Trusted service since 2003

Flight Delayed? We wait.

24/7 Customer Service

Houston Hobby Airport Transportation

Like many other airports, Hobby International Airport offers many forms of ground transportation. Shared ride vans run continuously throughout the day for passengers who don't mind traveling together to share the costs.

HOU Shuttle Transfers

Arranging your AirportShuttles.com couldn't be easier. From the time you step onto the Zumu at HOU airport until the time you get to your hotel or house you'll be able to sit back and relax, making your trip that much easier.

Airport Pick Up

Riding with GO Airport Shuttle in one of their private vans or airport limousines makes you want to travel to Houston Hobby more often.
Houston Airport Shuttle Service
Transfers for HOU airport ground transportation is available through AirportShuttles.com Houston, which offers trips from the Port of Galveston, downtown Houston or your place of business to the airport and return trips.
HOU Pickup and Drop Off
You don't need to stress about getting to and from Houston Hobby Airport. Upon arriving at the airport you can catch an airport shuttle or taxi or a private sedan or limo.


Passengers who arrive at Hobby Airport can find their pre-booked ride in the baggage claim. Simply give your confirmation or itinerary to the shuttle provider's representative and they can direct you towards the proper shuttle bus.

Shared Ride Van
With our shared ride vans you can book through AirportShuttles.com. With their top shuttle service shared ride vans can allow up to 10 passengers in the shuttle to share the same ride.

Private Van
If your group needs quick rides for nearby cruise ship port embarkation such as Port of Houston Cruise Terminal then a private van with GroundLink and AirportShuttles.com may be the way to go.

Private Sedan
Galveston is a typical direction for Zumu Sedan Service, which is provided by well-known AirportShuttles.com. Find discount executive sedan rides with chauffeurs to help you along the way including transfers with Blacklane.

Local Personal Drivers
With so many options to get you around downtown Houston a local driver can give you a personal care to places such as Space Center Houston and Lyndon B. Johnson Space Center.

Private SUV
A local provider like Am Pm Limousine and Transportation Service can be a great experience that offers professional drivers to give you a door-to-door service for your visit.

Taxi Cab
Need to get there in a hurry? Our taxi providers can offer you among the best service and rides to places like The Galleria or Houston Museum of Natural Science.

Stretched Limousine
From the Hobby Airport getting direct routes to your destination such as Galena Park and Mission Bend can be hectic. Riding in an airport limo cannot only be more luxurious and comfortable but a fun experience for everyone.

Chartered Bus
There are many charter buses that you can book with to get your larger group throughout the Bellaire and Jacinto City neighborhoods.
HOU airport terminals
As you enter the Hobby Airport Loop you can use our maps to help you get to your terminal with an overview of different amenities along the way.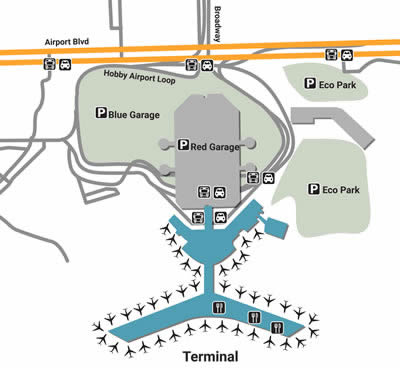 Houston Hobby Airport Shuttles
HOU airport has AirportShuttles.com Houston transportation that travels from your hotel, George R. Brown Convention Center or other destinations near downtown Houston. With discount shared ride vans to and from Hobby Airport you are sure to find a shuttle transfer that fits your plans.

Buses at Hobby airport run continuously through the day and night at designated stops in the airport parking areas. Many of the area's hotels offer shuttle van pick-ups and drop-offs in the ground transportation level. You can find these transfers available in baggage claim for pickup requests with rides to and from George R. Brown Convention Center or other nearby hotels.

With so many college students not using a car getting around especially to the airport can be difficult if no one is available to take you there. We offer various styles and types of airport rides you such as shared ride vans, which are popular for Texas A&M University students including other nearby colleges at the University of Houston. We can provide discount rides throughout the day from our local providers so booking your reservations early can make your travel easier.

Airport taxi services are available throughout the day and night at various locations throughout the parking lots of the airport and have charges that are based on flat rate for zones or metered rates, whichever charge is less. The taxi service at Hobby International charges an additional fare fee for late night travel. There are also nine rental car agencies on site with more than ten thousand available rental cars. There are more than twenty thousand parking spaces readily available for travelers.

Houston Destinations
Houston's mild weather and friendly locals make it a great place to visit. See this entire enchanting city has to offer, the visitor's bureau will help you find the must see attractions.
Visit Houston Texas

About Houston Hobby Airport
William P. Hobby Airport is more commonly called Houston Hobby serves as a landing area for jumbo jets, corporate jets and everything in between. The population of Houston has soared to over five million people and to accommodate the air travel of the masses Houston has three central airports. Hobby Airport sees roughly a third of the air passenger traffic of Houston. Hobby has grown to be one of the busiest airports in Texas and nationwide.

The terminal offers many comforts for passengers who are departing, arriving or is in between flights. There are more than ten restaurants, some with bars and plenty of outlet shops to visit. The airport also offers its passengers Wi-Fi Internet hotspots through the terminal. There are two currency exchange locations, ATMs located throughout the terminal and near most gates, and even a USO Center.

There are bilingual services available in several sections of the terminal. A business conference room is also available with prior notice to airport staff. There are newsstands, pay phones and motorized indoor transportation for the disabled and elderly. Unlike many airports Hobby International also offers a comfort station outdoors for your four legged friends. If you are looking for a place to stay there are several hotels within a ten-mile radius of Hobby International boasts a Marriott across the street for easy access back to the airport.

Visiting the Houston Area
Houston is a large city located in Texas and is one of the largest cities of the state and the country. Since the city is big in size and also in population, it has been broken into several Houston surrounding neighborhoods and districts such as downtown and Neartown. Houston Hobby Airport or HOU, also known as the William P. Airport, it is located just miles from downtown.

Houston, Texas definitely is a great city that you're going to have to experience it for yourself so get your hotel reservation set and buy that plane ticket to an amazing city where new passengers can get Houston hotel transportation to and from HOU and book their reservation for their trip with amazing rates.

HOU Contact Information:
Houston William P. Hobby International Airport
7800 Airport Blvd.
Houston, TX 77061
Airport Code: HOU