Houston pick up and drop off at HOU airport
Ground transportation to William P. Hobby Airport
Travelers coming to
Houston William P. Hobby International Airport
can move about the airport terminals and discover the various restaurants and places to shop while they either wait for their flight or need to get to shuttle to be transferred to nearby hotels. Home to skyscrapers that kiss the sky and humidity that raises hair just as high, Houston is a fast-paced city that knows how to make good tacos. William P. Hobby Airport is located 7 miles from downtown, but still close enough to get slammed by the blaze of rush hour traffic. Get in and get out with a cool head by keeping relaxed inside as well, utilizing the many complimentary services and fun shops, all while grabbing a bite to eat.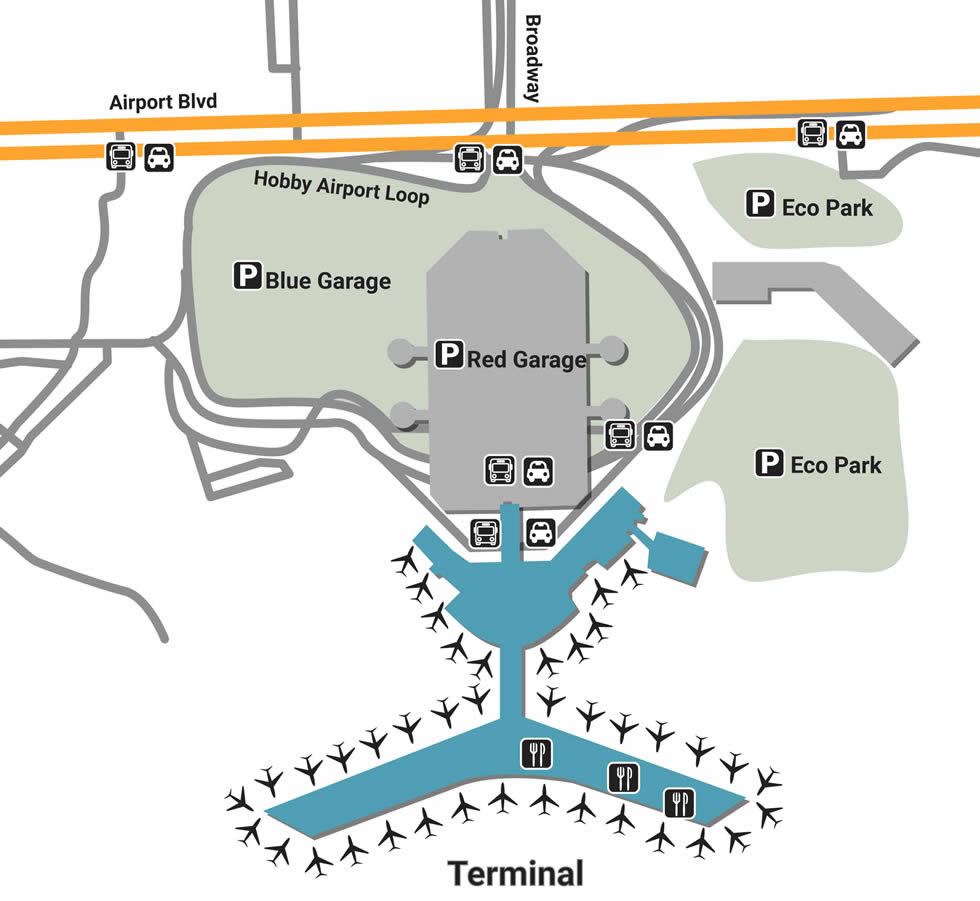 Parking
Take care of business by taking care of parking, making sure your ride is well-protected so you can enjoy your trip. Utilize the Blue and Red Garages for terminal parking, each one offering the same rate. Those interested in valet should drop off at the second level of the Red Garage. Valet offers complimentary service including covered spaces, online reservation, and a free copy of USA Today. For long-term prices, head to ecopark, located along the east side of Hobby Airport Loop. Frequent parkers should consider enrolling in Parking Plus, a rewards program that uses a point-based system for free parking.
Services
With a variety of public art that makes up the largest collection in Texas, Hobby is filled with innovative statues, beautiful paintings, and outdoor installations that make the facility one of the flashiest in the world. The inside is just as beautiful, offering typical amenities like massage chairs in the Central Rotunda, or the Harmony in the Air performance arts program, which aims at creating a stress-free atmosphere for weary travelers. Those looking for the calming sensation of silence should head to either 24-hour chapel, whether it be the pre-security one located in the Central Lobby or post-security Gate 44 portal of peace.
Retail
Make every minute count by checking out the many retail stores scattered across Hobby Airport's shopping mall, whether it's the Houston-themed memorabilia at Space Corner (Gate 3), or the travel-essentials at Shady Lane Marketplace (Gate 29). Many forget Houston is an incredibly fashionable city, which requires a kickstart in fashion game - visit Desigual (Gate 1) for the latest patterns and garments that make both sexes look sexy. If you're in need of a specialty gift, visit World Duty Free (Gates 20 & 21), a high-end gift shop that offers brand-name perfumes alongside specialty chocolates, from Armani to Godiva.
Restaurants
Some prefer to shop their worries away, but just as many would argue food is the prime de-stressor. Grab some savory Chinese at Hunan: Return of the Phoenix, located between Gates 40 & 41, or eat a familiar fast-food combo from places like Chick-fil-A (Gate 1) and Subway (Gate 46). The airport also has great vegetarian options, which include extensive choices at Barry's Pizza (Gates 20 & 21), Baskin-Robbins (Gate 27), and Yia Yia Mary's (Gate 1), which goes as far as offering Vegan dishes.