John Glenn Columbus International CMH Airport Shuttle
A regional airport known for its unique artwork and dreamy view of the outskirts, John Glenn Columbus International is just five miles east of downtown, making for the perfect location to stay close to work and far from the noise. Whether you're looking forward to a simple vacation with the family or a laid-back business trip with perks, you'll be glad to find countless things to do as soon as you land. Have a shuttle ready and waiting, whether it's courtesy of the on-site Hilton Garden Inn Columbus Airport or the business-friendly Embassy Suites by Hilton across the highway.
Search for CMH airport rides

Trusted service since 2003

Flight Delayed? We wait.

24/7 Customer Service

Columbus Airport Transportation

Give yourself the breathing room to find every corner beautiful, a task made simple if you forget about time. See every corner with your own private ride, whether it's a sedan perfect for making your way through downtown Arena District or giving yourself a unique tour guide feel courtesy of an own local personal driver. For those heading to downtown for business at the Greater Columbus Convention Center, arrive in as much relaxation as class by having a limousine drop-off, or explore the historic beauty of the German Village and Ole Town East neighborhoods by getting a taxi to take you to the coolest streets.

Airport Pick Up

You can find amazing rates with private car providers such as American Limousine who can get you anywhere in the city with drivers familiar with the region and the destinations you are going to.

Shuttle Locations

Looking for airport shuttle rides? Learn how you can get connected to the best shared ride van providers, sedans and private vans and view our airport transfer locations.
Columbus Airport Shuttle Service
CMH airport offers town cars and private vehicles for transfers to and from the John Glenn Columbus International Airport.
Shared Ride Van
Save up on your traveling costs with door-to-door sharing van service, with group discounts being offered to travel to sightseeing spots like the Hoover Dam and Mirror Lake.

Private Van
Travel around Columbus by our private vans for cheap and experience Ohio at its best, while visiting places like the Ohio Village and the Wexner Center for the Arts.

Private Sedan
Need a luxurious, comfortable ride from the airport? Book a luxury sedan to transfer you and even transport you to places like the German Village and the Ohio Statehouse.

Local Personal Drivers
Local personal drivers available at every tourist spot; just pickup the phone whether you are at the Ohio Theatre or Huntington Park and we are there!

Private SUV
Locations in Columbus have direct access to Private SUVs and professional chauffeurs who handle private car rides and get you there on time.

Taxi Cab
Book taxicab with great local experience and best drivers for the most reliable pickup and drop and ground transportation to tourist spots like the Franklin Park Conservatory and the Columbus Zoo and Aquarium.

Stretched Limousine
Ride like kings during airport transfers by hiring our high-class limousine along with our high-class chauffeurs, with the option to continue your trip with combo bookings with many discounts.

Chartered Bus
Grab your buddies for some football action of the season at one of the most prestigious stadiums in the United States – The Ohio Stadium. Book our buses for hire for a large group of people if you want to get there on time.
CMH airport terminals
Upon landing in the Arch City you're sure to find every convenience you might need after your flight. There are plenty of restaurants and shops for you to choose from, and they are conveniently located throughout the terminals. Getting in and out of the airport will be a breeze so you can just enjoy your time in this sprawling city.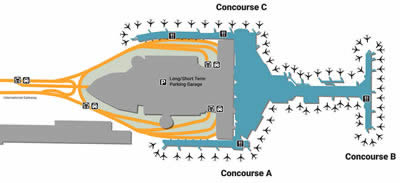 Columbus Airport Shuttles
CMH airport has shared ride vans, private sedans and limos to downtown Columbus for arriving passengers. It is also known as John Glenn Columbus International Airport or short for Columbus Municipal Hangar is near downtown Columbus and is controlled by the Columbus Regional Airport Authority.




Once you have arrived at the airport there are wonderful, safe and efficient shuttle services that are at your service to help you around the airport. Urban Express and Arch Express are the two main shuttle companies. These two companies also offer coach express which means you can ride in style in a limousine.

There are also mini vans and taxis that you can take although a shuttle for Columbus hotels might be the cheaper routes to go if you have a small group of people. Having a large group of people a minivan would be recommended. However if you are traveling alone or with your family there are rental cars you can drive for your own privacy.

Columbus Hotel Shuttles
There are numerous hotels in Columbus, Ohio located only miles from the airport. You may choose from a variety of hotels to fit your budget, and your convenience. Hampton Inn and Country Inn and Suites are all convenient simple hotels that fit your budget nicely.

If you are looking for a little bit of a finer place to lay your head, no worries, there are plenty of four and five star hotels in the Columbus area such as the Marriott which is actually in the vicinity of the airport. Or you could choose ones a couple miles down the road such as the Hilton and Springhill Suites which all are luxurious and beautiful hotels.

About John Glenn Columbus Airport
John Glenn Columbus International Airport is located east of the beautiful downtown of Columbus, Ohio. The airport is also known as CMH, which stands for Columbus Metropolitan Hangar even though they no longer use the name today. If your group needs airport transportation for Columbus Convention Center they will find rates for their groups at competitive rates.

Getting Around CMH Airport
The airport opened in the early 1900's and has been going strong ever since. This airport is a historic monument of history not just an airport. The old terminals are still used however there has been construction done to appeal to modern day times, but still keeping that old fashioned feel to it to showcase its history.

Not only is John Glenn Columbus an International Airport, but they also carry freight and US mail, showing the diversity of this airport. Its beautiful entry is breathtaking. When you step in you immediately see in front of you escalators with glass windows all around. Behind the escalators are the cashiers through beautiful windows topped with the American Flag. John Glenn Columbus is a beautiful, monumental and historic airport.

Things to do in Columbus
If you are visiting Columbus for one of its many festivals such as the Ohio State Fair, the Columbus Arts Festival and the Jazz and Ribs Festival book your ride to and from the airport with us.

Columbus is a city that goes by many names such as "The Arch City" and "The Biggest Small Town in America". The city of Columbus is the largest city in the state of Ohio, which is one of the biggest cities in the United States. Columbus is of course also home to The Ohio State University so if you are going to visit the Horseshoe make sure to reserve your private car or shared shuttle service ahead of time so you don't have to worry about parking on game day.

The Columbus Zoo and Aquarium is known worldwide for its wide variety of animals. All in all, it is easy to see why this city ranked as one of the best places to live in the country and why it has been the filming site of such Hollywood movies as The Silence of the Lambs and The Shawshank Redemption and more.

CMH Contact Information
John Glenn Columbus International Airport
4600 International Gateway
Columbus, OH 43219
Airport Code: CMH
Sightseeing and shuttles in Columbus

As one of the biggest cities in Ohio the city of Columbus has an abundance of attractions, hotels and events for visitors to come visit when they arrive in town.