Columbus pick up and drop off at CMH airport
Ground transportation to John Glenn Columbus International Airport
As the capital of Ohio, the city of Columbus is a kindly metropolis with a small downtown. The John Glenn Columbus International Airport is located off the beaten trail, about six miles east of the city, but still offers enough within its four walls to accommodate anyone, whether it's a domestic visitor or an international businessman.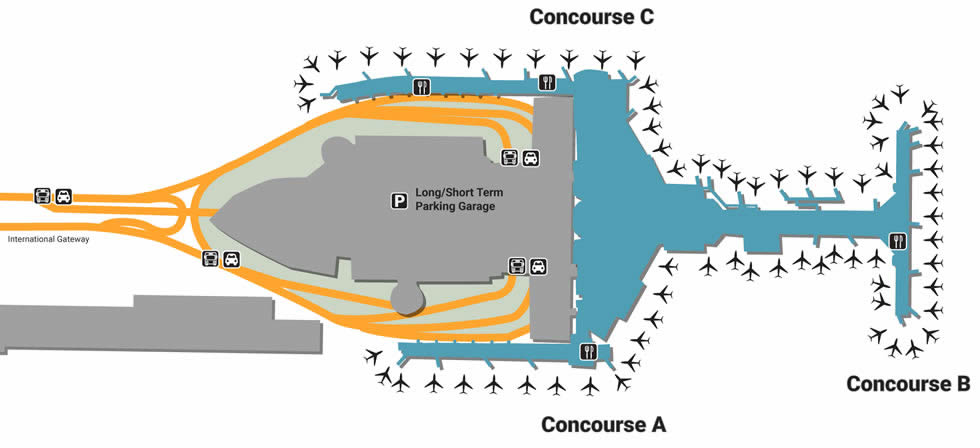 Parking
There are three long-term shuttle lots; Green, Red, and Blue. For a low rate, park in the Red Lot, which is located on the corner of Steltzer Road as you drive up to the airport. The Blue Lot is a bit closer, but costs slightly more, offering additional covered parking. The cheapest long-term lot, and also the furthest, is the Green Lot on East 17th Avenue. No reservations are required for either of the three. For extra convenience, utilize either of the two parking garages, both of which are located between Terminals C and A. Long-term parking is reserved for levels 3-6 of the south garage, while short-term is in the north garage, levels 4-5. Those in need of a quick pick-up or drop-off should utilize the Cell Phone Lot, the closest parking that offers no cost.
Services
John Glenn Airport is home to a lot of interesting amenities, from simple pleasures like outdoor smoking areas to the fenced pet rest area outside of baggage claim. A great way to unwind is by enjoying the silence of the Meditation Room, a quiet area located across from Carousel 6. There are also several art installations scattered across the facility, from the ColumbUS Mosaic in the atrium to the constantly rotating art displays in Concourse C.
Retail
Whether you're in need of a new outfit or are in the market for an elegant gift, the airport's many retail shops can help. Pick up a crisp dress shirt and fresh tie at Brooks Brothers, located right outside of Concourse B. Got an anniversary coming up? Head to Brighton Collectibles (Pre-Security) for signature accessories and specialty leather goods that range from wrist watches to handbags. For those in need of some last-minute snacks or magazines, head to the Capital City Travel Mart, near Concourse B, or the widespread gift shop, Columbus Marketplace, located in the same area.
Restaurants
If you've got some time to kill, get full off amazing food while you wait, whether it be the hometown recipes of Max & Erma's Restaurant (Pre-Security), or the juicy burgers at the classic All-American Johnny Rocket's (Concourse C). If you're traveling for business and want to treat yourself to a sit-down dining experience, Wolfgang Puck Gourmet Express (Concourse B) is the place to go. Another posh eatery is Eddie George's Grille 27, located in the same area, but offering distinct views of the airfield as you dine.