Atlanta Hartsfield International ATL Airport Shuttle
Atlanta International Airport is known around the world as one of the busiest airports you can pass through. Make it as easy as possible on yourself when traveling here by booking your airport ride ahead of time and making sure you don't get caught without a way to get to where you need to go. You can also book a shuttle from your hotel or the convention center to your destination as well so you can virtually have every part of your trip planned before you ever leave home leave. Check out our all of our transportation providers and vehicle options at ATL airport so that you can see what works best for you such as whether you should go with a private sedan or an airport shuttle or a minibus.
Search for ATL airport rides

Trusted service since 2003

Flight Delayed? We wait.

24/7 Customer Service

Atlanta Airport Transportation

With so many options available for airport transportation travelers can easily pick and choose which type of vehicle will fit their travel plans. From shared ride vans that can transport up to 12 passengers heading in the same direction. There are also private vans that can pickup the same amount of passengers but is designed more for people who are traveling in groups to the exact same destination.

ATL Shuttle Transfers

AirportShuttles.com has become synonymous with airport shuttle and van services at airports around the world like (ATL) Atlanta Hartsfield-Jackson Airport.

Airport Pick Up

GO Airport Shuttle provides high quality service because their operators are all locally operated companies.
Atlanta Airport Shuttle Service
From ATL airport you can find various shared ride van providers who can get you to your destination throughout the city along with private van and sedan rides. In addition, traveling to and from the different concourses is a breeze with the underground train system, the People Mover. The SkyTrain is a new-elevated train system that connects passengers to over a dozen rental car agencies.
ATL Pickup and Drop Off
Passengers traveling throughout the ATL airport can connect to Wi-Fi for all of their devices.  




Upon arrival at ATL airport simply follow the signs to the domestic terminal section and you will find a representative to assist you on boarding your shuttle bus. In addition, you can use the courtesy phones, which is next to the baggage claim, which will allow you to contact the Ground Transportation Center.

Shared Ride Van
Drop offs to Decatur and College Park may be a more inexpensive way to travel when it is by shared ride van services.

Private Van
Transfers from ATL airport to the Atlanta Convention Center or also known as The Georgia World Congress Center can be booked in advance with Greater Atlanta Airport Shuttle and AirportShuttles.com.

Private Sedan
Georgia has several shuttle providers for the North Druid Hills including Druid Hills area such as FlitWays and GroundLink including Zumu Sedan Service.

Local Personal Drivers
With personable drivers traveling with a local personal driver can be a fun and unique way to get around Panthersville and Doraville.

Private SUV
Georgia Aquarium and Turner Field are popular local attractions that tourists can visit and travel to via private SUVs through Atlanta Ace Limousine Service.

Taxi Cab
While shared rides can save you money taxis can do the same but without the additional passengers, which may in many instances be more convenient especially if you are in a hurry.

Chartered Bus
Departing the Atlanta International Airport for bigger groups coming to the city to visit Six Flags Over Georgia may be an economical way to travel.
ATL airport terminals
Find your way through ATL airport terminals and get to nearby places to dine, parking and the general pick up area for shuttle rides.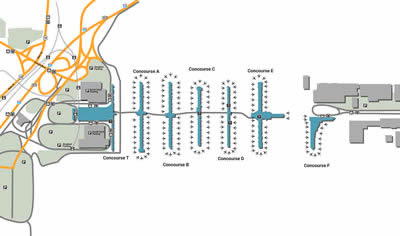 ATL airport offers AirportShuttles.com Atlanta, which has a very wide range of shared ride vans and premier sedan service known as Zumu that is readily available to travelers needing an airport ride. The Ground Transportation Center offers shuttle, taxi and limo services with providers.


You can arrange your shuttle bus, limousine or limo, executive car or sedan and taxi services between William B. Hartsfield International Airport and any of these neighborhoods such as Atlanta hotels and many more by filling in the information of your location above. You can also find hotel shuttles in Atlanta at discounted rates throughout the city.

There are many hotels that have convenient shuttle bus service available to and from Hartsfield-Jackson Atlanta International such as the Omni Atlanta Hotel, which is located at the CNN Center. There is also the Atlanta Marriott Marquis which is located close to Georgia Aquarium for families wanting to spend an exciting day and Mercedes-Benz Stadium where the Atlanta Falcons play as well as home of Super Bowl LIII.

Airport rides for college students to Atlanta International Airport can be a great experience while they save on the cost. With a variety of taxi services and shared ride vans available to be booked online students at Georgia State University and the University of Georgia can find airport transfers at very reasonable rates.

If you are looking for top shuttle providers for the Georgia World Congress Center, which is Atlanta's primary convention center, you can make reservations with many transportation options available to transport you there. The Metropolitan Atlanta Rapid Transit Authority MARTA provides train service from the airport to the metro Atlanta area and back again. 

How far is Atlanta aquarium from airport?

The Georgia Aquarium is roughly 12 miles to ATL airport and can cost about $37 for the transfer.

How much is a shuttle from Atlanta airport to downtown?

ATL airport transfers to downtown Atlanta can be by providers such as Greater Atlanta Airport Shuttle which is about 10 miles apart.

Is there a shuttle bus from Atlanta Airport to the Atlanta Falcons football stadium?

The stadium for the Atlanta Falcons is about 10 miles from Hartsfield-Jackson Atlanta International Airport with providers such as Greater Atlanta Airport Shuttle.

About Atlanta Airport
When you land at Atlanta International Airport you can easily get caught up in the fast paced environment of the airport. As one of the busiest airports each year ATL airport finds the need to keep constantly improving its terminals whether it is maintenance, adding new shops or simply places for passengers to get comfortable while waiting for their flight.

In addition, the ATL airport displays The Hartsfield-Jackson Art Program, which is designed to help make travel more pleasant for travelers by viewing the exhibits while they wait. Passengers could spend hours just wandering the terminals viewing the creative exhibits to view.

Atlanta Destinations
When arriving in Atlanta you will discover that there are many things to see and entertainment for the whole family. Check out the following to see all of the places you may have overlooked.
Atlanta Convention & Visitors Bureau

Things to do in Atlanta
Atlanta surrounding neighborhoods are filled with various communities all of which have unique needs of getting airport transfers to and from the ATL airport. It is home to the State Capitol building for those doing business during the day. The A is also the headquarters for Coca-Cola and the home of the very popular Underground Atlanta for those who want to spend the day shopping and being entertained.

The energy that fills the city of Atlanta beckons tourists to sightsee during their visit. Centennial Olympic Park is a must-see highlight whenever you are in town. You can also step across the street to the Georgia Aquarium where the latest exhibit will surely amuse you. With so many places to visit in Atlanta be sure to visit the World of Coca Cola and Fernbank Museum of Natural History.

ATL Contact Information
Atlanta Hartsfield-Jackson International Airport
6000 North Terminal Parkway
Atlanta, GA 30320
Airport Code: ATL