Toronto pick up and drop off at YYZ airport
Ground transportation to Toronto Pearson International
As the largest and busiest airport in Canada, Toronto Pearson is a huge international gateway for the country as well as North America. The Toronto Pearson International Airport is home to two main terminals, Terminal 1 and Terminal 3. Terminal 1 provides four levels of facilities, with ground transportation along ground level, arrivals and departures sprawled across Levels 1 and 2, and various lounges alongside restaurants & shops on Level 3. The smaller Terminal 3 is home to just two levels of facilities, with Ground Level handling arrivals and Level 1 handling departures. The LINK Train provides 24-hour inter-terminal transportation via a driverless people mover, while general ground transportation includes direct rail links via the Union Pearson Express as well as several bus routes that include TTC 'Airport Rocket' and Go Transit's 24-hour coaches.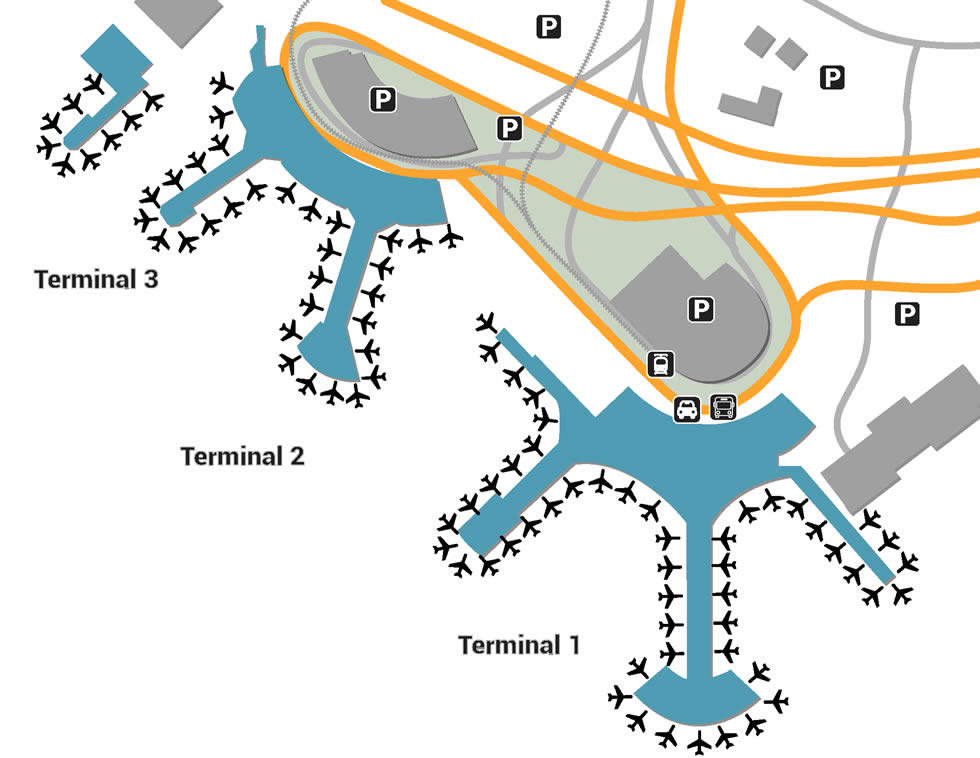 Parking
Parking opportunities at Toronto Pearson Airport are varied, including lots and garages that offer both long-term and short-term rates. Those looking to walk their families to the terminal have three options that include an Express Park and two Cell Phone Lots – Express Park is directly connected to Terminal 1 and good for stays up to 3 hours, while both Cell Phone Lots are free of charge and perfect for either pick-ups or drop-offs. Short-term rates can be found in the Daily Car Park's covered spots, which is best for those looking to stay fewer than 3 or 4 days, while long-term rates are best done at either the Value Park Garage or the Value Park Lot. The Value Park Garage offers covered spots and the furthest distance from both terminals, while the cheaper Value Park Lot provides uncovered spots a bit closer to Terminal 3 - both long-term lots offer rides to the terminal via the LINK Train. And finally, Valet Care offers premium curbside service along ground level of both terminals.
Services
The massive Toronto Pearson Airport is known for its unique services as well as traditional perks ramped up with modern face-lifts. With over 40 ATMs, free baggage carts and several currency exchanges, you'll run into no problems finding what you need. Family services are plentiful, including children's play areas on Level 2 of both terminals as well as various art displays that include a dinosaur-themed exhibit in Terminal 1 and a film exhibit in Terminal 3. Business travelers wanting specialty services have at least a dozen VIP lounges to look forward to, as well as the on-site suites of Sheraton Gateway Hotel and showers from SkyHealth. Other unique services include manicures from Be Relax, chaplains at The Aviation Interfaith Ministry centers and over 10,000 square feet of training equipment at Goodlife Fitness.
Retail
Shopping at Pearson Airport is one of the easiest ways to pass time, especially if you're into upscale fashion brands like Coach, Gucci and Montblanc, not to mention casual threads from either Suncatcher or Victoria's Secret. Make your look even better with a quick makeover from MAC Cosmetics as well as beauty pick-me-ups courtesy of The Body Shop. Those in search of souvenirs also have a lot to find through either Discover Canada or Tax & Duty Free by Nuance, not to mention various convenience shops that include over a dozen Relay stores and a couple 6+ Sundry locations. Other specialty stores include electronics from iStore, engravings at Metalsmiths Sterling and world-class sweets at Rocky Mountain Chocolate Factory.
Restaurants
Restaurants at Toronto Pearson Airport come in all shapes and sizes, from local creations to comforting international chains. Kick the morning off with a cup of coffee from Caffé di Calabria or Starbucks, then following up with healthy takeaway snacks courtesy of either Camden Food Co. or Cibo Express Gourmet Market. Worldly cuisine is also a popular fixture, from Asian ingredients at LEE Kitchen by Susur Lee to local ingredients sourced at The Hearth by Lynn Crawford, not to mention international wines and cheeses courtesy of Vinifera. Other unique restaurants include inventive dishes at Twist by Roger Mooking, savory deep dish pizzas at Boccone Trattoria by Massimo Capra as well as the All-American burgers from Mark Wahlberg's Wahlburgers.