Toronto Pearson International YYZ Airport Shuttle
A modern facility located between Toronto and Mississauga, Pearson International offers the best of two beautiful Canadian cities. Home to free Wi-Fi and a slew of world-class art displays, the area is a great one to arrive to, even better to get out of. Do so with a ride that best suits your needs, whether it's a sedan perfect for intimate drives through the St. Lawrence Market or a relaxed shuttle courtesy of a nearby airport hotel. Choose from a slew of stays along Airport Boulevard, from the on-site Sheraton Gateway Hotel to the trendy Alt Hotel Toronto Airport, or go the extra mile by reserving a suite at the heart of downtown, taking adventure everywhere with a private ride of your own.
Search for YYZ airport rides

Trusted service since 2003

Flight Delayed? We wait.

24/7 Customer Service

Toronto Airport Transportation

Get to wherever you need to go the easiest way possible by booking a ride that best reflects you. Keep things light by exploring the beauty of East York with a local personal driver, getting unique advice on where the best trailheads for Lower Don Parklands is, or delve into the museums of Yorkville with the whole family by booking a roomy SUV. For business travelers heading to the Metro Toronto Convention Centre, get there quick with the help of a taxi, or utilize a stretched limousine to turn your work trip into a mini-vacation, arriving to the Harbourfront Centre for a night of bayside entertainment and events.

YYZ Airport Transfers

Find other destinations that offer GO Airport Shuttle or search for other transportation providers at Toronto (YYZ) airport.

Airport Pick Up

Looking for airport shuttle rides? Learn how you can get connected to the best shared ride van providers, sedans and private vans and view our airport transfer locations.
Toronto Airport Shuttle Service
Toronto Pearson International has many convenient locations to pick up taxi and limousine rides to all locations in the greater Toronto area.
Shared Ride Van
Toronto has a lot to offer. See just the tip of the iceberg like the beautiful Toronto Island Park by booking one of our shared ride vans for the trip.
Private Van
Receive a private van and surround yourself with the heart of Toronto at the Steam Whistle Brewery, a great facility that's worth waiting for.
Private Sedan
The AGO, Art Gallery of Ontario is an amazing location to see in Toronto, especially if you decide to get there in one of our private sedans.
Local Personal Drivers
Get the skinny on what the coolest parts of Toronto are by getting a local personal driver to not only show you around, but also give you awesome insider tips on what to see.
Private SUV
Have an adventurous expedition to the Ripley's Aquarium of Canada with the whole family by ordering a private SUV to get there.
Taxi Cab
If you need to get your shop on, get one of our taxis to take you to the St. Lawrence Market, a great place for foodies.
Stretched Limousine
Show up in unmatched elegance and style to the Royal Ontario Museum, a great place to spend the afternoon and an even better place to show up in luxury.
Chartered Bus
If you have a large group and need to get around the city, stop by the beautiful Toronto Public Library once you've booked one of our buses for the trip.
YYZ airport terminals
Getting to your ground transportation can be difficult at a new airport such as Toronto Pearson International Airport but with a little help finding your way can be easier.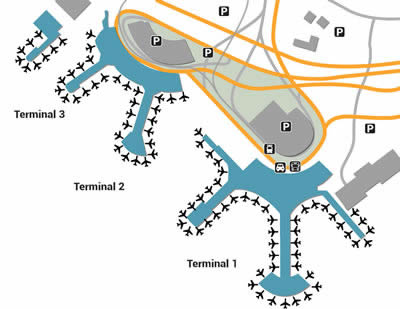 Toronto Pearson International Airport (YYZ) is located in Mississauga, just fourteen short miles northwest of downtown Toronto. It is the main jumping off point for travelers from what is known as the Golden Horseshoe, which is home to more than 8.7 million people.

How much do you know about art and history? Visit one of the largest museums in North America, Royal Ontario Museum, to learn more. Have this trip with your friends using our shared van ride. Do Leonardo Da Vinci and Picasso inspire you? Get our private van and speed down to Art Gallery of Ontario, Toronto.

How about a look at the world from the top of the CN communication and observation Tower in Toronto? Book one of our private sedans now to get to one of these mega concrete structures. Want to plan something fun for the weekend? Take a ride to Rogers Centre in downtown Toronto with our local personal driver now, and relax your way along the trip.

You have to plan a family outing and you are out of ideas? Ripley's Aquarium is worth a trip with the family. Book our Private SUV now and let's go say Hi to the fish. If your old school friend is in town and you want to make a low budget trip, then head on to the Museum of Contemporary Canadian Art. Our taxicab is the best option as a means of traveling.

Is the workload catching up to you? Take a weekend off to relax and book a room in Chelsea hotel. Travel in style by renting our stretched limousine. Ever wondered how it feels to be on a speedboat? Rent our buses and visit Toronto Harbor and experience the rush of adrenaline of this activity.

The Toronto Transit Commission TTC provides shuttle service to and from the airport in clean, safe and comfortable busses, with a schedule that goes both all day and night. GO Transit and MiWay provide shuttle service as well but no night schedule.

If you need to get to another airport such as Munro International in Hampton or even Detroit Metro in the United States Toronto Limousine will get you there in one of their luxury sedans or SUVs. They offer arrival and departure service along with driving you and your clients to and from meetings. They will even drive for a night on the town.

About Toronto Airport
It covers all of southern Ontario, west from Lake Ontario, east to Lake Erie and north to the Georgian Bay. Pearson is the busiest airport in Canada and the second most popular North America destination for international travelers. Only JFK in Washington DC brings in more. It is the main hub for Air Canada and is also a major hub for FedEx. Over 36 million passengers passed through its terminals in 2013.

The three pier terminal 1 is big, but touted as the world's fastest movable walkway, the ThyssenKrupp Express will get you to where you need to go in a hurry. Terminal 1 handles domestic, international and transborder flights. A ride in the LINK Train will get you over to terminal 3, which has a United States Preclearance Facility and handles WestJet along with other airlines. The LINK train can also take you to Viscount Station where Value Park Lot and Value Garage are located.

Hotels near Toronto
Sheraton Gateway Hotel is located just a short walk from terminal 3. Located in the hotel is The Mahogany Grill Restaurant, it's a great place to wait for a connecting flight or enjoy some international cuisine. The hotel offers all the amenities you need for a business meeting such as a conference room and Wi-Fi. There is even a ballroom to host weddings.

Toronto and Mississauga area host many different hotels to fit your needs and budget. The Alt Hotel is one to check out. It has a very modern look and feel, well suited for the international traveler. It is a very short cab ride from the airport. You might even want to walk to stretch out the legs or take a day trip to Canada's Wonderland with the family.

YYZ Contact Information
Toronto Pearson International Airport
6301 Silver Dart Drive, Mississauga
ON L5P 1B2, Canada
Airport Code: YYZ