Vancouver pick up and drop off at YVR airport
Ground transportation to Vancouver International Airport
Just a few miles from downtown, Vancouver International Airport is one of the busiest in Canada, offering a festive aboriginal theme throughout its three connected terminals as well as various premium lounges & spas. Its award-winning services have resulted in the Skytrax Best North American Airport Award for a record 9 years in a row as well as best airport in the world in 2012. Terminals include the Domestic Terminal, the International Terminal and the South Terminal, with the Domestic and International Terminals being interconnected via the Main Terminal and the South Terminal located inside the Airport South Complex. Ground transportation includes an on-site rapid transit station that connects to the SkyTrain network as well as a few bus stops that include the N10 night bus and the popular C92 line.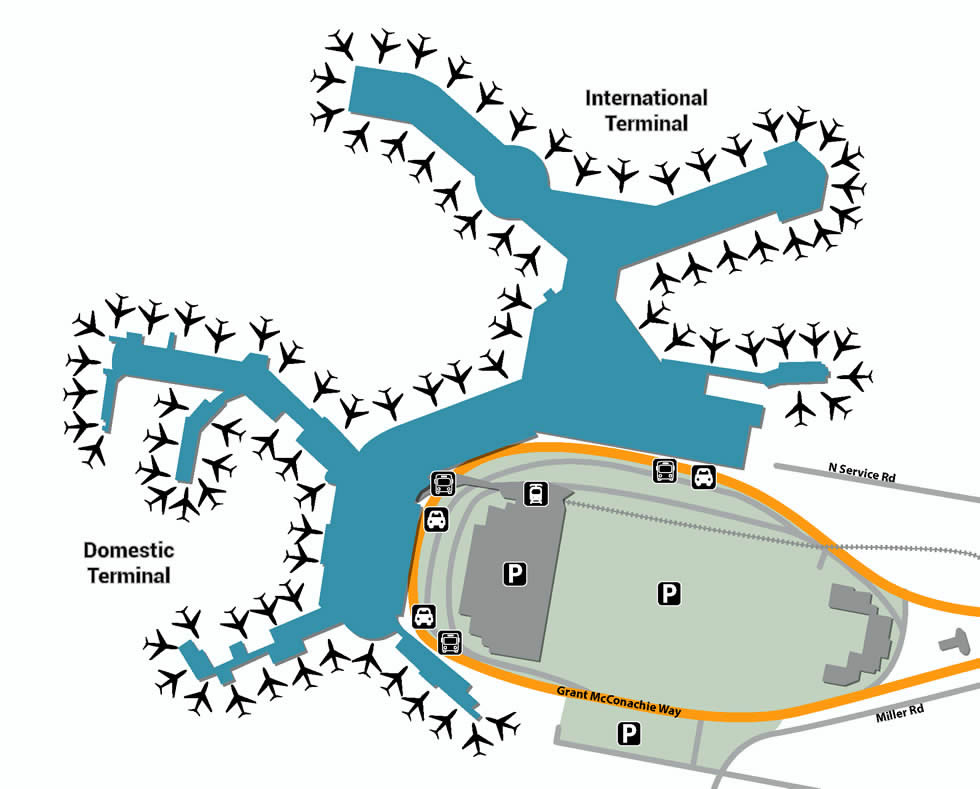 Parking
Parking at Vancouver Airport includes hourly, daily and weekly rates across three separate parking lots. Parkade is a multi-level garage just a few steps from the Main Terminal, while jetSet Parking takes about five minutes to get to the terminal via a shuttle. The Value Long-Term Lot is the best choice for those planning to leave for five days or longer, providing free train rides to the terminal that depart every 10-20 minutes. Exclusive perks can be found through Gateway Valet, located curbside and offering upscale drop-offs to all terminals, while The Cell Phone Waiting Area is a small complimentary lot designed for guests waiting for their party to arrive. Frequent flyers can also earn miles through Aeroplan by staying at either the jetSet or Value Long-Term Lots, while those who choose valet can collect points through the airport's Prefera Program.
Services
Services at Vancouver Airport include a wide variety of unique perks, from the typical services of Walter's Shoe Care to surprising conveniences like The Vancouver Airport Dental Centre. A medical center and pharmacy are also provided for those in need of prescription refills, as well as wheelchair rentals for the disabled. Relax easy at five separate spa & beauty centers as well, afterward enjoying over a dozen upscale lounges perfect for turning delays into stylish memories. Other business perks include rentable conference rooms and suites at the Fairmont Vancouver Airport Hotel, plus the helpful guidance of concierge services and valet parking. On top of it all, YVR Airport offers renowned artwork on public display, from the inspiring Lorne Balshine Collection to towering totem poles courtesy of Sea to Sky.
Retail
Enjoying your time at Vancouver Airport is especially easy if you're a shopper. Look forward to a wide variety of gifts & souvenirs from Crafthouse and Discover BC, or the artful heirlooms from Sea to Sky Marketplace. For bare necessities, find quick conveniences at either 7-Eleven or Vancouver Marketplace, also considering confectionary treats from either Roger's Chocolates or Pacific Sweet Shoppe. Family-friendly shopping includes toys & games at the acclaimed Vancouver Aquarium Gift Shop, as well as in-flight luxuries from stores like Go Travel and iStore. And for those looking to stay comfy during their flight, look forward to a new wardrobe at Brooks Brothers, trendy streetwear from Bench and tons of upscale fashion for cheap at The Design Outlet Centre, located before security.
Restaurants
Make the most of your surroundings by looking forward to tasty eats across the airport, many of which are located along C-Pier's shopping mall. Choose from a wide palette of flavors that include various fast food restaurants like A&W and Church's Chicken as well as local gems such as Vera's Burger Shack and Pajo's Fish & Chips. Get a sit-down experience by hanging out at calming cafés instead, whether it's through one of several Starbucks and Tim Hortons or a unique experience at one-of-a-kind locales like Green Bean Café, Skyway Café and Java U Café. And for an immersive dinner experience, go full Canadian at either Canucks Bar & Grill or Monk's, also considering beautiful airport staples that include tarmac views from Lift Bar & Grill and renowned international dishes courtesy of Globe @ YVR.