Trusted service since 2003

Flight Delayed? We wait.

24/7 Customer Service

Vancouver International YVR Airport Shuttle

Taking up most of the area on Sea Island, Vancouver International Airport is Canada's 2nd-busiest facility, offering impressive modern architecture as well as easy access to snowy peaks and small waterside towns. See it all at your own leisure by reserving a private vehicle, whether it's a sedan perfect for solo expeditions or a chartered bus that can bring the whole family along. You can also go with something more convenient by booking a meet-and-greet, choosing between basic taxis for business drop-offs or lux limousines that make you look good everywhere.

YVR Airport Transfers

Find other destinations that offer GO Airport Shuttle or search for other transportation providers at Vancouver (YVR) airport.

Airport Pick Up

Looking for airport shuttle rides? Learn how you can get connected to the best shared ride van providers, sedans and private vans and view our airport transfer locations.
Vancouver Airport Shuttle Service
There are many options for getting around Vancouver, especially from hotel to airport and vice versa, including standard ground taxi services. Namely, the Vancouver Shuttle is a great choice. Ground transportation at YVR Airport includes a few bus lines, the N10 night bus run by Coast Mountain Buses, and the C92 route run by Canada Line, which connects to the popular Bridgeport Station in Richmond. Rapid transit is also offered by SkyTrain, on-site subway located at the YVR Airport Station beneath the airport. Go the simplest option by booking a personal shuttle for custom drop-offs and timely pick-ups instead, making arrangements through either area shuttle or taxi providers for pleasant views and the convenience of commitment- rides.
Shared Ride Van
Are you in Vancouver for official business or personal holiday? Our shared ride vans will offer you the best travel experience at a discount. From airport transfers to tour transport to places like Stanley Park. Get a lift to an all-in-one locale with a ride that offers custom drop-offs, reserving a shared ride van from area shuttle companies to enjoy rooftop eats at The Western Bayshore, also considering the luxury of Fairmont Waterfront for an incredible 5-star experience and renowned views of Vancouver Harbour.
Private Van
We offer pickup and drop off services at different locations in Vancouver. Call and book our private van for official business transport and/ or for leisure travel activities like visiting to Jericho Beach. Take care of up to a dozen passengers with a private van as your personal steed, contacting area providers to make it to widespread locales, whether it's the summer biking paths along the Vancouver Seawall or wintry views atop Grouse Mountain.
Private Sedan
Our prestigious private sedans allow you to turn up at your preferred destination in style. Book us for the classy ride either for airport transfer or for tour travel to places like Marine Building. Take the priceless gift of silence everywhere you go by booking a peaceful sedan, making arrangements with area sedan companies to take your time on long drives through scenic North Vancouver in the morning, then waiting for sunset at famous lookouts like Capilano Suspension Bridge at night.
Local Personal Drivers
Our drivers have extensive knowledge of the Vancouver city to ensure you travel conveniently. Book us for both business services and pleasure activities like traveling to tourist spots like the Beauty Biodiversity Museum. Find parts of the city cherished by locals with a local personal driver to show you around, finding the best portside cafés to wake up to while looking forward to the city's vibrant nightlife, from live music venues to late-night diners, all at the ease of letting your driver do the work.
Private SUV
Access our private SUVs directly from any location. Ask us for airport transport and other activities like touring the Cypress Mountain Ski Area. For a ride that lets you take control, reserve a private SUV from local companies, the perfect lift for carrying up to six passengers from one locale to the next, whether it's historic landmarks from the 19th-century or thee vast network of island trails at Stanley Park.
Taxi Cab
Do you wish to travel Commodore Ballroom or Sylvia Hotel? We offer personalized taxicab services to transport you to and from airport, hotels and tourist sites. Business travelers know the importance of efficiency, making taxis especially helpful for rides to the Vancouver Convention Center. Arrive to the scenic waterfront space with the freedom to come and go, whether it's to port restaurants and promenades or cross-town adventures via nearby ferry and subway stations.
Stretched Limousine
Experience the life in Vancouver in a unique way by traveling in our stretched limousines. Let us handle your travels to wherever you want to go including tourist destinations like Empire Landmark Hotel. Find the finer things in Vancouver by making sure you're in a vessel that appreciates each second, booking a stretched limousine from local limo providers for a chance to make grand arrivals. Sit down for an art deco symphony at The Orpheum, or go for something more quaint at the intimate Vancouver Playhouse, all while looking forward to world-famous Pacific Northwestern dining, from Bishop's on 4th to Hawksworth on West Georgia.
Chartered Bus
Traveling as a group, we have charter bus transfers that can accommodate you. We can also take you to places like Baden-Powell trail for hiking. Keep the faith when transporting over a dozen passengers by booking a chartered bus, moving across vast destinations perfect for everyone to roam free, watching the seasons change across VanDusen Botanical Garden, or finding your favorite fish at the massive Vancouver Aquarium.
YVR Airport Terminals
A massive structure home to two terminals connected by a pedestrian footbridge, YVR Airport offers several floors of services and amenities.
Main Terminal:
- Level 1: large Services Plaza home to luggage & shoe repair, car rental stands, dry cleaners, parking, spa & salon, pharmacy, dentist, medical clinic, courtesy shuttles, and elevators/escalators to upper levels.
- Level 2: arrivals, baggage claim, information desks, luggage lockers, a café, souvenir shops, a currency exchange, and escalator/elevator access to upper and lower levels.
- Level 3: departures, domestic check-in, children's play area, security, currency exchange, banks, ATMs, VIP lounges, shoe shine, food court, information desks, spas, concierge, luggage lockers, hotel, a nursery, and elevators/escalators to upper and lower levels.
- Level 4: restaurants, a spa, and SkyTrain Station.
South Terminal:
- Level 1: check-in, security, baggage claim, car rental services, taxi stands, and a gift shop.
YVR airport terminals
When you land at the Vancouver International Airport, you will find several ways to get to your ride whether it is a shuttle or a black car transfer.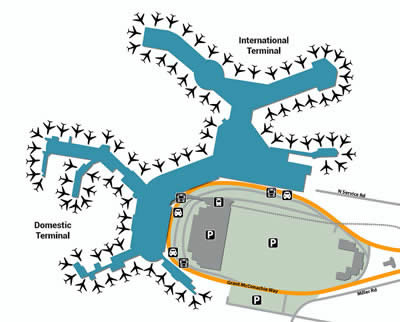 Vancouver Airport Shuttles

You can reserve a hotel shuttle in Vancouver and find low rate pick up rides from the airport. The City of Vancouver is a large coastal seaport, a mainstay for Canadian tourism, port trade and commerce activities. 

Vancouver International Airport Shuttles
Conveniently located on Sea Island, a small river-locked area just south of Vancouver and north of Richmond, getting to your hotel is easy with so much beauty on the way. Reserve with either area shuttle or taxi providers to soak in the view, looking forward to all the eccentricities before settling down for a much-needed power nap.

Surrounded by old port townsend ferries coming and going across the Burrard Inlet, finding a good corner to call home is easier said than done. Choose between Vancouver's best neighborhoods, from Coal Harbour metropolitan views and classic boats on the north side, to the ethereal combination of urban beaches and boutique fashion on Robson Street, located within the many blocks of West End. On the south side of town lie the street-side cafés and bars of Yaletown, a popular place for young folk, while the east side offers historic family-friendly charm through Gastown, known by locals as the original Vancouver and offering close access to the theater district.

Don't let the beauty of the day slip out of your hands by keeping track of all your bookings and reservations, starting with your shuttle. Print out your confirmation email the moment it arrives so you don't forget the details, doing the same with your hotel or resort bookings for added coordination. Have any extra stuff stored away in a safe place, either with a flash or cloud drive, or by filling out a handy travel journal with all the sleeves and compartments you'd need to store important prescriptions, passports, and other forms of identification.

About Vancouver International Airport
A half an hour's drive, the trek between Vancouver International and downtown can get daunting. Book a room at a nearby airport hotel for the most convenience, choosing between the on-site luxuries of Fairmont Vancouver, which boasts upscale spas and an indoor pool, or go with waterside beauty at either Radisson Hotel Vancouver Airport or Pacific Gateway Hotel, both of which offer exemplary perks and stylish rooms along the Fraser River. Other options are located in North Richmond, the most popular stays being Four Points by Sheraton, River Rock Casino Resort, and The Westin Wall Centre.

Take delays in stride, exploring the many shops, restaurants, and services at Vancouver International by hanging out on the level 3 of the Main Terminal. Grab some fast food at Subway, A&W, or Church's Chicken, also considering casual sit-downs at Skyway Café and Tim Horton's for lunch, or grab a full dinner at restaurants ranging from Canucks Bar to Monk's Grill. Spend some time searching for the right look afterward, choosing between upscale looks at Guffic, golf gear from PGA Tour Shop, or bright accessories courtesy of Charmed Design. Kid-friendly stores include Vancouver Aquarium and Pacific Sweet Shoppe, plus play areas on level 3.

Those planning to stay close to Sea Island for the duration of their trip should know what's in store before arriving, exploring the many natural escapes along the forked Fraser River, from Iona Beach Regional Park's stunning sunsets and windy strips that jut into the inlet to the hidden shores and picnic tables of McDonald Beach Park. Business travelers will especially love the close access to golf courses as well, having their pick between the MccLeery Driving Range, Point Grey Golf Club, and the exclusive Shaughnessy Golf & Country Club.

Vancouver Destinations
A popular art city known for its many movie studios and trendy neighborhoods, Vancouver is a shining emblem of what British Columbia aspires to be. Start the day by exploring Stanley Park, the city's best all-in-one location home to hundreds of hectares of beaches and trails that lead to Beaver Lake, Prospect Point Lookout and a variety of family-friendly attractions including the Vancouver Aquarium and historic Brockton Point Lighthouse. Also attached to Stanley is the Vancouver Seawall, a famous stone structure built to protect the peninsula park from eroding, as well as adding open-air promenades and vivid views of Vancouver Harbour.

Experience stunning views of the Pacific Northwest by spending some time with Vancouver's backdrop, moving from the humbling views atop the 19th-century Capilano Suspension Bridge, which looks down at hundreds of pines, or going even higher at Grouse Mountain, one of Vancouver's highest peaks surrounded by popular ski resorts and toasty cafés. Other awesome escapes include the expertly landscaped Queen Elizabeth Park, which towers over the skyline, while Dr. Sun Yat-Sen Classical Chinese Garden begs for tranquility the moment you step inside. And no trip to Vancouver would be complete without a classic sit-down at Chambar Restaurant, a chic Belgian-style eatery offering late-night gourmet, whereas Joe Fortes Seafood & Chop House offers a more laid-back approach with a rooftop patio and oyster bar.

Lounges at Vancouver Airport
- Plaza Premium Lounge: 4 locations across level 3. Perks include free Wi-Fi, reading material, showers (2 locations only), premium food, drinks, TVs, fax machines, telephones, and nap rooms, plus disability access and flight information monitors.

- Air Canada Maple Leaf Lounge: 3 locations across departures. Perks include free Wi-Fi, TVs, snacks, showers (2 locations only), printers, copiers, faxing, reading material, cell phone-free zone, drinks, and workstations, plus disability access and flight information monitors.

- SkyTeam Lounge: Located near Gate 53. Perks include free Wifi, reading material, showers, telephones, TVs, fax machines, and drinks, plus disability access and flight information monitors.

As with many airport shuttles, the Vancouver Shuttle offers shared rides especially, and great door to door service. They will transport from the airport to home or business, and typically do well in arriving on time. They offer reduced fare cost to minors under 12. Some fees to consider: single rider fee; extra stop fees. They offer some coverage for lost or stolen items — to see full description, go to their website Vancouver Shuttle . Above all, Vancouver Shuttle is probably the most convenient option for those staying traveling via Vancouver International.

A second shuttle option is: Quick Shuttle. Located quite close to Vancouver International this option is easily accessible and relatively high quality. They offer shuttle services mainly to and from airport to your hotel.

Alternate YVR Transportation
There are many other options for transportation in Vancouver which include car rentals, taxis, limousines, buses and valet services. The Canada Line is Vancouver's most popular railway transportation to and from the airport. It is only 20 minutes to Richmond and less than 30 minutes to Vancouver and can easily access trains from the terminals.

Green Coat Ambassadors 
Vancouver International and Authority was the first in North America to assign volunteers to work in all areas of the airport. The volunteers wear a green vest and jacket and provide customer service and helpful information. Volunteers are trained in airport operations and train with the instruction programs given to airport employees.

Vancouver, Enhance Your Travel Experience
Vancouver International Airport also known as YVR has over 60 airlines that bring individuals and businesses to destinations in Canada, the United States, and various cities around the world. It is the second busiest airport in Canada. It offers daily non-stop flights to Europe, the United States, Asia, Mexico, Oceania, as well as many airports in Canada. It is one of the most popular airports in the world. Strong leadership and a team of dedicated personnel helps to ensure quality service at an affordable cost.

Vancouver International is well known for dedication to special needs. It has received awards as one of the most accessible airports in the world highly concentrating on improving the quality of life for those with disabilities, handicaps, and other special needs.

Popular works of art and extraordinary architecture make for a delightful welcome at Vancouver International. Each of the three terminals building design reflect on the culture and beauty of British Columbia. The Vancouver Airport Authority also began the YVR Art Foundation in 1993 and helps provide scholarships and awards for artists seeking to strengthen their artistic talent and popularity.

A record number of 17.97 million passengers were welcomed at Vancouver International in 2013 which was a 2.1 increase over 2012. This can be credited to the Airport Authority which took responsibility of the airport in 1993. Since that time passenger traffic increased more than 80 per cent and an increase of more than 50 per cent on cargo.

The airport has three terminals for Domestic and International customers. All three offer the same dedication and services to ensure each visitor feels welcome and comfortable with equal respect for all. Shopping and dining are also offered at Vancouver International and have something for everyone in an enormous selection of shops, lounges and dining services.

About YVR Airport
The Vancouver airport is considered one of THE most accessible airports in the world, and for good reason. A large and important airport located in an equally central city, it is well traveled; when visiting the temperate Vancouver, it is important to arrange appropriate shuttling to and from this somewhat grand airport.

The area population count is estimated at just over 600,000 people based on the latest census taken in 2011. Vancouver is an alpha city — aka, a world city, global city, or beta global city; this means that it is central to the global economic system, not just important to the surrounding provinces or even the country or continent.

As well as being a trade center for the entire (major) world economic system, it is a major tourist attraction, for many obvious reasons. With a huge population and large size comes a large array of attractions and historical landmarks. As well, Vancouver — although its summers are somewhat cool — has nearly the highest annual winter temperatures of all of Canada's large cities.

Attractions include museums like the Vancouver Art Gallery, Vancouver Maritime Museum, and one of the largest museums in Canada, the Vancouver Museum. The Port of Vancouver is close by the airport. The city has its own well renowned city orchestra, and is overall an amazing place to visit.

Hotels near YVR
A huge city, Vancouver has at least dozens of lodging sites for tourists to use. The Georgian Court Hotel is conveniently located downtown and close to a handful of great dining areas. Amenities include: hot tub, dining rooms, wheelchair accessibility, and fitness and convention center. They offer transportation to popular cruise ports in the area during cruise season. With their specific amenities, Georgian Court is especially attractive to sports enthusiasts.

A well known, widely seen establishment, the Holiday Inn has its own Vancouver location. They have a variety of rooms, from singles to suites, and are located in downtown as well, among popular theatre and entertainment locals. Other hotels of note: Inn at False Creek, Holiday Inn International Vancouver Airport Hotel, and the Empire Landmark Hotel.

YVR Contact Information
Vancouver International Airport
3211 Grant McConachie Way
Richmond, BC V7B 0A4, Canada
Airport Code: YVR