Warsaw pick up and drop off at WAW airport
Ground transportation to Warsaw Chopin Airport
Servicing the capital of Poland, Warsaw Chopin Airport is the country's largest airport as well as one of the busiest in Europe. The small but modern facility is home to two terminals; the South Hall and the North Hall. The South Hall is home to piers A and B, while the much larger North Hall provides access to piers C, D and E. The two main halls provide various shops & restaurants perfect for unwinding, whether you're a solo business traveler or big family. Ground transportation includes the underground Warsaw Chopin Railway Station, which provides access to two SKM routes - there are also three bus lines; 175 and 188 for the daytime and the N32 Route for night.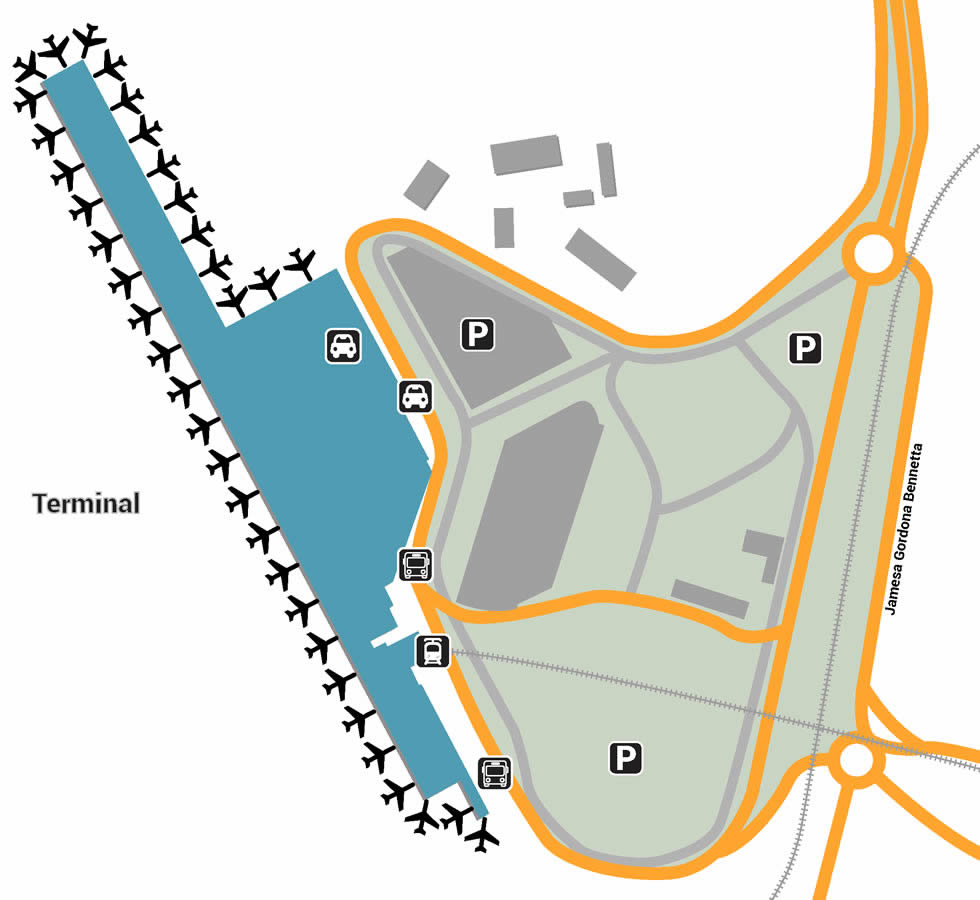 Parking
Over 3,000 spaces are available across three main car parks at Warsaw-Chopin. The car parks are labeled P1, P2 and P4. Both P1 and P2 are multi-story parking garages ideal for short-term stays under 2 days. P4 is an uncovered surface lot that provides the lowest rate, making it best for those leaving on holiday. Other parking areas include a Kiss & Fly Zone, which provides the first 7 minutes free of charge for those who want to walk their loved ones to the terminal, as well as a Premium Car Park that provides a few dozen spaces closest to the terminal. For more information, call the 24-hour airport hotline at +48 22 650 42 20.
Services
Accommodations at Warsaw Airport include an array of helpful amenities large and small. Financial services such as ATMs and currency exchanges are available throughout both terminals. For families, ten parenting rooms are available across Pier A - there are also free strollers available near the arrivals area as well as three spacious indoor playgrounds. For business travelers, three lounges are located in Pier A, while on-site lodging is available at Courtyard Warsaw Airport. Premium services are also available in the form of memberships that come with Fast Track security passes, private lounge access and up-close parking. Other unique services include an observation deck near the train station as well as free showers by the food court.
Retail
Chopin Airport is home to a modest collection of 20 shops that offer a wide range of last-minute necessities and upscale luxuries. Get what you need at duty-free stores like Aelia and Baltona, also considering newsstand items at either Relay or Virgin before boarding. Fashion is also plentiful commodity, from comfy clothes & accessories at Victoria's Secret to premium brands at The Fashion Gallery - Aelia is also home to duty-free cosmetics. And for those in search of the perfect souvenir, pick up Warsaw-themed items at Gift Shop as well as gourmet treats at Premium Food Gate. Other unique shops include high-end jewelry at Jubitom as well as colorful games & backpacks at Toys Store.
Restaurants
Choose from over 20 eateries at Chopin Airport, whether you're looking for a quick snack on your way out or a long dinner before your flight. Relax with breakfast from either So! Coffee or Voyage Cafe, also considering a few chains like Bricco Cafe, Costa Coffee and Starbucks. More lunch-friendly options include quick-serve at Chief's as well as fast food from McDonald's and Johnny Rockets. You can also get the full Warsaw experience with authentic Polish cuisine right in the terminal, choosing between contemporary dishes at MISA or home-made comfort food from Bijanka. Other unique options include organic drinks at Papaya Juice Bar as well as char-grilled eats from The Flame Restaurant & Bar.