Trusted service since 2003

Flight Delayed? We wait.

24/7 Customer Service

Frederic Chopin Warsaw WAW Airport Shuttle

Book reservations for airport shuttle, taxis, sedans and limousine service to and from the airport.

WAW Airport Transfers

Find other destinations that offer GO Airport Shuttle or search for other transportation providers at Warsaw (WAW) airport.

Airport Pick Up

Looking for airport shuttle rides? Learn how you can get connected to the best shared ride van providers, sedans and private vans and view our airport transfer locations.
Warsaw Airport Shuttle Service
When traveling from the airport to your hotel or other lodgings, there are many options. Of course, you can always try your luck with a local taxi service to get to your destination. However, there are other services offered at most airports, including the Warsaw, Poland airport code WAW.
Shared Ride Van
Are you visiting Warsaw or are you a resident of Warsaw and you would like to access transport services? Contact us book for a shared ride van. It is cheap and got great services. We can transport you to both formal events and tourist activities like visits to the Wilanow Palace.
Private Van
Enjoy our state of the art transport services by accessing our private van services. Get to enjoy door-to-door services in the whole of Warsaw city. Get to travel to see the Royal castle.

Private Sedan
Enjoy a mix of style, superiority and convenience at the same time. Call us to hire a private sedan to move you to any place of your preference. Get to go sightseeing at Ostrogski palace.
Local Personal Drivers
Call us a get a knowledgeable local personal driver and get to enjoy polished services. Get to visit tourist spots like Warsaw Citadel.
Private SUV
Want to attend to a sporting event with your friends to the Polish Army Stadium? Look nowhere else. Our private SUVs will not only offer you airport transfers but also help you get to visit various points of interest.
           
Taxi Cab
Experience no delays while traveling to Warsaw by accessing our taxicab services. Get a chance to travel to places like Warsaw zoo.
Stretched Limousine
Access our trendy and upscale stretched limousines at affordable prices for airport transfer and ground transportation to places like Copper-Roof Palace.
Bus
Get great discounts by hiring our buses to transport you together with your family and friends especially if you are traveling in large group. Get to witness among others the beautiful site of the Saxon Garden.
WAW airport terminals
Poland's Warsaw Chopin Airport is your gateway to this charming European capitol city. Once you land here, you'll probably want to get straight to exploring this great city. Use the map below to navigate WAW like a pro.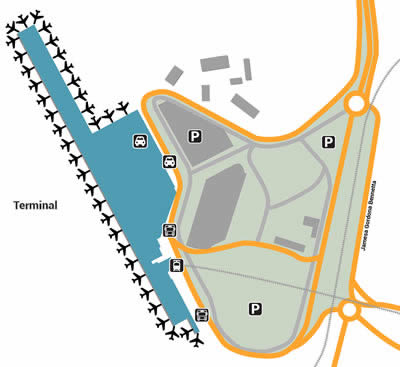 Warsaw Airport Shuttles

Warsaw is Poland's capital and largest city. It includes 4 areas which each are made up of different districts. If you are planning to visit Warsaw you should learn about what each has to offer.

One prestigious travel option is Blacklane limousines. Blacklane is an excellent option, offering unique and convenient shuttle service. When you use Blacklane, you will be able to choose from a variety of vehicles, from the Mercedes E-Class to the Mercedes S-Class. No matter what you choose, you're sure to receive optimal comfort and customer service.

Your driver will arrive at baggage claim and help you with your luggage. As well, their rates are fixed, so you won't be surprised by additional fees. You may not receive as much flexibility as some shuttle services which allow you to customize your ride, but that isn't necessarily a bad thing, allowing you to be sure of what you are paying and still presenting a selection of options to fit your needs.

There are many different shuttle services to Warsaw, Krakow and surrounding Poland destinations. Taxis are a common options, but there are private vans and limousines, like Blacklane, available and at your disposal. StayPoland offers standard and personalized pickup by a chauffeur who will wait for you at the airport, holding a board with your name given, of course, that you make reservations ahead of time .

Hotels near WAW
Only 0.2 miles away from the Warsaw airport, the Courtyard Marriot is an excellent choice. Rooms start at $92 a night, this nonsmoking hotel features amenities like flat screen TVs in many rooms, a fitness room, and free Internet connections.

Just 0.6 miles away from WAW, the Hotel Gromada starts at only $43 a night and has such amenities as free wifi and television. A few other hotels near to the airport are Hotel Okecie and Hampton by Hilton. Shuttle services will usually work with you to decide on the right hotel for your stay.

About Warsaw Airport
Warsaw, Poland is Poland's capital city, with a population of just over 1.7 million citizens and 2.7 million residents in its greater metropolitan area as of the latest census. Of the entire European Union, which includes Italy, France, Germany, and Belgium (as well as others), Warsaw is named the ninth most populous city.

Residents of Warsaw call themselves Varsovians, from the Polish word Varshava ("Warsaw"), a term first brought in to popularity in the late 1700s. This huge city is brimming with character, expressed by its stunning architecture and its rocky past. For over 100 years, Warsaw was gone, destroyed by World War II. Since then, it has been beautifully re developed into an alpha city, or an important global economic center. Today, its industries include production of metal, paper products, leather, and food.

Warsaw Restaurants
Some of the cuisine that can be seen in Warsaw, Poland including the diverse Pierogi, which is essentially a dumpling that can be crispy or boiled and filled with any number of delicious options, depending on the dish. Another popular dish is zurek, a soup made of rye flour instead of white flour and meat, especially sausage, bacon, or ham.

An economical hub and huge tourist spot, Warsaw, Poland is definitely a must see area. Add it to your travel wish list and don't forget to take advantage of its great airport, the Warsaw, Poland Airport (WAW), aka the Fryderyk Chopin Airport.

Centrum is made up of areas such as Sródmiescie, Wola, Mokotów and Praga Poludnie. This area is also known as Warsaw's Old Town and it is where most tourist attractions are located. North Warsaw is made up of Bielany and Bialoleka. Western Warsaw is comprised of Bemowo, Wlochy and Ursus. Eastern Warsaw includes Targówek, Rembertów, Wawer and Wesola while Southern Warsaw is made up of Ursynów and Wilanów.