Tokyo Narita International NRT Airport Shuttle
A whopping facility located 45 miles east of downtown Tokyo, Narita International is known for its instant access into the vibrant world of Japan through a variety of unique shops and restaurants. Connected to a direct rail that goes straight to the pulse of downtown, the scenic facility is a great one to find yourself waiting, even better to look forward to coming home. Hop aboard a handy shuttle the moment you arrive, either through the help of countless on-site hotel shuttles along the Shin-Kuko Expressway or a private ride that offers all the freedom in the world.
Search for NRT airport rides

Trusted service since 2003

Flight Delayed? We wait.

24/7 Customer Service

Tokyo Narita Airport Transportation

Home to as much ancient history as modern innovation, you'll want to explore Tokyo with all the help in the world. Get advice on where to grab a bite in the neighborhood of Chuo with the help of a local personal driver, or explore the temples of Taito with a simple taxi. For business travelers trying to get to Shinjuku's bustling business district, get there in total opulence with a stretched limousine, or go with a smaller executive sedan to make things subtle. SUVS and chartered buses should be most considered for large families on the go, whether you're looking forward to costume exhibits at the Samurai Museum or grandiose views from the observation deck at Tokyo Skytree.

NRT Airport Transfers

Find other destinations that offer GO Airport Shuttle or search for other transportation providers at Tokyo (NRT) airport.

Airport Pick Up

Looking for airport shuttle rides? Learn how you can get connected to the best shared ride van providers, sedans and private vans and view our airport transfer locations.
Tokyo Airport Shuttle Service
With over 30 million passengers cycling Narita every year, the demand for airport shuttle services is very high.
Shared Ride Van
Get close to nature by taking a shared ride van and traveling to awesome places like Shinjuku Gyoen National Garden. The spot has quite a lot to offer.
Private Van
When traveling with a group of about four, there is no better way to travel to places like Asakusa than through the services of our private vans.
Private Sedan
If for a traveler who is religion oriented, a private sedan works pretty efficiently in getting you to religious spots like SensoJi Temple.
Local Personal Drivers
A local personal driver is certain to accord you exhilarating airport transfers to or from the Tokyo International Airport (Haneda Airport). They are well trained and committed to giving you satisfying services. 
Private SUV
You can make your trip a lot better by visiting certain government buildings like the Tokyo Metropolitan Government Office. For such travels, you need seamless travel services as those that are offered by our private SUVs.
Taxi Cab
Ueno Park is also among the fine places in Tokyo. Convenient travels can be acquired from the taxicabs that we offer. They are available for both pickup and drop off services.
Stretched Limousine
When you are out to treat your spouse to an awesome experience of this region, try out Edo Tokyo Museum in our stretched limousine.
Chartered Bus
When out on a sightseeing tour, you are highly likely to find our buses an awesome travel option. With them, you will get to places such as the Tokyo Tower.
NRT airport terminals
Terminals can be somewhat confusing especially in larger airports so finding your ride can be easier with our maps.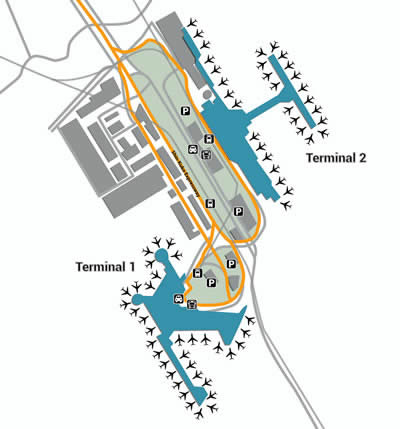 Tokyo Narita Airport Shuttles
Tokyo is one of the top economic and tourist hubs in the globe. So, a lot of people from different parts of the globe troop to this charming Japanese city to transact business and to explore the natural and manmade beauties that dot the landscape of Tokyo.

There are excellent airport shuttle services that are in the business of providing safe, reliable, and comfortable airport shuttle services to passengers. Some of the reliable and trusted airport shuttle services that service the Narita International include Blacklane, Tokyo Limo, AirportShuttles.com, TT Shuttle, and GO Airport Shuttle. Most of these shuttle services also provide luxury car service if needed by their clients.

Hotels near NRT
There are a lot of world-class hotels sited close to Narita International to cater for the accommodation and lodging needs of travelers. Some of the hotels located close to the airport include:

Narita Gateway Hotel, this hotel is located within a few kilometers from Narita International. Some of the facilities in this hotel include a well-stocked bar, an outdoor swimming pool, and a spa center.

Hilton Tokyo Narita Hotel, located 1.86km from Narita International Airport and embodies everything the Hilton hotel brand is renowned for. Some of the facilities in this hotel include a gymnasium, a spa center, an outdoor swimming pool, and a well-stocked bar.

About Tokyo Airport
The Narita International Airport is one of the two airports that connect Tokyo to several different cities across the globe. The other international airport in Tokyo is the Haneda International Airport.

Formerly known as the New Tokyo International Airport, Narita International Airport is a publicly owned airport and is operated and managed by the Narita Airport Authority (NAA). It is located in the city of Narita in Chiba Prefecture, which is 60km east of Tokyo. This airport has an IATA code of NRT and an ICAO code of RJAA. Narita International Airport serves the Greater Tokyo Area.

While the Haneda International Airport caters for most of the domestic flights arriving and departing Tokyo, Narita International Airport caters for most of the international flights coming to Tokyo; it is the point of entry of most of the international flights coming to Tokyo. Narita International Airport is the major air traffic connection point between Asia and North America. This airport connects Tokyo to 101 cities in 33 countries in 3 different continents.

Information about NRT
Though Narita International Airport handles the majority of the international air traffic in Tokyo, it still caters for domestic flights. This airport's domestic network connects Tokyo to 14 Japanese cities including Naha, Oita, Kagoshima, Sapporo, Hiroshima, Nagoya, Osaka, Ishigaki, Sendai, Fukuoka, Matsuyama, Asahikawa and Niigata.

Narita International Airport is classified by the Japanese Aviation Authorities as a first class airport. Over 30 million passengers cycle this world-class Tokyo airport every year. Narita International Airport has the 13th highest number of international passengers annually and the 7th highest number of international cargoes among all the international airports in the World.

This airport caters for 50% of the international passengers and 60% of the international cargo that arrives and departs the shores of Japan. Some of the major airlines that service this airport include Japan Airlines, Vanilla Air, Jetstar Japan, All Nippon Airways and Nippon Cargo Airlines.

NRT Contact Information
Narita International Airport
1-1 Furugome, Narita
Chiba Prefecture 282-0004, Japan
Airport Code: NRT