Tokyo Narita pick up and drop off at NRT airport
Ground transportation to Narita International Airport
Home to record-breaking food courts and shopping malls, East Tokyo's Narita International Airport is a large facility that offers three expansive terminals custom-built to accommodate business passengers, families and those with disabilities. Terminal 1 offers five above-ground floors as well as an underground level that connects to a train station, while Terminal 2 provides four floors of modern shops & restaurants, not to mention a scenic observation deck via two satellite levels. One walkway connects Terminals 1 to 2, while another connects Terminal 2 to 3. Terminal 3 is a small building mainly used for low-cost carriers, offering a massive 24-hour food court. Ground transportation includes two rail connections run by East Japan Railway Company (Narita Express) as well as Keisei Electric Railway (Skyliner), both of which connect to downtown's Tokyo Station. There are also buses, taxis and car rental services available at the Tokyo City Air Terminal (T-CAT).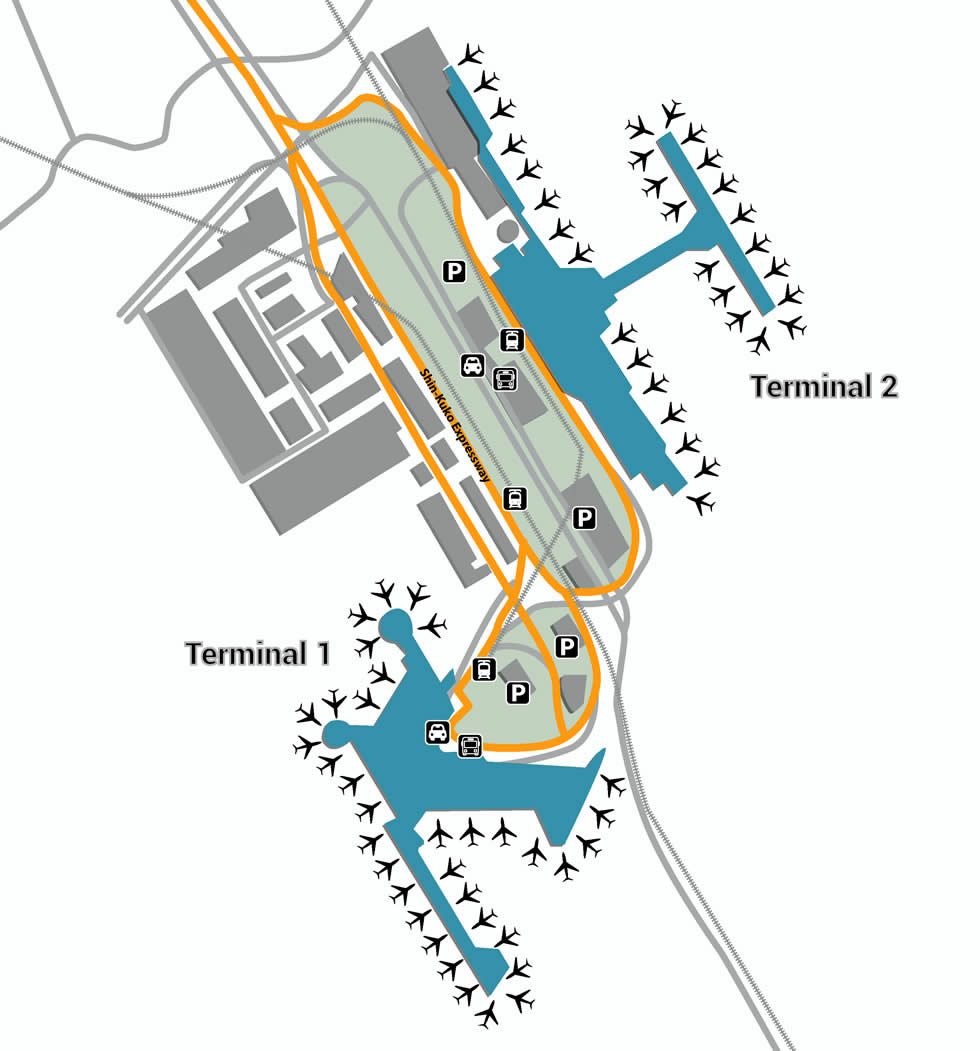 Parking
Narita Airport is home to four main parking areas (P1-P5). The best lots for reaching Terminal 1 are lots P1 and P5 - P1 is a short-term lot that offers close access to the Terminal 1 Train Station as well as early-bird specials and late-night discounts, while P5 offers slightly lower rates due to its further distance from the terminal. The best lots for reaching Terminal 2 are P2 and P3. The massive P2 lot is broken into several sections - P2 North and P2 South are connected directly to the terminal, while P2 North 2 is an extension of P2 North. P3 is an extension of P2 South and is typically busy due to its lower rates and close access to the Terminal 2 Train Station. Special services include online reservations available at Narita Airport's website (P2 and P5 only) as well as electric charge stations available at P1 and P2.
Services
Services at Narita Airport are varied, including basic amenities like currency exchanges and baggage assistances (storage, wrapping and luggage carts), as well as re-energizing and relaxing massage chairs, beauty salons and showers. Business perks include free Wi-Fi throughout all terminals as well as 20+ VIP lounges, not to mention a business center on the 5th floor of the Central Building that includes copy machines, fax machines and access to other lounges. Family perks are just as diverse, including several Kid's Park, nursing rooms and peaceful interfaith prayer rooms. Unique services include rentable DVD players that come with digital software as well as the first-class treatment at the Pet Inn ROYAL, where you can leave your furry friend for a vacation of their own.
Retail
Narita Airport is home to various themed shopping malls, including a large collection of retail stores on the fourth floor of the Central Building as well as a massive boutique mall dubbed 'Narita Nakamise' (Narita 5th Avenue) in Terminal 2, the latter famous for being one of the largest duty-free malls in the world. Terminal 1 offers various shops including Japanese fashion from both Uniqlo and Blue Blue Japan, not to mention cool cosmetics from Makanai. Specialty shops include souvenirs from Hello Kitty Japan as well as unique toys at Hakuhinkan Toy Park. Just as much diversity awaits in Terminal 2, where you'll find a wide variety of stores that include unique fashion from Brooks Brothers and Graniph, plus Japanese handicrafts at YOKOYAMA Modern & Antiques. Most of Terminal 3's shops are located along the 2nd floor, including trendy couture at HIPSHOP and elegant gifts at Spring Shop.
Restaurants
In addition to various shops and fashion boutiques, various restaurants and cafés rest throughout Narita Airport. Those in Terminal 1 have a wide variety of classic Asian eats to choose from, including noodles t Japanese Ramen Tomita and IPPUDO as well as Japanese from Kaisen Misakiko and Tokyo Food Bar. Western-friendly options include sit-down restaurants like Spaghetti GOEMON and Jewel, plus a variety of café chains like Starbucks and Tully's Coffee. Unique picks in Terminal 2 are located on the 4th floor, including the panoramic views from N's Court as well as colorful Japanese dishes at La Toque, not to mention the comforting familiarity of a McDonald's. Terminal 3 is home to a 24-hour food court that holds the record for the largest food court in Japan, offering western eats at Donya One Bowl and Freshness Burger as well as classic Asian recipes courtesy of Miyatake Sanuki Udon, Nagasaki Champon Ringer Hut and Botejyu Express.