Tokyo Haneda HND Airport Shuttle
About ten miles south of downtown Tokyo, Haneda Airport is a waterfront facility that offers direct access to a metro rail line as well as a slew of diverse transportation options. Make things simple by hopping aboard a shuttle, whether it goes directly into the pulse of downtown or at the courtesy of a nearby hotel. Home to several on-site stays including Royal Park Hotel and the uber-efficient First Cabin, you'll be sure to find someone to make you feel at home. Stay open to private rentals and meet-and-greet services as well, looking forward to the adventures that come with truly being free in a city that demands it.
Search for HND airport rides

Trusted service since 2003

Flight Delayed? We wait.

24/7 Customer Service

Tokyo Airport Transportation

A mega-metropolis sitting atop a series of volcanoes, the neon-lit city of Tokyo is a modern marvel of intricate neurons worthy of exploration. Book a sedan to get check out the eccentric Chiyoda area, enjoying the city's massive central park as well as ornate palaces scattered across the city. For families looking to enjoy an evening of leisure shopping along the Sumida River, reserve an SUV to stay as long as you want, or utilize the convenience of a taxi drop-off to make it anywhere. Get a local personal driver to show you the coolest parts of town instead, whether it's the waterside restaurants in Koto or the laid-back residential lifestyle surrounding Nerima. Those looking to spoil themselves at the heart of Minato's elegant restaurant scene should book a limousine to arrive in class, afterward enjoying an evening at the 1934 Takarazuka Theater.

HND Airport Transfers

Find other destinations that offer GO Airport Shuttle or search for other transportation providers at Tokyo (HND) airport.

Airport Pick Up

Looking for airport shuttle rides? Learn how you can get connected to the best shared ride van providers, sedans and private vans and view our airport transfer locations.
Tokyo Airport Shuttle Service
There is no shortage of transportation options at Haneda. Any number of shuttles, trains, buses, limos and taxis are readily available at each terminal.
Shared Ride Van
Sightseeing at Tokyo National Museum, National Museum of Nature and Science, Ueno Zoo, all these places can easily be enjoyed by booking our shared ride van service. A ground transportation transfer that is minding of your budget.
Private Van
Take your family away to visit Tokyo's Buddhist and Shinto sites, like the Sensō-ji Temple and the Meiji Shrine. Book this private van service for a perfect family getaway. Consider this ground transportation for airport transportation upon arrival and departure.
Private Sedan
Our private sedan transport, offers a qualified door-to-door-service and an elegant pickup and drop off. You can book our private sedan service with an elegant driver to take you visit Ginza, known for its elite neighborhood and heavy duty shopping.
Local Personal Drivers
Our personal local drivers will take you for an unforgettable experience at the Tsukiji Market for local food.
Private SUV
You are going to enjoy sightseeing the Edo-Tokyo Museum and the Imperial Palace. Go truthful when hiring our private SUV drivers.
Taxi Cab
An efficient way for going to Tokyo Metropolitan Government Building is hiring our taxicab drivers; get ready to be marveled by the skyscrapers.
Stretched Limousine
You can also experience a royal ride to Tokyo Sky Tree to witness an amazing panorama of Tokyo's city and you can also do some shopping at Solamachi. This private limousine service is available with discounts and combo tours.
Chartered Bus
Our bus transportation is an excellent choice when Mt. Fuji is in your family's itinerary. Book this transport and experience the beauty of Lake Ashi.
HND airport terminals
Tokyo's Haneda Airport is one of the most busy passengers in the area and is one of the two major airports that service the Tokyo area. If you'll be traveling through HND you'll need to use the terminal map below so that you can find out where you need to go quickly.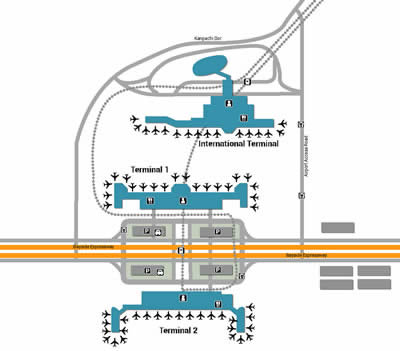 The Haneda Airport is one of two international airports that serve the Tokyo, Japan metro area The Haneda Airport is commonly referred to as the Tokyo International Airport.

With a friendly and helpful staff manning the terminals, transportation to anyplace in the greater Tokyo area is quickly and easily arranged. The standard compliment of rental cars and shuttles to Tokyo hotels is also available from the terminal if that is your preference, although driving in Tokyo is best left to those who have done it before.

In Tokyo you will find one of the most widespread mass transit systems in the entire world. Getting around on public transportation is both a popular mode of transportation as it is confusing. The array of different district lends itself to confusion. In Tokyo you will find the JR Network, the subways, and private lines as well. If you get a Japan Rail Pass JR trains are free. The subway has frequent runs. Most public transportation runs from 5 am to 1 am each day. Taxis are available all around Tokyo or you can call and request one. Taxis are can be higher but you can usually save on fare if you are splitting the fare with a group of people. If you've missed a train you will have to take a taxi. It should come as no surprise that the Haneda has seemingly endless choices when it comes to food, drink, shopping, business services and other amenities.

The best way to describe the airport is world class, from fast food to gourmet dining, from huge, fully equipped conference rooms to a shopping mall that puts most other malls to shame HND airport has it in spades. It's not a stretch to say the Haneda is among the top 5 airports in the world.

About Tokyo Airport
The Haneda Airport and Narita International Airport combine to form the third busiest airport system in the world behind only London and New York City. The Haneda Airport is consistently ranked as the most punctual airport in the world. The airport is a mere 9 miles from Tokyo Station and transportation to and from the airport is abundant to say the least. The airport's assigned International Air Transport Association code is HND

Alone, Haneda Airport is the 4th busiest airport in the world and the second busiest. The airport has an impressive list of non-stop flights to no fewer than 25 cities in no fewer than 17 different countries. The airport saw nearly 69 million passengers pass through its gates in 2013 alone. Numerous cargo carriers also operate out of Haneda and combined to move approximately 800,000 tons of cargo every year.

HND makes use of three huge terminals to easily handle the massive passenger volume. They are designated as Terminal 1, Terminal 2, and The International Terminal. As you may expect, each terminal at Haneda Airport are beautifully built and remarkably efficient with all the amenities frequent travelers could ever hope for. The airport offers Wi-Fi service and any ground transportation you could imagine are available.

Tokyo International Airport or Haneda Airport as it is more commonly referred to as is abbreviated HND airport; it is located in the Greater Tokyo Area in Japan. The airport itself is in Ota, Tokyo which is 8.7 miles (14 km) south of Tokyo Station; the railway station in downtown Chiyoda, Tokyo. The airport handles more than 66 million passengers each year. Ota itself has a population of more than 676 thousand people. It is one of the southernmost special wards and home to many colleges and universities. It's a sister city to Salem, Massachusetts in the United States.

Things to do in Tokyo
You can take a ferry tour on a water bus, which is operated by the Tokyo Cruise Ship Company. The tours are prerecorded and announced in Japanese and English. Next visit the Edo-Tokyo Museum; it's closed on Mondays. hey have excellent Japanese history exhibits and just nearby you can visit Kokugikan a sumo wrestling arena. Tournaments are held 3 times a year.  Before you leave visit a 24-hour comic book library or Internet café.

You can also take a techy detour at Akihabara. Most of the gadget won't be compatible to plug in if you live in the United States but it can be fun to look around.  A ride on the futuristic automated monorail slash train slash bus in the manmade island of Odaiba is a must see. You see bizarre futuristic looking architecture like the Fuji TV, a copy of the Statue of Liberty, and the 270-degree loop that eventually thrusts the train onto the Rainbow Bridge.

Tokyo Restaurants
Have sushi for breakfast at either Sushi Dai or Daiwa Sushi. On the weekends both places can be really crowded.  The Select Bar is a favorite among locals as well as tourists. They open at 5pm on Monday through Saturday. The bar serves a great meatloaf as well as some great cocktails and beers.

Hotels near HND
If you need to be close to the airport stay at the Hotel JAL City Haneda Tokyo; it overlooks the maintenance facility at the airport or you can stay at Haneda Excel Hotel Tokyu, which is located inside Terminal 2 at the airport. There are many luxury international chains also like the Hyatt. With over 500 hotels in the immediate vicinity the traveler has many choices within each class of hotel. The 4 and 5 star hotels in Tokyo are among the finest in the world while the 2 and 3 stars, more budget friendly hotels are more than adequate for those looking to save. Some popular choices include: the Royal Park Hotel, the Hotel Mystays Haneda, Haneda Excel Hotel Tokyu, and the Grand Park Hotel Panex Tokyo.

HND Contact Information
Haneda Airport
Hanedakuko, Ota
Tokyo 144-0041, Japan
Airport Code: HND