Tampa International TPA Airport Shuttle
TPA airport is a smaller international airport than some but it is convenient and easy to find your way around. Tourists love visiting the western-Florida city to go to places like Busch Gardens Tampa Bay or Dinosaur World. You'll find that getting to your destination from Tampa International Airport is much easier when you book an airport transfer before you leave. You can choose from vehicles such as a shared ride airport shuttle, private sedan or a bus. Then, all you need to worry about is getting your bags and getting to your ride.
Search for TPA airport rides

Trusted service since 2003

Flight Delayed? We wait.

24/7 Customer Service

Tampa Airport Transportation

TPA airport offers a variety of airport ground transportation options such as shared ride shuttle vans including their Zumu services for private cars and sedans.

TPA Shuttle Transfers

Tampa International Airport is nestled in the bay area of Tampa, St. Pete and Clearwater area and is a busy airport because there is much to see and do in this warm and sunny city. AirportShuttles.com Tampa Bay will make getting to and from the airport a breeze.

Airport Pick Up

When you are flying into or out of Tampa Airport services such as GO Airport Shuttle can offer you easy and courteous rides from professional drivers whether you are looking for a private or non-stop airport transfer.
Tampa Airport Shuttle Service
At TPA airport you can make bookings prior to your arrival for shuttle rides to the major motels and resorts in Tampa. When you make your reservation you will find a variety or providers, which range from Blacklane to Luxury Transportation Limousine. There is also a monorail and shuttle bus from the parking deck. Shared passenger van and limousine service are available from all airside and the landside terminal to the three counties that surround the airport.
TPA Pickup and Drop Off
While you are at Tampa International Airport you can find pickup from the airport easy. There are many ways to travel from taxi to shared ride vans, you can find a great rate that can get you downtown Tampa or the surrounding area.


Once you arrive at the airport you can call your driver or shuttle provider or head towards the end of lobby in baggage claims to get on your shuttle bus ride.

Shared Ride Van
When price matters shared ride vans are a popular door-to-door service that can take you as far as downtown St. Petersburg, New Port Richey or Clearwater Beach.

Private Van
With exclusive non-stop vans transportation with AirportShuttles.com can carry up to 10 passengers per van to Ybor City as well as Hyde Park.

Private Sedan
Offering a flat rate per vehicle Sun Coach Transport and Zumu has executive sedans for business travelers with luxury rides to the Tampa Convention Center.

Local Personal Drivers
Throughout the Tampa area you can find personal drivers who can transport you in cars anywhere in Hillsborough County.

Private SUV
With black car service by Gulf Coast Limousines and GroundLink you can enjoy traveling in private SUVs as you can get a glimpse of Tampa while being transferred to local accommodations.

Taxi Cab
Cabs offer a variety of ways to transport vacationers to attractions in the Tampa area such as Busch Gardens Tampa Bay and Lowry Park Zoo.

Chartered Bus
Get TPA airport chartered buses that are ready for groups up to 48 passengers to Plant City and Lakeland or even as far as Orlando theme parks.
TPA airport terminals
Locate pick up and drop off locations while you are at TPA airport which can help you better move around the airport.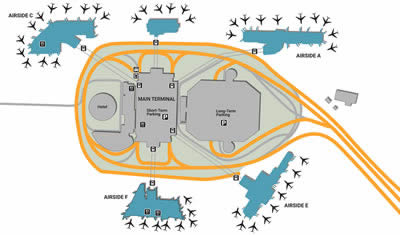 For TPA airport you can book shared ride vans with AirportShuttles.com Tampa Zumu transfers or go in style with their Zumu sedan service. Others include GroundLink and Sun Coach Transport, which include a private driver to get you directly to your destination.


AirportShuttles.com Tampa is one of the most frequently shuttle services used. You can you book your choice of shared ride shuttle vans, private vans or airport limousines with a wide selection of companies that offer these services as well. If one of these options doesn't seem to fit your needs you can also book a private sedan or a taxi instead. Whatever your preference is finding rides to and from Tampa International Airport should be easy and hassle free, especially for those heading towards nearby Tampa neighborhoods.

How far is TPA Airport to PIE Airport?

Both airports are about 14 miles away from each other or about a 20 miles drive through I-275 S.

What is Tampa Airport's SkyConnect?

It is the airport's new people mover that connects the Main Terminal to the garage and car rentals.

What types of rides can I book from TPA airport to Ybor City?

Travelers can reserve rides for private vans, sedans and limousines for about $30-80 depending on the vehicle booked.

Tampa International Airport is unique in the way its terminals are designed especially for airport transfers. You can meet your airport shuttle outside of the baggage claim area in the landside terminal. Get a ride from the airport via Tampa Hotel Shuttles for some of the best accommodations in the Bay area or simply towards the Port of Tampa. College students can book discount rates for shuttle rides to University of South Florida so they can find the best deals to fit their budget. Hillsborough County Aviation Authority is to provide the Tampa, St. Petersburg and Clearwater area with world-class air transportation services.

There are other ways to get around the city other than using shuttle services such as rental cars which TPA has available from all major U.S. providers in an off-site location that has shuttle service. Yellow Cab and United Cab serve the airport 24 hours a day. Bus service is available from Greyhound, Red Coach and HART. There are many shuttle services to Tampa hotels and local theme parks such as Adventure Island and Busch Gardens Tampa Bay that are close to the airport which you can take via shuttle or taxicab.

Tampa Hotel Shuttles
One option for hotel stay is the Tampa Marriott, which is a luxury hotel that has shuttle transfers available for passengers needing fast and trouble-rides to the hotel stay. Tampa is on the ocean, which makes it a popular vacation city. The Emerald Green Condo Resort, Seminole Hard Rock Hotel and Casino Tampa and The Don Vicente de Ybor Historic Inn are a few of the top rated luxury accommodations in Tampa that has door-to-door service for shared ride vans, taxis and town cars. There are over a hundred resorts and motels available in Tampa, which you can choose whether you want to stay on the beach or in downtown Tampa. TPA airport is a very short distance to the Tampa Convention Center for large groups needing multiple private vans to and from the airport.

Tampa Destinations
You can visit Busch Gardens or a night in Ybor City. Tampa has plenty for everyone whether you are on business or with the family.
Visit Tampa Bay

About Tampa Airport
The design of Tampa International Airport is one of the keys to its success. The main terminal offers food from fast food favorites to local Tampa-based restaurants. Shopping in the terminal includes the Tampa Bay Galleria and the Marriott Shopping Arcade. Banks and gift shops are a few of the services available in the landside terminal.

When you land in Tampa you will be starting from the north end of downtown Tampa, Florida where TPA airport is located. An airside is an airport guest mall that presents a place to just relax, shop and be entertained while you wait for your flight or connection. Each airside has direct connections to separate parking areas and ground transportation.

Serving millions passengers every year TPA airport is known for the artwork that decorates every terminal. The airport has permanent exhibits of sculpture, paintings of the history of flight, drawings of marine life and interactive art displays.

Visiting the Tampa Bay Area
Tampa is broken into several areas such as downtown Tampa and historic Ybor City. If you are in the downtown Tampa area you'll see Channelside where you'll find dozens of seafood restaurants including an IMAX theater around a great bowling alley. Getting a shuttle bus to The Port of Tampa is easy because it is close by the airport as well as the Florida Aquarium, which is located near downtown.

Tampa is filled with attractions and fun for the entire family. You can drop by The Tampa Museum of Art that displays its Greek and Roman antiques or travels towards North Tampa, which features Busch Gardens Tampa Bay and the Lowry Park Zoo. Tampa also offers great activities like tours around Ybor City. So if you visit Tampa be sure to take a tour and check-in one of the hotels in Tampa which shuttle rides can be made to make your vacation time a simple fun experience.

TPA Contact Information
Tampa International Airport
4100 George J. Bean Parkway
Tampa, FL 33607
Airport Code: TPA