St. Petersburg Clearwater International PIE Airport Shuttle
About five miles east of Clearwater and slightly further north from the coastal city of St. Petersburg, St. Pete-Clearwater International is a brightly lit facility with a whole lot of traffic and not a lot of space. Get out of the cramped region quick by having a ride ready and waiting before you arrive, the easiest way being with a simple shuttle. Choose between a slew of options on Ulmerton Road to get a free lift, whether it's Quality Inn's free pick-ups and drop-offs or a more expansive area shuttle courtesy of Hampton Inn & Suites.
Search for PIE airport rides

Trusted service since 2003

Flight Delayed? We wait.

24/7 Customer Service

St. Pete Airport Transportation

Give yourself the freedom to see every part of the region with a ride that does the same, whether it's a group trip to Weedon Island Preserve or an intimate honeymoon to a coastal resort. Check out St. Petersburg's Historic Old Northeast with a local personal driver, getting the inside scoop on all things local while keeping an open mind to what you can find yourself. Make drop-offs simple with a taxi instead, exploring downtown's coolest locales, from The Dali Museum to 2nd Avenue's Spa Beach, or go with something more elegant. Make your mark on a city that flaunts its influence by getting a stretched limousine to show you around, whether it's through countless upscale eateries along Beach Drive or a night out at the historic Mahaffey Theater.

PIE Shuttle Transfers

With non-stop and door-to-door rides AirportShuttles.com can take passengers from the airport terminals in their vans, sedans and luxury SUVs.

Airport Pick Up

With a fleet of SUVs and black car vans 10 Knott Transportation can take passengers from St. Pete-Clearwater International Airport to nearby cities such as Clearwater Beach, Tampa and Brandon area.
St. Petersburg Airport Shuttle Service
There are several PIE airport shuttle services with great service such as AirportShuttles.com St. Petersburg, Go Airport Shuttle, and Carmel Car and Limousine are among the top providers in the St. Pete area. These provide a lasting impression to both domestic and international guests visiting the region.
Shared Ride Van
Visit and travel the city of St. Petersburg in our best shared ride vans available at the airport and at several points across the city.
Private Van
Get to the Museum of Fine Arts or the Sunken Gardens with vans for hire; pickup and drop included on request and ground transportation of all types covered.
Private Sedan
Sedans with professional chauffeurs in the city of St. Petersburg especially for your comfort; hire before arrival and book for whole trip if needed.
Local Personal Drivers
Personal drivers scattered at all major points in the city like the Tropicana Stadium or the Mahaffey Theater to pickup anytime you want; contact for instant transport.
Private SUV
Take sports utility vehicles to Passage Key National Wildlife Refuge in St. Petersburg; hire before or on arrival and get fast service.
Taxi Cab
Hiring cabs has never been this easier! Best clean taxis for hire with local drivers to take you to places like the Mazzaro Italian Market or the Florida International Museum fast.
Stretched Limousine
Style and panache are on offer in our limousines for hire in St. Petersburg; start of your journey with pickup at airport and continue with transfers to destinations like Salvador Dali Museum.
Chartered Bus
Exclusive buses for hire to take you to places like Fort De Soto Park or the St. Petersburg Pier; reserve early to get discounts and special offers.
PIE airport terminals
Traveling at St. Petersburg Clearwater International Airport is easy. Find out where to meet your airport sedan with this comprehensive airport map.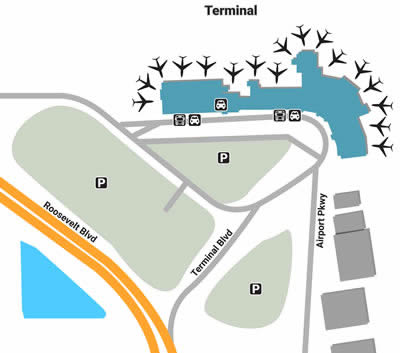 St. Petersburg Airport Shuttles
For PIE airport AirportShuttles.com is a recommended shuttle service for transfers from St. Petersburg-Clearwater International. The service runs from the airport to anywhere around St. Petersburg, Tampa, and Sarasota areas and can be found just outside the ground transportation area.

Alternatives to shuttle services are cabs which there are two taxi services that operate from the airport outside the Ground Transportation area, and will take you to your destination.

St. Petersburg-Clearwater International Airport, or PIE, is located encompassing two city's borderline, in St Pete (as its known locally) as well as Clearwater, both cities located in Pinellas county in the state of Florida.

Hotels near PIE
There is an onsite hotel within the airport premises. Several other hotel and motel options are located within minutes from the airport.

St. Petersburg-Clearwater International Hotel is a good choice for transit passengers or those who do not want to use ground transportation services or St. Petersburg hotel transportation. The hotel has several amenities like, Wi-Fi, spa, pool and gym.

St. Petersburg-Clearwater International has several parking lots, an array of restaurants, Wi-Fi, TV, changing rooms, ATM machines, massage chairs, and foreign currency changers. 

St. Petersburg, Enjoy Florida's Fun and Sun
St. Petersburg-Clearwater International Airport is located a short 6 miles to the north of St. Petersburg. The airport code is (PIE), and it is used for both military and civilian purposes. St. Petersburg-Clearwater International Airport serves Clearwater, St. Petersburg area and parts of Tampa Bay. The airport is also in close proximity to the Gulf cities of Sarasota/Bradenton. St. Petersburg International Airport is also a good alternative to Tampa Airport which is normally very busy.

The western coast of Florida is a popular tourist destination, and is home to two of America's top ten beaches. The airport recently received the "Commercial Service Airport of the Year" award in the category of airport management, and aesthetics. A recent column in a top New York magazine; the airport was rated as the 'most economically priced airport in America'.

About PIT Airport
While most commercial flights serving the Tampa Bay route use Tampa International Airport, which is ten miles east, St. Petersburg-Clearwater International Airport remains a prime destination for low-cost carriers, and charter flights. The airport is also a gateway to Pinellas County.

St. Petersburg-Clearwater International Airport records just over one million passengers annually, and it serves some major airlines which offer domestic routes across the U.S. as well as other international destinations. The airport only has a single passenger terminal.

Attractions near St. Petersburg
PIE has many things to offer and the surrounding area has many tourist attractions such as one of the largest Dali collections at the Salvador Dali Museum. If you happen to be in the beach mood, go to the crystal clear waters of Clearwater Beach, the sand is one of the best things about this beach, its powder white and nightly they have street performers that exhibit everything fro wild stunts, magic shows or experience it by getting a temporary Henia tattoo or have the little ones get their face painted. Clearwater Beach is also one of the top ten beaches in the United States, be there early or you might just miss out on a parking space, this is a heavily attractive beach for tourist as well as locals.

Clearwater is also home to the original Hooters, Hooters started out in a small building right off the causeway and it has been built into a super franchise of hot wings! Don Cesar is a historic Hotel, its located in St Pete, in the early 1900's it used to be a Red Cross center hosting several soldiers, now its a 5 Star resort and restaurant that offers elegance and prestige. If you are a local, or a tourist wanting to visit where the locals go, then head over to the Tarpon Springs Sponge Dock, here you will see how Greek influence has encourage sponging for live sponges or eat the authentic real Greek Food.

PIE Contact Information
St. Petersburg Clearwater International Airport
14700 Terminal Blvd.
Clearwater, FL 33762
Airport Code: PIE