Incheon International ICN Airport Shuttle
Based in the Seoul area, Incheon International is home to a slew of luxury amenities that make the facility stand apart – from on-site spas to a massive ice-skating rink, there's a lot to do during a layover, even more if you're on vacation. Get a shuttle to make the trip easy, looking forward to nothing but sky as soon as you land. Do so by utilizing complementary lifts from nearby airport stays, whether it's the Grand Hyatt Incheon or Best Western Premier Airport, both of which offer unique perks ranging from indoor golf courses to all-night casinos. Utilize private rides just as much, getting speedy drop-offs as well as your own vehicle at the ease of asking for it.
Search for ICN airport rides

Trusted service since 2003

Flight Delayed? We wait.

24/7 Customer Service

Incheon Airport Transportation

See what there is to do in Seoul by having a ride as curious as you, booking a private sedan to take intimacy everywhere, from the glowing lights of N Seoul Tower to the exotic eateries surrounding Yeouido Hangang Park. If you've got a big family and need to have some fun, reserve either an SUV or chartered bus, depending on whether you're aiming for a small stroll through the Bukchon Hanok Villages quaint history or an expansive group trip across the ancient halls of Changdeokgung Palace. If you're traveling on business and need to get to the COEX Convention Center fast, stay closer to the area's charm with a simple taxi drop-off, or ride into the sunset with a classic limousine.

ICN Airport Transfers

Find other destinations that offer GO Airport Shuttle or search for other transportation providers at Seoul (ICN) airport.

Airport Pick Up

Looking for airport shuttle rides? Learn how you can get connected to the best shared ride van providers, sedans and private vans and view our airport transfer locations.
Seoul Airport Shuttle Service
AirportShuttles.com offers shared shuttle rides from and to Incheon International Airport. Through them, you can able to enjoy cost effective and convenient transportation. Seoul is a great place that you should visit. Make your travel experience in the city comfortable and safe by means of getting airport shuttle service from a reliable airport shuttle service provider in Seoul. Book now your airport shuttle service ahead of time so that you'll get safe and comfortable travel experience in Seoul.
Hotel Hu Incheon Airport is hotel provides free of cost shuttle bus from and to the airport; offering modern and cozy rooms that comes with kitchenette. You can avail of their 24 hour Korean restaurant, along with daily breakfast and free Wi-Fi. This hotel is just three minutes drive from the airport and E-mart supermarket; while 35 minutes drive from the "Songdo International District". The seafood restaurant and amusement park at Wolmido are 45 minutes drive-away.
Shared ride van
Treat yourself to a fantastic shared ride van to the Gyeongbokgung, which is one of the major places of the town. You should brace up for some fun time. Next time you are stuck on a layover at Incheon International Airport take our shared van ride to a hotel as you are home to bulgogi, bibimbap, Korean barbecue, fried chicken and other delicacies.

Private van
For fellows who have got a soft spot for history, the Biwon ("Secret Garden") is exactly the place for you. Try out a shared van ride as you head here. If you are gambling addict there are not so many places in Incheon to execute your privilege. Take our private van and head to Kangwon Land at Paradise Casino, a two-minute drive from the airport.

Private sedan
An individual who is out on a sightseeing tour should not leave the region without a visit to the Cheonggyecheon. The place has got quite a lot to offer. Get an excellent car worth your money when you decide to use our private sedan and take a walk in Songdo Central Park.

Local personal driver
For fast, smooth and reliable airport transfers to or from the Seoul-Incheon International Airport, we have got the local personal drivers to sort out your needs. After sitting in a plane for many hours you may need some relaxation. With our local personal driver he can get you to Incheon Bridge which is a must visit.

Private SUV
A sporty ride to the Myeongdong is surely good enough for some amazing time. Get a private SUV and feel the exotic feel of this region. Have a great vacation experience in Incheon when you use our private SUV as your preferred mode of transport. You can visit The Memorial Hall for Incheon Landing Operation.

Taxi Cab
When you are looking for quick transportation that entail both pickup and drop off services to exciting destinations like spas, you need not look beyond our taxicab services. If you fancy outdoor activities especially on a sunny day, take our taxicab and head to SKY72 Golf Club for an impeccable golfing experience.

Stretched limousine
If sports are your kind of thing, then you definitely have to take a trip down to the impeccable golf courses that are found around. Get to the course in style by taking a stretched limousine. Feel the rich Korean traditional culture and if you are a shopping freak, Incheon is the heaven for shopaholics with over 90 duty free shops. RIP to your wallet.

Chartered Bus
Love revolutionary projects? Then you would not want to miss the indoor eco gardens. Take a bus to get there fast and in absolute comfort. Visitors know the Korean people for their warmth and hospitality. If it is your first time there, hop into our bus on your way to Eurwangni Beach.
ICN airport terminals
Boarding your transfers can be easier if you bring along your terminal maps and arrival instructions so you do not get lost along the way.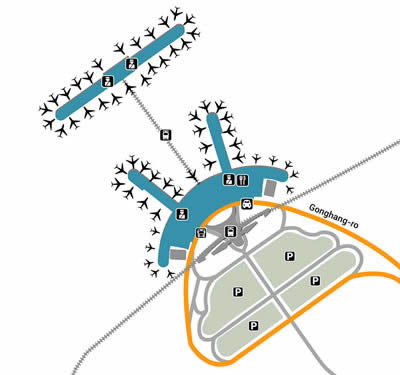 Are you planning to visit South Korea? Visiting South Korea will relatively enable you to explore the beauty and rich historical background of the country. The other term used for Incheon International Airport (ICN) is Seoul-Incheon International Airport. 

This is recognized as South Korea's largest airport, which primarily serves Seoul Capital Areas. Since the year 2005, the "Airports Council International" has rated this airport as the "Best Airport Worldwide" every year. In addition, Skytrax acknowledged it as the "World's Best International Transit Airport" and "World's Cleanest Airport".

 

The airport also includes spa, ice skating rink, golf course, indoor gardens, Museum of Korean Culture and casino. According to the Airport authorities, the arrival and departure takes 19 minutes of the sixty minutes global industry average and 12 minutes of the 45 minutes global average respectively. This record makes Incheon International Airport as the fastest airport worldwide for customs processing.

 

South Korea is relatively considered as one of the most popular countries around the world. Traveling to South Korea is now made easier because of Seoul- Incheon International Airport. It is an international airport serving Seoul. Seoul-Incheon International Airport is considered as one of the busiest airports around the world. It is also the largest airport in South Korea.

 

For consecutive 9 years, Seoul-Incheon International Airport is classified as one of the best airports worldwide.  Aside from South Korea's amazing tourist destinations, there are travelers who love visiting South Korea because of its stunning airport. Tourism industry in the country is very good because of well-designed airport that accommodates local and international travelers.

 

Seoul Hotel Shuttles

Upon your arrival in Seoul, you do not need to look for a hotel because you can easily find

Incheon hotel shuttles

situated near the airport. To choose an airport hotel is highly recommended to travelers who want to stay in a place near an airport for convenience purposes.

 

At Seoul-Incheon International Airport, there is a transit hotel where you can stay. There are several accommodation options near the airport vicinity. Most hotels in Seoul offer airport shuttle transportation service for all their clients.

 

Airport shuttle service chauffeur of airport hotel can pick you up from the airport. Local hotels near the airport can give outstanding accommodation and facilities to all travelers. You are guaranteed that these hotels can provide satisfying hotel accommodation and service that will suit your wants and needs.

 

The Grand Hyatt Incheon is a five-star business hotel, which is three minutes drive away from the Incheon Airport. Their guest can effortlessly access Seoul downtown and (IFEZ) Incheon Free Economic Zone through public transportation. They offer spacious rooms that contemporary décor, along with minibar and TV. You will definitely find generous working area with beds and desks, with goose-down-duvet to experience maximum comfort as well as a bathroom that features classy granite bathtub with shower.

Seoul is a popular place to visit. So, if you are in Seoul, then you should not miss to visit stunning places in Seoul such as parks, museums, malls and amusement parks. Seoul is a great place for travelers who also love shopping. Buy famous South Korean products.  At nighttime, you can go in different bars and party clubs located near the airport.

 

Seoul Attractions 

Korean Cultural Street is located at the public area 4F center. They feature performances of Korean Classical Music, Traditional Architecture like Jeongja, Giwa house and digital center. Korean Culture Museum: This can be located at 4F Center Concourse from 7am to 10pm. They exhibit cinema hall, experience hall, relic exhibitions and more; while featuring traditional arts, traditional music, Korean alphabet heritage printing and royal culture too.

 

Seoul Restaurants
Haneul (Korean Restaurant) is open from 7:00 to 21:00 located at 4F West-side public area. This offer spicy-soft tofu with stew seafood, beef-rib soup, rice with an assortment of vegetables and more.

 

Food on Air Studio One is opened at 8:00 to 20:00 located at public area B1 West-side of center. This restaurant holds studio-concept interior, which provides unique pleasure as you observe the meals created by their 7 professional chefs –representing cuisine of 7 different regions. Food category includes Vietnam, Japanese, Italian and Thai.

 

Seoul-Incheon International Airport has several snack bars, coffee shops, ice cream parlours, fast food outlets and restaurants located inside. These food-dining outlets serve western and South Korean cuisines. If you love authentic South Korean cuisines then for sure you'll love to dine at different dining areas located inside and outside Seoul-Incheon International Airport.

 

There is a Korean Barbeque restaurant inside Seoul-Incheon International Airport called Bong Pi Yang. If you want to eat pastas and salads then you should visit MojiTalk. On the first floor of the airport, KFC and McDonald's are always ready to serve good food for travelers who want to eat fast food products. The ground floor of Seoul-Incheon International Airport has several popular restaurants that offer authentic Korean food.

ICN Contact Information
Incheon International Airport
272 Gonghang-ro
Unseo-dong, Jung-gu, Incheon, South Korea
Airport Code: ICN