Incheon pick up and drop off at ICN airport
Ground transportation to Incheon International Airport
Resting on an island west of downtown Incheon, South Korea's Incheon International Airport is the largest in South Korea, offering various luxury amenities that include a golf course, spa and ice skating rink, not to mention relaxing areas ranging from tranquil indoor gardens to spacious sleeping rooms. The ultra modern facility is also home to two massive terminals; Terminal 1 and Terminal 2, each catering to international flights and VIP business travelers. Various forms of ground transportation are also available, including terminal shuttles & intercity buses, Airport Railroad Express Stations (located next-door to T1 and in the basement of T2) and a ferry that connects the island of Yeongjongdo to the mainland.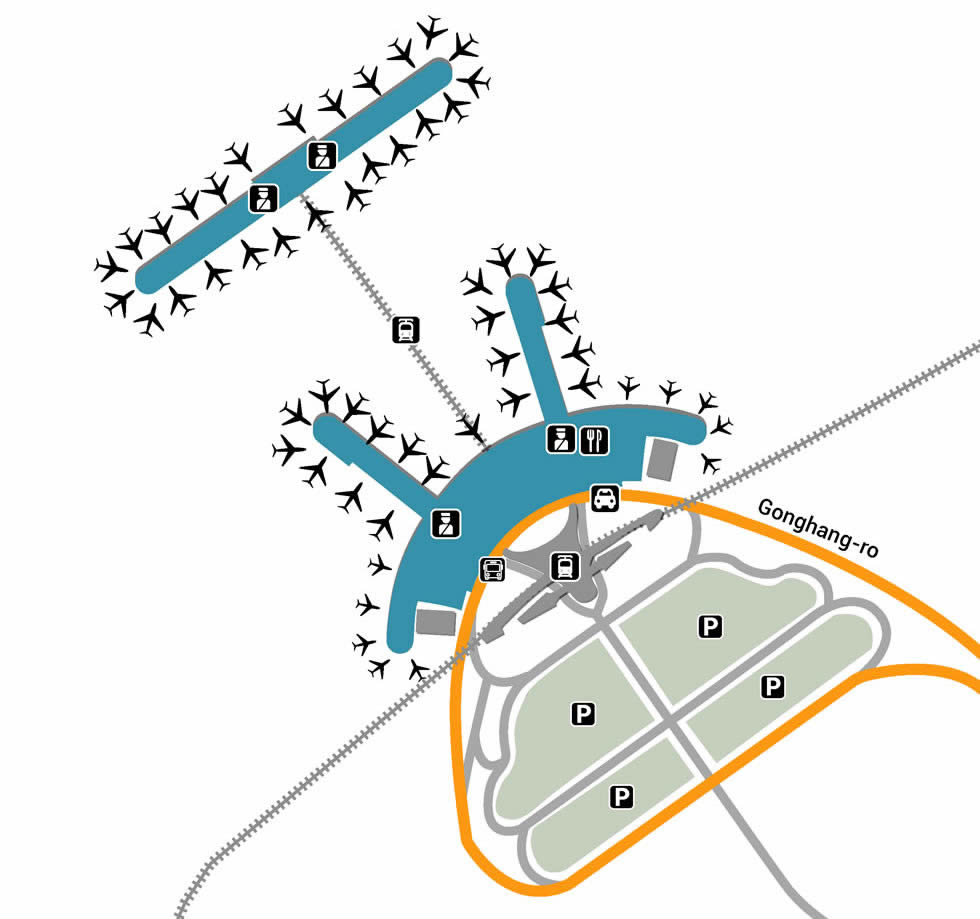 Parking
The airport offers two major parking lots; a short-term parking lot and a long-term parking lot. The short-term parking lot is located in the basement of the 1st and 2nd terminal, while the long-term parking lot is located slightly further, adjacent to the main entrance. Though further from the facility, the long-term parking lot is made convenient by 24-hour shuttles to the terminal as well as next-door access to car rental stands and taxi kiosks. Airport Valet Parking is available on the east wing of the main terminal near the pick-up zone.
Services
Enjoy a wide variety of services and conveniences perfect for passing a delay, starting with the simplicities of Terminal 1. The 1st floor is home to arrivals as well as baggage claim, and the 2nd floor provides easy access to the Starline Train Station's connection to Terminal 2. The 3rd floor includes check-in and a couple children's nurseries, while the 4th floor is home to two Transit Hotels, multiple prayer rooms and VIP lounges for premium flyers. Added in 2018, Terminal 2 offers three floors of beautiful contemporary design that includes water features, atrium-lit gardens and the Incheon Observatory, which includes a modern touch-panel observation deck and immersive light show. Expansive exhibits also await both The Cultural Museum of Korea and The Exhibition Hall of Korean Artistic Crafts.
Retail
Watch the time fly by at various retail shops as well, choosing from Terminal 1's expansive mall-like atmosphere or Terminal 2's shops and boutiques. Terminal 1's shops are mostly sprawled across the 3rd floor, offering high-end fashion from POLHAM, folk-art jewelry at Marie Ant and custom cosmetics from both Etude House and innisfree. Take the Starline Train to Terminal 2 for even more options sprawled across the modern building first floor, including boutique flowers at La FETE as well as basic necessities from 7-Eleven - a few more stores are located in the basement of Terminal 2, including trendy shades Glass Story and casual cosmetics of Olive Young.
Restaurants
Compliment a short shopping spree with a long sit-down at the airport's various restaurants and cafés. Enjoy Terminal 1's dozens of options across four floors, grabbing breakfast from cafés like Villa de Charlotte, Farmer's Box and Café Sapoon Sapoon, or sitting down for dinner with either noodles of Myun Chae Ban or traditional Korean at Pyung Hwa Noodle Soup Bar. In Terminal 2 are even more unique experiences like the hyper modernity of beats, a café that is 100% automated by a robot, as well as classic fast food chains like Shake Shack, Dunkin' Donuts and Jamba Juice. More unique options in Terminal 2 include a famous stew at Gajok Hoegwan, savory breakfast desserts at Soonhee's Pancakes and renowned stir-fry from Cathay Ho.