San Francisco International SFO Airport Shuttle
San Francisco International Airport is visited by tourists from all over the world every year. Travelers come for both business and pleasure alike but whichever is the case many fall in love with this eclectic city and its charms. Once you land at SFO make your way to baggage claim and have your airport transfer waiting for you. You can arrange your taxi, airport sedan, or shared ride van waiting for you curbside. Taking care of the little things like this that are easily forgotten ahead of time can be the difference between a great vacation and a stressful one.
Search for SFO airport rides

Trusted service since 2003

Flight Delayed? We wait.

24/7 Customer Service

San Francisco Airport Transportation

From shared ride vans to taxicabs you can find it all as you work your way through the terminals. AirportShuttles.com is one of the most popular companies along with GO Lorrie's Airport Service who both provide cost effective rates for shared ride vans.

SFO Shuttle Transfers

When you can't wait to get to Fisherman's Wharf or take in the Golden Gate Bridge, AirportShuttles.com won't let you down. You can choose between a shared airport ride or a luxury private van to get you to where you want to be.

Airport Pick Up

GO Lorrie's is the Go Airport Shuttles provider for the San Francisco area. They can help you with your ride to or from SFO whether you're travelling alone or with a large group. Arranging your transfer ahead of time will help you get through the hassle even faster.
San Francisco Airport Shuttle Service
If you are departing SFO airport you will find it has a wide variety of shuttle rides available to San Francisco International travelers. SFO airport takes pride in offering professional drivers and vans from its pickup areas for its arriving passengers. 
SFO Pickup and Drop Off
When you arrive at SFO you can find many types of airport rides. One provider such as A Plus Limousine has a more luxurious travel experience for those who are seeking one.


Arriving travelers should once they gather their luggage should go to the roadway center island's departing level towards the end of all the terminals.

Shared Ride Van
Search and book reservations for shared ride vans for places like Financial District and Nob Hill with Airport Express SF, American Airporter Shuttle and AirportShuttles.com.

Private Van
American Airporter Shuttle and GO Lorrie's Airport Service door-to-door service is available to travelers needing private van service, which includes Zumu rides provided by AirportShuttles.com.

Private Sedan
Zumu, SF Best Limousine and SF Limo Express as well as Blacklane have easy transport for passengers to AT&T Park.

Local Personal Drivers
Wingz has drivers who can get you there in no time at all with personable service to attractions like The Walt Disney Family Museum and Exploratorium.

Private SUV
Locations in Union Square has direct access to professional chauffeurs who get you there on time from Guru Limo to Town Car S.F. both who handle private car rides.

Taxi Cab
If you are in a hurry and need to get there quick then our taxicab service can get you around to places like Golden Gate Park and Fisherman's Wharf.

Chartered Bus
You can reserve charter bus transfers for areas in SoMa and Telegraph Hill for groups of larger sizes that needs to travel together.
SFO airport terminals
San Francisco airport is filled with restaurants, shops, and even spas. Make your way through this busy airport using this map as your guide.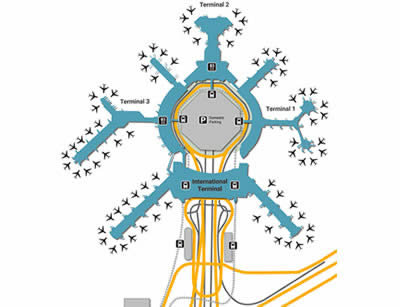 San Francisco Airport Shuttles
The SFO airport allows shared rides by AirportShuttles.com San Francisco and with GO Lorrie's Airport Service so travelers can find rates for airport transfers. For pickup or drop off at San Francisco International Airport your shuttle ride can be found in the ground transportation.

Some other providers in San Francisco include Pacific Shuttle, AirportShuttles.com San Francisco and Quake City Shuffle all delivers great service at affordable prices.

What is the distance from San Francisco Airport to Downtown?

SFO airport is about a 15 mile drive to the downtown area if you take US-101 N. Depending on traffic it is roughly 20 minutes drive time for this route.

How much is a ride from SFO Airport to Fisherman's Wharf?

Private rides such as sedans can cost you around $70-100 depending on the demand or season. Private SUVs and limousines can range from $80-$120 for this trip.

Where can I find my shuttle pick up at SFO Airport?

For domestic passengers arriving from Gates E1-E13 and F1-F22 can go directly to the Arrivals/Baggage Claim Level. Here you can look for the "Meeting Point" sign which will allow you to get direct pick up from your driver.

You can inquire about any additional travel services you may need or simply book your shuttle reservation online. Taxis are found at the designated zones outside of the airport and will accept fares to any destination within the Bay Area. SFO airport has private cars and shuttle transfers available for hotels located near San Francisco State University including University of California Berkeley, which is just across the San Francisco Bay. Just further south is San Jose State University where students can book airport rides for discount transfers to SFO airport.

With so many options for airport transfers another one traveler can choose from our executive sedans and cab rides, which you can board quickly shortly after you, collect your luggage. San Francisco International Airport is the original location for Louis A. Turpen Aviation Museum. San Francisco is an immense city so getting the perfect shuttle ride for any tourists new to the area can range from town cars to taxi cabs to limo buses.

San Francisco Hotel Shuttles
Look no further than the Westin, which is a mere one-mile from the airport. Finding shuttle to San Francisco hotels such as this, which has the perfect combination of, upscale and convenient you'll able to expend as little effort as possible during your stay. Travelers who seek a more modest accommodation can choose from brands such as Days Inn, Howard Johnson or and Ramada Suites that offer airport shuttles for private vans or even taxi services. From these hotels you can find discount shuttles for larger groups that is headed towards an event for Moscone Convention Center.

San Francisco International Airport prides itself on having every type of airport transportation available to its travelers so they can get to their destination easily at the right price. So book shuttle reservations online early to you can guarantee yourself a slot to board your airport rides for San Francisco Hotel Shuttles when you arrive at the airport.

San Francisco Destinations
When traveling through San Francisco you can discover fascinating place and destinations for business and family vacations.
San Francisco Visitors Bureau

About San Francisco Airport
San Francisco International Airport leads in transpacific flights and is located in San Mateo County. It is relatively close to downtown San Francisco and is also responsible for millions of travelers who arrive and depart from the city each year.

As the largest airport in the California's Bay Area it is close to many tourist attractions. San Francisco has a simple way of jumping ticket lines called the CityPASS. It allows you to move through the lines quicker at places such as the Aquarium of the Bay and the San Francisco Museum of Modern Art. You can also move freely through many of the beautiful landmarks such as the Golden Gate Bridge, the Port of San Francisco or the Palace of Fine Arts. Tourists can visit the dozens of San Francisco surrounding neighborhoods, which tend to be an attraction for themselves like Fisherman's Wharf, Chinatown as well as a quick visit to Alcatraz prison.

SFO Contact Information
San Francisco International Airport
San Francisco, CA 94128
Airport Code: SFO
Romantic getaways and destinations

If you are looking for the perfect romantic vacation spot why not focus on the important part, each other. Here are some destinations you might want to consider when trying to decide where you want to go.