Sacramento International SMF Airport Shuttle
Make reservations in advance for your airport shuttle ride when you travel to Sacramento International Airport. You can choose from vans and taxi cab services when you need to get to your destination in a hurry. We also offer sedans for smaller groups but if you need extra room then a limousine might be a recommended service when traveling to and from SMF airport. If you are arriving in Sacramento you can arrange an airport transfer from the airport to your hotel or even to destinations such as the Sacramento Zoo or the California State Capitol. You could also be driven to the Sacramento Convention Center Complex.
Search for SMF airport rides

Trusted service since 2003

Flight Delayed? We wait.

24/7 Customer Service

Sacramento Airport Transportation

With departures from the Sacramento Airport you have several providers who are ready to pick you up after you collect your luggage. One popular provider in the area is Zumu which is a provided service by AirportShuttles.com for private cars and sedans.

SMF Shuttle Transfers

When you land at SMF airport you will find your ride ready and waiting to take you directly to your destination. With AirportShuttles.com, you can get picked up at most locations in downtown Sacramento by a professional driver who can help make your traveling experience memorable.

Airport Pick Up

Book your next ride with Barrett Executive Transportation when you are needing to get around the Sacramento  area. This GO Airport Shuttle company includes service from Capitol City Limousine who has almost 30 years of experience in the business, so you are in good hands when you travel.
Sacramento Airport Shuttle Service
SMF airport has many shuttle transportation rides such as all inclusive sedan or SUVs which gives you the option to have a little more leg room or whether you're going a shuttle, a van or town car transportation service.
Shared Ride Van
Travel around the capital city of the state of California – Sacramento – in our shared ride vans and get to experience best rides with low prices.

Private Van
Travel in Sacramento by our private vans for cheap and experience California at its best, while visiting places like the California State Railroad Museum and the Old Sacramento State Historic Park.

Private Sedan
Ride in the best in class cars available with our private sedans and professional drivers for hire; visit places in Sacramento like Sutter's Fort or the Sacramento Zoo.

Local Personal Drivers
Charter rides anywhere in the City of Trees as you visit everywhere from the Crocker Art Museum to the B Street Theater and California State Capitol.

Private SUV
Are you an automobile enthusiast? Visit the great California Automobile Museum in Sacramento in our hired SUVs to transport a small group of people with discounts for transportation.

Taxi Cab
Visit places like the Folsom Lake or the California Museum in Sacramento; book our personal taxi rides and experience Sacramento in the best way – with our professional drivers always at your service.

Stretched Limousine
Show up and show off at places like the Crest Theater in our exclusive stretched Limousines. Book one now and even gets rides from and to the airport.

Chartered Bus
Raging Water in Sacramento is the go to place for fun-filled activities and thrilling water rides. You and your family can book our buses for hire to visit Raging Waters together with other transportation options available as well.
SMF airport terminals
Whether you want to grab a bite to eat, find the restroom, or just get to the baggage claim and then to meet your ride, it pays to have a map of the airport at your fingertips. Make your trip to Sacramento an easy one.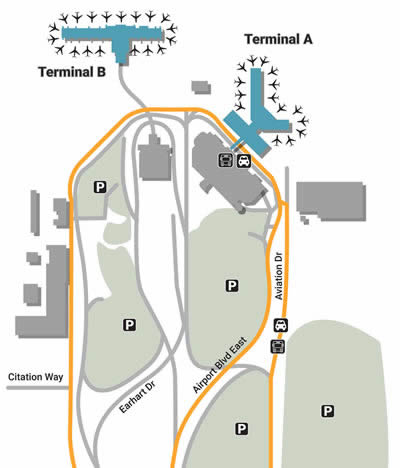 Sacramento Airport Shuttles
SMF airport has AirportShuttles.com Sacramento and GroundLink transfers via exclusive non-stop private van service including their shared ride shuttles. Sacramento International also has different transportation options you can choose from cabs to all-inclusive SUVs and sedans.

If you want a rental car, whether it's standard in nature or luxurious, you'll be able to find whatever you may need including vehicles that are suitable for people with disabilities. There are four rental car companies available at the airport Avis, Hertz, Budget and National. 

The airport's public transportation option can easily connect you to surrounding Sacramento neighborhoods, such as Davis and Woodland and even further than that. And finally you have the option to use a taxi service. Their taxi service ensures car availability and can either be reserved or used on-demand.

Sacramento Hotel Shuttles
With an area like Sacramento you can expect that there will be many exceptional places to stay including the Holiday Inn Express available in Sacramento, Woodland and the Convention Center. You can also find affordable shuttle and taxi services to and from hotels in the downtown and near the convention center.

About Sacramento Airport
Located in Sacramento, California the Sacramento International Airport is one that makes sure its travelers are fit with everything they need. Its airport code is SMF and it has services for disabled passengers, a lost and found and even its very own art collection that you are free to explore while on a layover. Sacramento Airport offers service from twelve major carriers and one commuter airline. The airport also offers ground transportation, hotel accommodations and many other amenities.

The airport also has what is called the Tarmac Delay Plan. This allows passengers to learn the airport's policy regarding extensive tarmac delays. It provides the arrival of passengers and easy access through its terminals and provides a clean and sterile area for those who haven't been cleared on US Customs. At SMF airport there's no shortage great restaurant.

If you're fond of shopping during your travels you'll be able to explore various shopping options. From charming shops to electronic stores you'll find just about everything you might need or want while on and off your flight. There's even a boutique retail store in the upper-level terminal that has a great-looking lounge and bar where guests can catch a break.

Attractions in Sacramento
The airport is one of the best ways to travel in Northern California to great cities or anywhere in the world. Sacramento is a great city to take a dive at the pool, which isn't out of the ordinary, on summer days. Winter can drop to cooler temperatures, so make sure to bring your sweater during the Holiday season. Sacramento can experience most types of weather due to being more inland than out.

Here tons of activities for you and the family. You can go see the California State Capitol, which is free all forty acres of it, here you'll find the restored offices or walk along the sixteen square city blocks of the Capitol Park. You can take the kids to the Sacramento Zoo in William Land Park; it makes a great adventure for you and the kids. If you're taking a shopping approach there is variety of shopping venues like the Arden Fair Mall, the Downtown Mall, and Pavilions located around the California State University Sacramento and University of California Davis.

In Sacramento there are tons of historical attractions for you and the family. There are great and many opportunities to learn and wonder here in Sacramento. So be sure to check-in one of the best Hotels near these great opportunities and enjoy the stay and find discount rates on Sacramento hotel transportation.

SMF Contact Information
Sacramento International Airport
6900 Airport Blvd.
Sacramento, CA 95837
Airport Code: SMF