Rome Fiumicino FCO Airport Shuttle
Quietly cornered on the west side of Rome, Leonardo da Vinci Airport is a friendly facility named after the famous inventor who brought as much light to the world as the region's fallen ancient culture. Home to a constantly-running express train that directs passengers straight to the iconic Termini Station, the busy facility is an easy one to get out. Do so by having a ride ready, whether you're looking forward to a hike through the Decima Malafede Nature Reserve or a business trip at the heart of Italy's capital.
Search for FCO airport rides

Trusted service since 2003

Flight Delayed? We wait.

24/7 Customer Service

Rome Airport Transportation

On the west side of town is a slew of old churches and monuments, from the Church of St. Louis of the French to the historic Trevi Fountain. See it all with a private sedan perfect for exploring at your own pace, or get plenty of room with an SUV to drive over the St. Angelo Bridge toward the Castel Sant'Angelo. Enjoy countless peaceful cafes by getting dropped off with a taxi, choosing between the cool street art and bars at Piazza Navona or traditional trattorias in the Esquilino neighborhood. For those trying to get to the Rome Convention Center with ease, get through the region by booking a handy shuttle to arrive at the Rome Convention Center, or go with a local personal driver to learn something new at every turn.

FCO Airport Transfers

Find other destinations that offer GO Airport Shuttle or search for other transportation providers at Rome (FCO) airport.

Airport Pick Up

Looking for airport shuttle rides? Learn how you can get connected to the best shared ride van providers, sedans and private vans and view our airport transfer locations.
Rome Airport Shuttle Service
The airport is 26 kilometers from the city center, which makes transport from the airport crucial.
Shared Ride Van
Take into consideration the shared ride van services for your vacation in Rome, especially if your wish is to save up on your traveling costs.
Private Van
The Colosseum, the Pantheon, the Roman Forum – should we go on naming these famous constructions? Manage to visit all of them by booking a private van.
Private Sedan
Are you on your honeymoon or on a romantic holiday and you wish to offer you the most beautiful, fantastic experience in Rome? Then you should see about our offer for a private Sedan, so that you can easily get from one point to another.
Local Personal Drivers
Trustworthy and able to offer you instructions about the area, our local personal drivers are a great option for ground transportation during your holiday.
Private SUV
Familiarize yourself with the stunningly hypnotizing city of Rome in a private SUV.
Taxi Cab
While in Rome, you can set your sights on the Fountain of the Four Rivers, the Basilica Papale San Paolo Fuori le Mura or the Church of Sant'Ignazio di Loyola. Our taxicab chauffeurs are always there to help you get where you desire.
Stretched Limousine
When in Rome, act like the romans! Offer yourself an imperial treat and employ the stretched limousine services.
Bus
Upon your arrival, as well as your departure, hire our mini bus services - they are especially thought of so that you can rest assured that your airport transportation would be tended for.
FCO airport terminals
Leonardo da Vinci–Fiumicino Airport in Italy's Eternal City serves this busy European metropolitan area. If you want to be sure to get through FCO as quickly as possible, we're here to help. Use this terminal map to guide your way through the airport.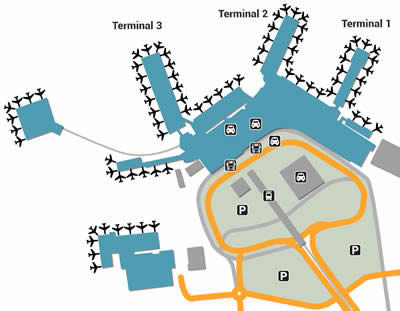 Rome Airport Shuttles

You can reserve a hotel in Rome or you can make discount airport transportation reservations.

Many people choose to take the train, which picks up at the airport and goes directly into the central train station in Rome. This train service is inexpensive and you can make that trip from the airport to the city in 30 minutes.

However, there are other options. The public bus also picks up at the airport and you can travel from the airport into the city on the bus. Several lines are operational from the airport itself so you can go wherever you need to in the city via the bus line.

The primary shuttle service for Rome is the Terravision Shuttle bus. This bus is relatively inexpensive at 9 euros per person and makes 5 stops between the airport and the downtown terminal. The entire trip takes seventy minutes and the company does seven runs every day.

About Rome Airport
The Leonardo da Vinci-Fiumicino Airport, or as it is also known as the Rome Fiumicino Airport, uses FCO as it's international airport code and is the single busiest airport in Italy. It is also the sixth busiest airport in the European Union. It serves many cities, domestically and regionally as well as internationally to and from all corners of the globe.

The Fiumicino Airport has three main terminals. These terminals are divided by the kind of flights served, from flights to and from other Italian cities to flights from other continents. The airport itself boasts over 130 stores selling everything from books and travel necessities to clothing and souvenirs.

There are many restaurants available to passengers in Fiumicino Airport. From fast food like McDonald's to sit-down, full service restaurants and bars, there's no need to go hungry when you're at the Rome Airport.

For travelers with young children, the Fiumicino Airport offers a nursery area, complete with changing stations and bottle heaters, as well as beds for children who need to rest, making the travel experience for parents less difficult.

Hotels near FCO
Given the airport's distance from a city, nearby hotels are essential. There is only one hotel located inside the airport itself, and that is the Hilton Rome Airport. This hotel provides the signature Hilton luxury and service, along with a shuttle into downtown and an indoor pool.

There are, of course, other options. For a more luxurious experience, you can try the Seccy Hotel, which is located just 1.9 miles from the Rome Airport. This beautiful and elegant four-star hotel boasts large rooms and comfortable Italian service.

For a less luxurious and homier option, the Euro House Rome Airport offers a delicious breakfast along with it's friendly, family like atmosphere.