Fiumicino pick up and drop off at FCO airport
Ground transportation to Leonardo Da Vinci Fiumicino Airport
As one of the busiest airports in Europe, Leonardo da Vinci–Fiumicino Airport is the chief transportation hub not only for the city of Rome but the entire country of Italy. The airport is home to three main terminals; Terminal 1, Terminal 3 and Terminal 5. Terminal 1 is used by various European flights across two separate piers, while Terminal 3 works as the main international area with access to three separate piers. Terminal 5 solely caters to U.S. and Israeli airlines. Ground transportation includes railway access to the Leonardo Express via the on-site Fiumicino Aeroporto Railway Station as well as bus routes & taxis that transport passengers across a six-lane highway.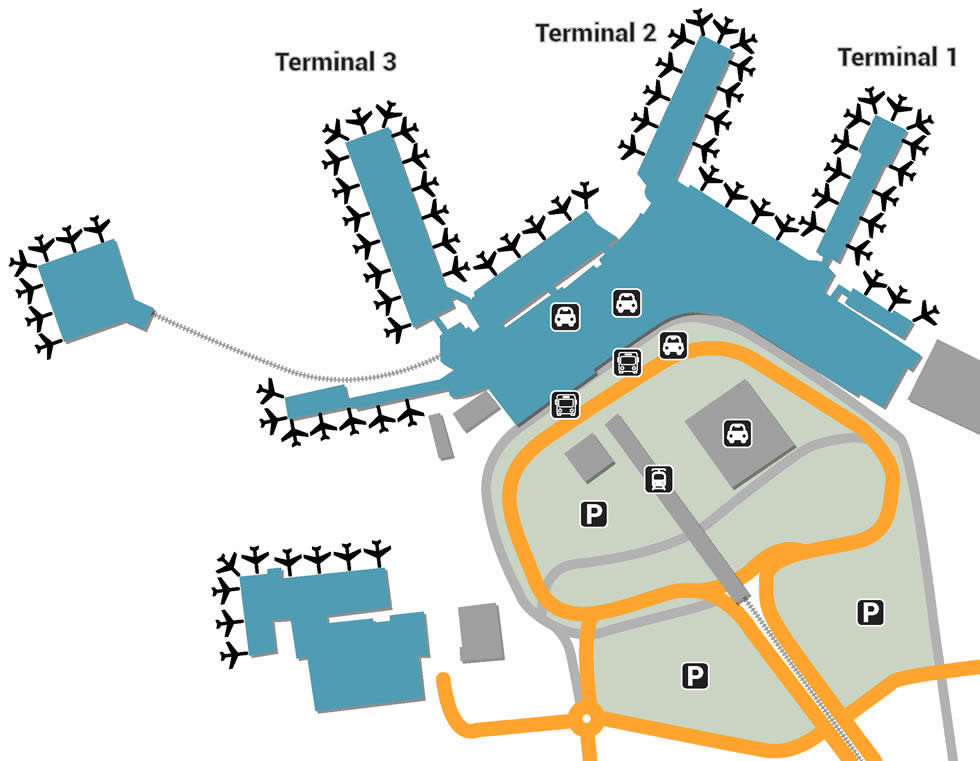 Parking
Over 12,000 spaces are provided at Fiumicino Airport, providing a variety of outdoor/indoor and long-term/short-term spaces perfect for any and all needs. Short-term parking is available through metered spaces near the terminals, while slightly longer short-term availability can be found at Terminal A. Those interested in slightly better rates as well as more protection for your vehicle should stay at the multi-level car parking garage, which provides connections to all terminals via moving walkways. The cheapest rates are available at the Long-Stay Car Park, an open-air space separate from the terminal but accessible via 24-hour shuttles. Other parking perks include executive parking along Level E as well as availability for the disabled in each lot & garage.
Services
Find anything you need across the expansive terminal's many services, from basic necessities to entertaining ways to pass the time. Find financial perks with ease in the form of cash machines and currency exchanges, also looking forward to relaxed medical facilities that include seven First Aid Clinics and a pharmacy in each terminal. For families, relaxation can be found through several Baby Care Rooms that provide mats and changing areas as well as a children's play area in Terminal 1. Business travelers looking to make a good first impression can do so at eight separate VIP lounges as well as through two on-site hotels that include overnight beds at HelloSpy and upscale suites from the connected Hilton Rome Airport. Other unique services include showers at Hello Sky as well as exfoliating treatments, manis/pedis & more from Be Relax Spa.
Retail
Rome Airport is home to 160+ shops across the facility's various indoor shopping malls, most of which are located along the departures levels. Look forward to upscale international fashion that includes Emporio Armani, Gucci and Dolce & Gabbana, plus discounted name-brand accessories at both Aelia Duty Free and Aelia Health & Care. Specialty gifts can be found at various stores as well, from the local confections at Pastificio di Martino to artsy handicraft gifts at Fabriano Boutique. Last-minute necessities & stationary can also be found at convenience shops like Relay as well as a few Moleskines. Other unique shops include traditional Italian leather crafts at Bottega Veneta, plus local wines courtesy of Casa del Gusto.
Restaurants
Explore dozens of eateries at Rome Airport that range from Italian-style cafes to airy fine dining restaurants. Grab energy boosts from either Caffe Roma or Caffe Kimbo, or look forward to healthy takeaway options from Chef Market. Other lunch options include a handful of fast food spots like McDonald's and Ajisen Ramen as well as relaxed sit-down spots from The Burger Federation. Dinner options are just as varied, ranging from posh Italian bistro cuisine at Michaelangelo to specialty contemporary cuisine & wines at Rosso Intenso. Other unique eateries include grab-n-go food from Sky Lounge Bar as well as cafeteria-style Italian at Semplicemente Roma. And at the end of any meal, pick up something sweet at Delice Maison.