Prague pick up and drop off at PRG airport
Ground transportation to Václav Havel Airport
Servicing the capital of the Czech Republic, Václav Havel Airport Prague is a large facility that provides various modern facilities & entertainment across two terminals; the South Terminals and the North Terminals. The South Terminals include Terminals 1 and 2 – Terminal 1 handles flights for the Schengen area, while Terminal 2 doubles as an extension for Concourses C and D. The North Terminals include Terminals 3 and 4, with Terminal 3 focusing on private charter flights and Terminal 4 reserved for VIP flights for executives and visitors of the state. Ground transportation at the airport includes DPP Buses that pick up at bus stations in front of Terminals 1 and 2 as well as car rental services & taxiways along ground level.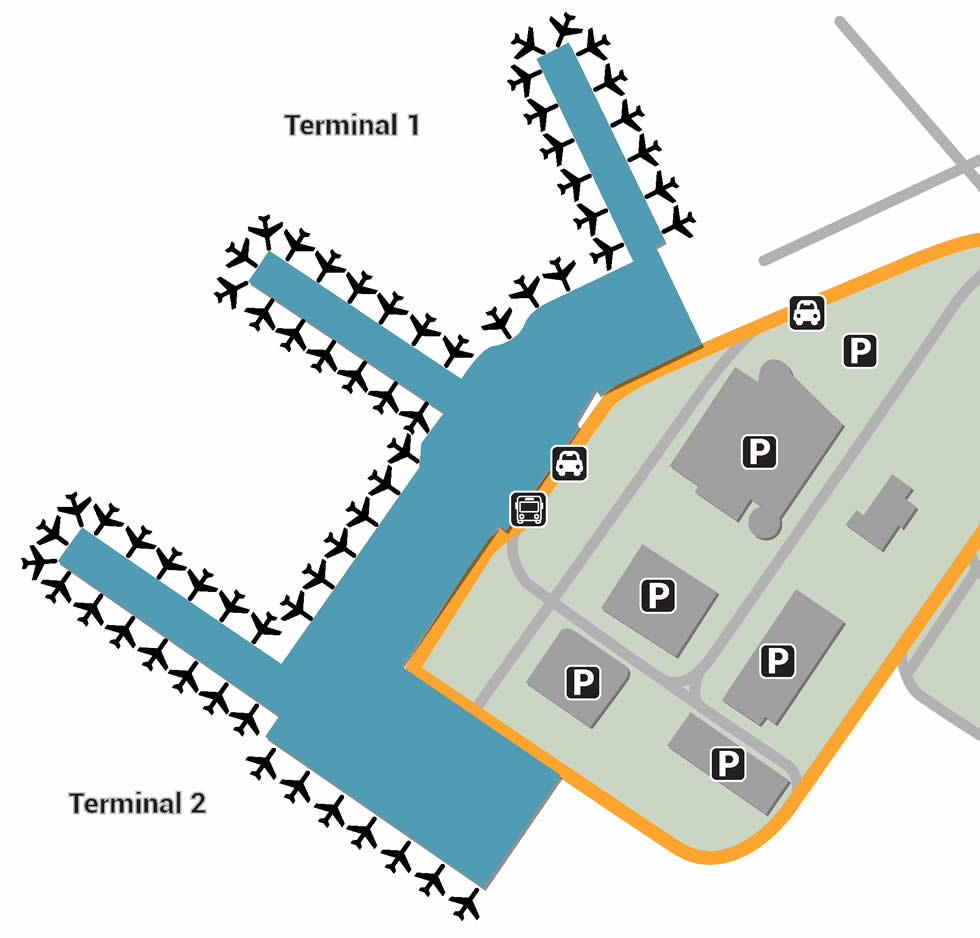 Parking
There are at five main parking areas at Prague Airport that include express spaces at the P1 and P2 Express Lots located adjacent to their respective terminals – these car parks are ideal for quick drop-offs, and the first 15 minutes are free of charge. Those looking to stay a bit longer can save more money at either Terminal 2's PB Economy Lot or the PC Comfort Garage near the car rental building. The PC Comfort Lot is also home to long-term rates as well as specialty perks through the PC Comfort VIP spots. The cheapest long-term option is the Smart Lot directly by Terminal 2. Other parking perks include reserved spots for buses at the P1 Express Lot as well as handicapped spaces marked closest to the terminal.
Services
Keep comfy by taking advantage of Prague Airport's many services that range from ordinary to extraordinary. Financial services come simple in the form of ATMs and currency exchanges available at both terminals, while the pharmacy and post office are located in a corridor between Terminals 1 and 2. Families can relax with the help of Parenting Rooms that come with diaper changing facilities and play areas perfect for getting away from the crowd. Larger play areas are located throughout departures areas, while behind-the-scenes tours offer views of the airport's day-to-day doings. Unique services include two observation terraces as well as a museum in Terminal 2 showcasing documentaries & old photographs.
Retail
Relax while you wait by sifting through the dozens of shops, most of which are located along the departures level of each terminal. Look forward to various fashion boutiques ranging from sophisticated attire at Weekend MaxMara to German-inspired looks at Laurel. Find accessories from other shops that include durable shoes at GEOX and Czech-made cosmetics at Manufaktura. Local souvenirs are also plentiful, offering a range of savory gourmet treats from We Are Food Lovers as well as hand-blown glass at Mila's Glass. Other unique shops include toys & games from a couple of Sparky's shops, plus collectible pocket watches at Prague Old Timer.
Restaurants
With over two-dozen restaurants and cafés-bars to choose from, Prague Airport is a treasure trove of local & international bites. Find early-morning eats & fresh smoothies from either So! Coffee or Fresherie, also considering a few café chains like Costa Coffee and Starbucks. Lunch options include takeaway at UGO Fresh Bar as well as fast food from KFC and Subway. For a more immersive ambiance, choose between the professional atmosphere of Mattoni Bar or the gastronomic specialties at The Avion Restaurant. Other unique restaurants include 24-hour service at Bricco Express as well as Czech specialties from Restaurace Praha (Prague Restaurant).