Ruzyne Prague PRG Airport Shuttle

Book reservations for airport shuttle, taxis, sedans and limousine service to and from the airport.

PRG Airport Transfers

Find other destinations that offer GO Airport Shuttle or search for other transportation providers at Prague (PRG) airport.

AirportShuttles.com Airport Locations

Looking for airport shuttle rides? Learn how you can get connected to the best shared ride van providers, sedans and private vans and view our airport transfer locations.
Prague Airport Shuttle Service
There are many ways to leave the airport at Prague, Czech Republic. Many passengers use one of several easily accessible public transit options when they reach Prague, as it is easy to use and clearly labeled as well as being inexpensive.
Shared Ride Van
Wish to go sightseeing and visit lookout places like Petrin Lookout Tower? Call us and book a shared ride van for a discount.
Private Van
Do you value your privacy? We got private vans for you to pick and drop you at your place of convenience or for a private tour to places like Josefov.
Private Sedan
Are you in need of classy ride to pick you up or drop you off at the airport? Our private sedans are at your disposal at affordable prices.
Local Personal Drivers
Would you like to explore the different historical sites in Prague? Call for our local personal driver and enjoy personalized tours to places like Clementinum and Kampa Island.
Private SUV
Would you like to take a personal tour the National Museum, Prague? We have private SUVs to take you to your desired places including airport transfers.
Taxi Cab
Looking for quality and reliability? Call our taxicab services for a timely pick and drop off. Enjoy personal private tour by a local to places like Letna Park.
Stretched Limousine
Enjoy a cool ride to and from the airport in our classic limos combined with a personal touch of professional services. Enjoy a ride to the Prague Estates Theatre.
Chartered Bus
Have your family and friends tour the famous Charles Bridge, Old Town Square, the Prague Castle and the Petrin with our group bus service at a discount. Have us drop you off to your hotel or the airport together with your luggage.
PRG airport terminals
If you are visiting the beautiful city of Prague in the Czech Republic, you'll most likely be making your way through the Václav Havel Airport Prague. Find out where to meet your ride from PRG to City Centre.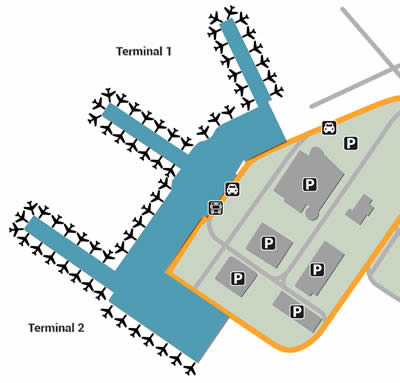 Prague Airport Shuttles

You can reserve a hotel in Prague or you can make discount airport transportation reservations. The Vaclav Havel Airport Prague is the major international airport serving the Czech Republic. 

One of the most popular is the aptly named Prague Transfers. This company allows you to reserve one of three kinds of transport when you leave the Prague . You can take the most cost-effective option and take the shared shuttle, or you can have a private car act as a taxi service for you when you leave. Finally, you can also have a limousine pick you up if you prefer to travel in luxury.

About Prague Airport
The international airport code for this airport is PRG, and the airport serves as the primary entry point for visitors to the Czech Republic. The Czech Republic and Prague, are increasingly popular tourist destinations. Indeed, Prague was recently listed in a top ten list of "must-see" European cities.

The Prague Airport has four terminals two of which are primarily used for commercial passengers. These two terminals are located at the north end of the airport. Terminal 1 is used primarily for non-regional flights. Terminal 2 is used for regional flights. Terminal 3 is used for private planes and Terminal 4 is used only for state visits.

Hotels near PRG
There are many hotels near the airport to choose from. The Prague Airport is located about 10 kilometers west of the city proper, so if you want to stay near the airport you have to pick something close to the airport itself.

Certainly the closest option, and a cost-effective one, is the Rest and Fun Center. It is located actually inside Terminal 1 of the Prague Airport. This is a relatively inexpensive hotel but it still offers the major services that you want in a hotel, including Wi-Fi and en-suite rooms with TVs.

There are several other options near the airport, including Courtyard by Marriott Prague Airport, Holiday Inn Prague Airport and Ramada Airport Hotel Prague. These hotels are perennially popular with tourists and business travelers because they are exposed international brands and as such they offer a standard set of amenities and a level of quality and service that is predictable and expected. These are the kinds of comfortable, safe bets that appeal to many travelers especially inexperienced ones.

The Vaclav Havel Airport Prague is a major international airport with many amenities for travelers. This gateway to Prague and the Czech Republic offers a wide variety of restaurants and shops as well as abundant ways to get from the airport to your hotel.

PRG Contact Information
Václav Havel Airport Prague
Aviatická, 161 08 Praha 6, Czechia
Airport Code: PRG