Pittsburgh International PIT Airport Shuttle
Connected by three rivers, Pittsburgh is known for its long history with the industrial steel industry. For the traveler who comes to this city, they often start their adventure off at Pittsburgh International Airport. This modern airport offers rides to its passengers from traditional shared ride and sedan services to luxury SUV and limo vehicles that can be a treat for anyone visiting the area for the first time. So whether you're coming into town for a sporting event at Three Rivers Stadium or Heinz Field or if you're on a business trip to a business trip at the David L. Lawrence Convention Center you'll always be able to find your way there from the airport.
Search for PIT airport rides

Trusted service since 2003

Flight Delayed? We wait.

24/7 Customer Service

Pittsburgh Airport Transportation

Located a couple miles northwest in the quaint city of Moon, Pennsylvania, Pittsburgh International Airport is a huge facility with as many rewards waiting within as without. Home to four terminals filled with unique quirks including happy hour at Sportz Burg Bar D and gadget-fueled exhibits at Fraley's Robot Repair, the facility makes it easy to kill a few hours in, even easier with a solid ride. Make sure you're well-prepared by sticking close to a nearby hotel, whether it's the sleek scenery at Sheraton Pittsburgh Airport Hotel or the on-site convenience of Hyatt Regency Pittsburgh Intl Airport, both of which offer free drop-offs and pick-ups via shuttle.

PIT Shuttle Transfers

Taking a AirportShuttles.com ride from local professional drivers is a great way to begin your vacation. From PIT airport you can find Zumu service that can get you to amazing local attractions like the Phipps Conservatory to the Sandcastle Waterpark.

Airport Pick Up

With Go Airport Shuttle you can find rides that are not only economical but adds a familiar face to your trip so you can feel secure as you make your way around the city.
Pittsburgh Airport Shuttle Service
Travelers coming to PIT airport who wish to travel in a more luxurious fashion can get transfers with First Class Limousine, Prime Time Limousine or Red Carpet Limousine Connection.
Shared Ride Van
Ride through the streets of the Steel City in Pennsylvania; book your shared ride van today for instant transportation needs get offers and discounts.

Private Van
Experienced drivers handling private van service; hire van to ride to the Pittsburgh Zoo or the National Aviary in Pittsburgh, Pennsylvania.

Private Sedan
We have professional drivers at our employ that will get you there in no time at all; preferred destinations in Pittsburgh include the Andy Warhol Museum and Carnegie Museum of Natural History.

Local Personal Drivers
If you want to gamble away at the Rivers Casino or admire art at the Carnegie Museum of Art, we have reliable drivers waiting to take you there on time and back.

Private SUV
If you are watching homeruns at the PNC Park – home of the Pirates – or screaming for touchdowns at the Heinz field – home of the Steelers – our private SUVs are just one phone call away. We will be your designated drivers anytime you want!

Taxi Cab
High quality taxis for hire, as you seek to visit every notable place in Pittsburgh, ranging from the Mount Washington to Point State Park.

Chartered Bus
We provide buses for hire for if you are in a group seeking to travel together, to places like Sandcastle Water Park or Fort Duquesne in Pittsburgh; with bonus discounts for group reservations.
PIT airport terminals
Locate and to your destination at PIT airport as you make your way through the concourses.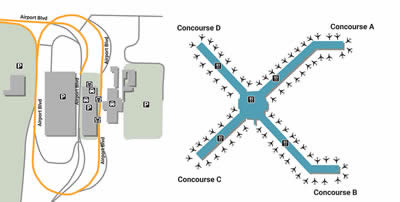 Pittsburgh Airport Shuttles
At PIT airport transfers for sedan and shared ride vehicles can be booked at reduced rates. Passengers can also find stretched limos and SUVs to transport them to hotels and convention centers downtown.


Pittsburgh Hotel Shuttles
Pittsburgh AirportShuttles.com along with other service providers like J&W Airport Transportation and West Penn Coach are all quality services that service the Pittsburgh airport. In addition, you can find Pittsburgh Hotel Shuttles at discount rates and make reservations for transfer shuttle buses online. There are also many transfers available throughout the city from Checker Cab and Yellow Cab Company of Pittsburgh who are available for those seeking taxis. The Hyatt Regency Pittsburgh International Hotel is conveniently located inside of the airport for maximum ease of travel. If you need a quick place to stay on your overnight excursion, choosing a hotel within close vicinity will fit the bill.

If these accommodations are not to your liking, there are a variety of other hotels in close proximity to the airport to choose from. Embassy Suites, Hampton Inn and Holiday Inn Express are all available for you to select from. Pay closer attention to the historic surroundings of where you are by getting a ride that knows how to show you, scheduling a local personal driver for the full Pittsburgh experience, whether that means learning about the Shadyside neighborhood or getting dropped off at a cool Bloomfield cafe. Get an intimate experience by being your own driver instead, booking a private sedan or SUV to make off-roading the best part of your trip, whether it's at Hillman State Park or the overgrown Raccoon Creek State Park next-door. Get to the David L. Lawrence Convention Center with just as much ease by scheduling a stretched limousine for upscale cruising, enjoying the riverside expo at the ease of a local drawl.

Free wireless Internet is offered throughout the passenger terminals to make long layovers more comfortable. Short term, long term and extended parking are offered to travelers at very reasonable rates. Video boards featuring all of the necessary flight information are stationed in each terminal. At Pittsburgh International ensuring the safety of your travel is the primary objective.

About Pittsburgh Airport
Pittsburgh International Airport is a main connection for travelers between the United States and Europe. The airport's code is PIT and is responsible for serving the greater western Pennsylvania area. Pittsburgh International Airport has an abundance of cargo carriers with millions of pounds of freight each calendar year including international food cargo throughout the Americas. Pittsburgh International Airport is a great destination for the millions of passengers who visit the city each year, which you can find many various types of airport; rides while you are there.

Because it is conveniently located close to the East Coast travel sectors such as New York City and Philadelphia including the city of Pittsburgh has seen great growth in their economy over the years. One of the leading providers of flights to Toronto and Paris, Pittsburgh International Airport experiences a high volume of international travelers. Also the David L. Lawrence Convention Center is located near the airport.

Millions of travelers cycle through Pittsburgh International Airport each year placing it among the top fifty busiest American airports and in the top ten in the Northeast. In addition to providing quality service, Pittsburgh is also home to the AirMall, which is the first airport mall to offer customer's normal rates and not the usual expensive airport fare. There are shuttle rides available to students going to and from West Virginia University and the Pennsylvania State University.

PIT's terminal consists of two main buildings, which are linked by a people mover. The Landside and Airside Terminal are managed through computers unless there is an emergency. Customer service is offered in a variety of languages and Wi-Fi is available.

Things to do in Pittsburgh
The city of Pittsburgh is home to the largest financial institutions including the sixth largest bank in the nation, the PNC Financial Services. In the past, wealthy people have donated millions of dollars to the city; as a result the city has become rich in culture and arts that brought Pittsburgh a history of jazz, blues including bluegrass music making it the home for the National Negro Opera Company.

Pittsburgh also offers a wide variety of museums like the Carnegie Museums of art, which holds a collection of contemporary art and film, the Frick Art and Historical Center and many more. The city also offers Stadiums from Football to Hockey, making almost all sports fanatic feel right at home. But some of the great fun places to be at in Pittsburgh are the Duquesne or the Monongahela Incline and enjoy a panoramic view over Pittsburgh's skyline, another great place is Point State Park which is located in Downtown Pittsburgh, a small park that features one of the tallest fountains in the Nation.

PIT Contact Information
Pittsburgh International Airport
1000 Airport Boulevard
Pittsburgh, PA 15231
Airport Code: PIT
Pittsburgh area shuttle destinations

Pittsburgh is a city with a flavor all its own. From Three Rivers Stadium to the Carnegie Museum of Natural History you will never get bored here.