Phoenix pick up and drop off at PHX airport
Ground transportation to Phoenix Sky Harbor International Airport
Travelers landing at
Phoenix Sky Harbor International Airport
can find quick and easy access to parking, shuttles and amenities such as restaurants, ATMs and shops throughout the airport. As the capital of Arizona, a one-way ticket to Phoenix is a hot trip to find yourself on. Arrive to important meetings or make momentous occasions special by utilizing the many services at the airport as soon as you land. Get everything before you take off or as soon as you land at Phoenix Sky Harbor International, whether it's a stress-relieving back rub or a savory snack. As the capital of Arizona, the desert city of Phoenix is a hot place to find yourself, whether you're traveling to visit some family or heading to an important business expo. With tons of interesting shops and a variety of local eateries to choose from, you'll be sure to be met with open arms at Phoenix Sky Harbor International, a facility home to helpful services that make the typical not only unique, but fun.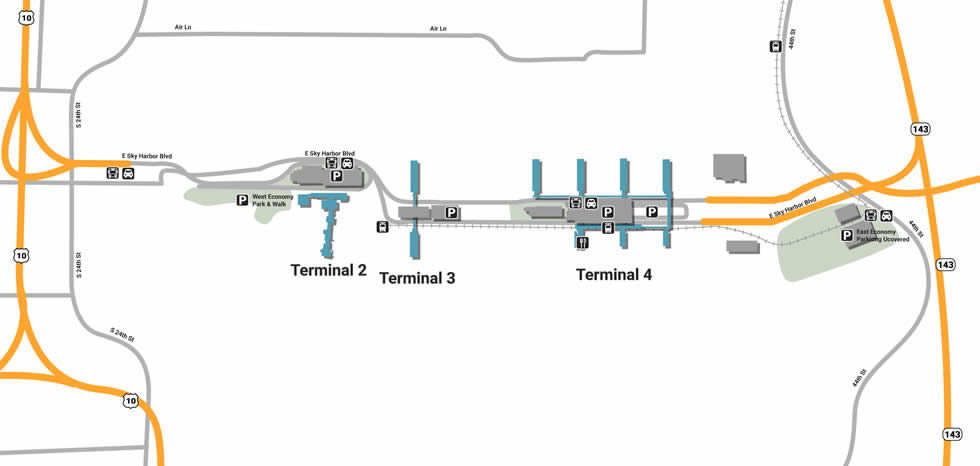 Parking
Sky Harbor International offers ample parking that's as vast as the deserts surrounding the facility. Save money by utilizing prepaid discount parking when you reserve your spot online, making sure you run into zero issues while saving a few bucks on the way. The parking facility offers refunds for people that leave earlier than their planned stay as well as automatic compensation for those that go over. If you're bicycling to your flight, it's recommended you use the 44th Street PHX Sky Train Station for direct access to your terminal.
There are several parking garages that go with each terminal at Sky Harbor, each named after the closest terminal. The closest to Terminals 1 and 2 are the Terminal 2 Garages as well as the West Economy Park & Walk, which is available for a cheaper rate. The Terminal 3 Garage offers easy access to Terminal 3 while the Terminal 4 Garage does the same. The East Economy Park & Walk is also close to Terminal 4, which saves long-term travelers money. If you're planning to do a quick pick-up, utilize either of the three Cell Phone Lots, which are located west, north, and east of the airport.
Services
Phoenix Sky Harbor International is able to relax while simultaneously surprising with a variety of services that range from the unique to the necessary. There's an All-Faiths Chapel located on Level 3 of Terminal 4, 24-hours a day. Kill some time and unwind by enjoying the Phoenix Airport Museum, which is scattered across the airport, the largest section located at the Terminal 4, Level 3 exhibit. For mothers in need of nursing, head to one of the many nursing stations located in Terminal 2, 3, and 4. If you've got pets, head to one of the nine pet relief areas, all of which are beautifully designed.
Rest assured that every step of your trip is bound to be a simple one by utilizing the services of Sky Harbor, whether it's something as tranquil as the reflective Airport Chapel (Level 3, Terminal 4) or facilities that go the extra mile like the on-site airport museum that showcases unique local art. The airport also has simple accommodations like passenger paging, which can be utilized through an online paging system, as well as nursing stations for mothers with newborns located in Terminals 2, 3, and 4 by the bathrooms.
Retail
Before embarking on your journey, get everything you need from a variety of shops. Pick up a souvenir in the form of Native American jewelry at Indigenous, a store located at Terminal 2 beside The Phoenix Souvenir shop. Grab a gift for your child at A to Z Kids while walking through Terminal 4's Pre-Security shopping strip, or get ready for summertime thrills with the help of Sunglass Hut's wide selection. Satisfy your sweet tooth right before you board by visiting the unique flavors of Cactus Candy, located near Terminal 4, Gates B1-B14.
Keep the ball rolling by not letting boredom dwell over your trip. The best way to do this is by spending a bit of time in the Terminal 4 pre-security shopping strip. Whether it's the interesting local fashions at Bunky Boutique or the local gifts from Pueblo Spirit, everything you can think of plus more is available just out of arm's reach. If you're in need of something sweet, head over to either the local Cactus Candy or the better-known See's Candies, both of which are located in Terminal 4's post-security area.
Restaurants
Get your filling while you're waiting for something big to come, a task that's easy to do at Sky Harbor varied food choices. Stop by Terminal 3's food court (Gates 15-25), home to fresh grub from The Farmer's Market as well as the south-of-the-border flavors of Taberna del Tequila, which is host to amazing breakfast tacos and mixed drinks. Terminal 4 has, by far, the most choices. If you're in the mood for a slice of pizza, head to Humble Pie (Gate C), or enjoy a nice sit-down lunch at La Madeleine (Gate B15). The massive area is also home to local gems like the Mediterranean restaurant, Olive & Ivy (A1) as well as the French bistro, ZINC brasserie (C11).
Enjoy some fine cuisine or a basic burger while you wait for your next move. Before passing through security, refuel at NYPD Pizza, located outside Terminal 2. For a familiar flavor, eat a fresh salad at Wendy's or grab a Venti at Starbucks located near Terminal 3's post-security food court. If you're in the mood for something that satisfies the salty and the sweet, eat at the famous Lo-Lo's Chicken & Waffles near Terminal 4's Pre-Security area. Terminal 4's post-security food court is home to a slew of 24-hour restaurants, including La Madeleine (Gate B22), Paradise Bakery (Gate C17), and Wildflower Bread Company (Gate A9).