Trusted service since 2003

Flight Delayed? We wait.

24/7 Customer Service

Perth PER Airport Shuttle

Book reservations for airport shuttle, taxis, sedans and limousine service to and from the airport.

PER Airport Transfers

Find other destinations that offer GO Airport Shuttle or search for other transportation providers at Perth (PER) airport.

Airport Ride Service

Looking for airport shuttle rides? Learn how you can get connected to the best shared ride van providers, sedans and private vans and view our airport transfer locations.
Perth Airport Shuttle Service
There are three ways that passenger can travel around and within the airport. First is the free terminal transfer bus that runs continuously within the airport to take passenger to and from the terminals.
Shared Ride Van
Snag a shared ride van right out of the airport for a quick trip to your hotel and then around Perth to see some of its best sites, such as the Kings Park and Botanical Gardens.
Private Van
If you're a large group and can't share a van, opt for a private van to take your group around. It's a great way to get everyone to places such as the Swan River.  
Private Sedan
Take a ride in a private sedan with you and your beloved, checking out historical sites such as the Perth Mint or romantic ones such as Fraser Avenue Lookout.
Local Personal Drivers
See what's hot and what's not with a local personal driver as you head around Perth to places like the Kings Park War Memorial.
Private SUV
Take a Private SUV outing to the Redcliffe Lagoon and spend the day hiking, swimming, and windsurfing at this safe harbor.
Taxi Cab
Get picked up or dropped off by one of our many reliable taxicab services at Perth's International Airport.
Stretched Limousine
Visit SuperCars Perth to check out a huge collection of unique cars in high style, driving around in one of our luxurious, custom limousines.
Bus
Hit the waters and trails at Wellington Park or Wake Park, where with a bus tour you can catch a yacht tour, bike ride, or surfing opportunity.
PER airport terminals
If you are needing to arrive in downtown or a nearby convention then use our maps to help get you there quicker.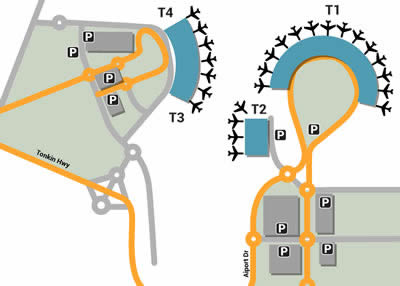 Perth Airport is located in one of the most spectacular cities in Australia! The Perth Airport makes traveling less stressful; in fact upon descending into the airport you see the beautiful beaches, Lush greens of the tall tree line and other spectacular scenery.

There are many forms of transportation such as Connect for travel to and from the airport. The Connect makes round trips to local train stations, museums, as well as the Kings hotel and the Ambassador hotel. Affordable tickets for the Connect buses can be acquired the same day of arrival and upon boarding the Connects bus.

Taxis are also located conveniently around the airport the taxis can transport visitors and passenger to any nearby city or can even go as far as Mandurah for a reasonable fee of course.

The next form of travel is the public bus service called Transperth. Transperth bus service runs daily and takes passengers 55 minutes to get to their destination on bus 37. Bus 40 takes 40 minutes to transport its passengers from the airport to certain areas in the city of Perth.

About Perth Airport
All of these breath taking natural creations are a few miles away around the city to the west of the airport. The Perth Airport allows its passengers and visitors to experience many fine arts visit galleries in the city of Perth as well as some museums and several of Perth's fine restaurants.

Perth Airport has four terminals one international and three domestic making Perth Airport Australia rank fourth largest in passenger travel. The Perth Airport was opened and the name was changed it the year 1952. Its primary function is to service the south eastern portion of Asia as well as Europe and the continent of Africa.

Perth airport also accommodates tourist vacationing to Western Australia. Furthermore it is a fully functioning international airport. The airport is capable of handling airfreight flights as well as its passenger aircraft.

Hotels near PER
Perth has two convenient five star hotels located only seven and nine miles away from the Perth Airport. The Crowne Plaza was renovated in the year 2007. The Crowne has twelve floors and one hundred and eighty nine spacious guest rooms and suites. The hotel offers many different services for its guests. Just to name a few of the services are childcare, wired Internet and wake up calls, and full laundry service.

The Ambassador hotel is located close to the airport and also has many amenities for guests also. Some of the amenities are the hotel has eight floors and one hundred seventy smoke free rooms. The hotel offers a small refrigerator in every room with a hair dryer and a small coffee pot. The Ambassador offers guests Wi-Fi, a fitness center and a sauna as well as many other services for guests to enjoy.

PER Contact Information
Perth Airport
2 George Wiencke Drive
Perth WA 6105, Australia
Airport Code: PER