Perth pick up and drop off at PER airport
Ground transportation to Perth Airport
Servicing the capital of Western Australia, Perth Airport provides a modern space for passengers across four terminals; Terminal 1 - 4. Terminal 1 is home to both domestic and international flights, while Terminal 2 just tailors to domestic - a walkway connects T1 to T2. Another pair is Terminals 3 & 4, each providing domestic & international arrivals on the ground level as well as departures on the upper level. In addition to windy observation decks and various shopping areas, the relaxed facility doubles as a welcoming gateway to Australia's heartland that makes waiting a good thing. Ground transportation options include taxiways, car rental services and a few Transperth bus routes that include Route 935 and 40.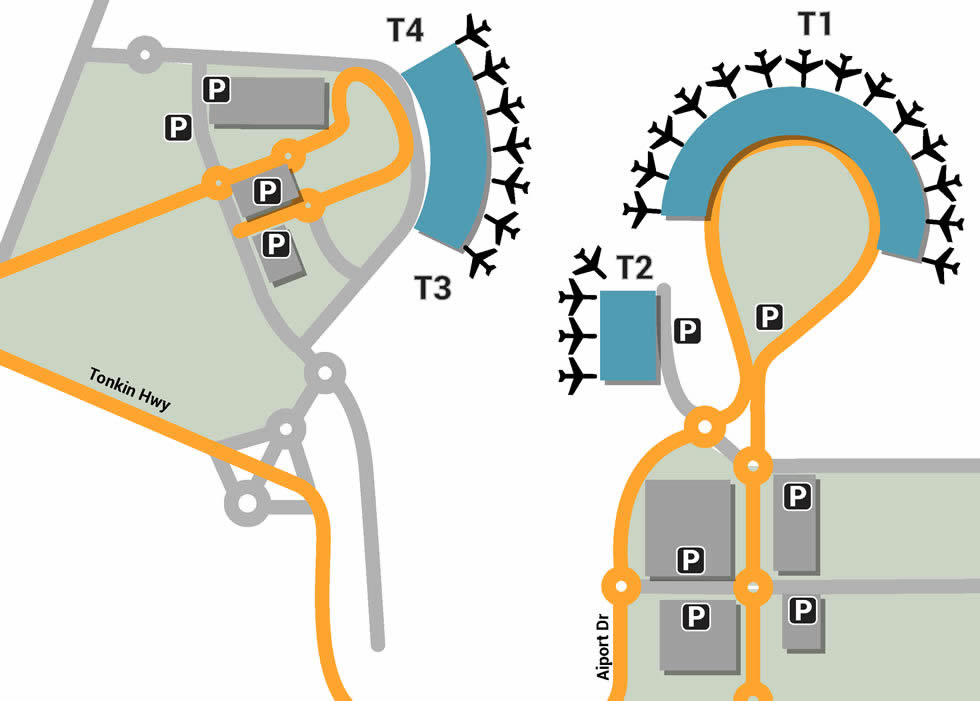 Parking
Parking at the airport includes a variety of lots that provide both short-term and long-term spaces. For Terminals 1 & 2, Short-Term Parking includes a round-shaped parking area attached to Terminal 1 and a smaller garage attached to Terminal 2. For Terminals 3 & 4, Short-Term Parking is located across the street from the inter-connected building. There are four Long-Term lots, one located along Horrie Miller Drive south of Terminals 1 & 2 and the other three located along Dunreath Drive south of Terminals 3 & 4. Additional parking includes FastTrack Business adjacent to Terminals 3 & 4 as well as Regional Terminals Parking attached to the General Aviations building. Spots for the disabled are available in every car park, while spots for motorcyclists are specifically located in the Short-Term Parking garage adjacent to Terminal 2.
Services
Services at Perth Airport include a wide variety of perks that range from simple-hearted to out-of-this-world. ATMs are located in each terminal, while currency exchanges are designated in international departures areas (T1, T2 and T3). Families in need of relaxation can do so through Parenting Rooms in each terminal as well as an expansive children's play area in Terminal 1, the latter fully stocked with soft-padded flooring & video games. For business travelers, look forward to convenience through free Wi-Fi as well as executive goodies from four separate lounges. Other unique services include a panoramic observation deck along Level 3 of Terminal 1 as well as showers in Terminals 1 & 3.
Retail
Home to over a dozen retailers, shopping at Perth Airport is limited to a handful of specialized vendors. Grab the right beach gear at either Rip Curl or Sunglass Hut, also considering travel essentials from shops like Relay, Hub Convenience and WHSmith. Family-friendly shops include toys & games at Zoodle as well as locally-made souvenirs from Australian Way. Those in need of pharmaceuticals should head to Amcal Express, while mobile rentals can be found at Optus or Vodafone. Other unique shops include tech devices at Gadget Shop as well as a wide variety of cosmetics, gifts and travel necessities at Aelia Duty Free.
Restaurants
Look forward to tasty eats that range from local delights to international favorites, choosing between various breakfast joints that include artisan coffee at 6000 Acres as well as baked goods & café at Gibson + Giles. For a filling lunch indulge in the authentic Mexican flavors at Guzman y Gomez as well as seasonal menus at Harvest Food Store, or if you're on-the-go, grab fast food from either Hungry Jack's or Subway, also considering takeaway goods at either Haymarket or Three Bears. Other unique spots include the busy pub ambiance of The Crafty Swan Kitchen & Bar as well as Asian cuisine at NÖÖÖDLES, not to mention irresistible Mediterranean at Loco Poco.